What is the most eye-catching thing on the web? Nothing but videos. Women and men watch all kinds of videos. And people always would like to share videos on Facebook, Twitter, Google Plus, etc.
Although there are a lot of video sharing sites like YouTube, Video, Dailymotion, etc, we sometimes still need a faster and more convenient way to share videos and converting video clips like MP4, AVI or even photos to GIF seems to be a great way out. GIF, as far as we concern, is not only small but computers and mobile phones friendly. We don't need plugins for GIF playback, which is far more convenient to share.
GifRocket Alternative for PC and Mac
It is always good to have a free program like GifRocket that converts videos to GIFs. But it's really a pity it's no longer compatible with the latest macOS Catalina. Actually, it is no longer updated since 2014. And, when I try to convert AVCHD to GIF it does not accept it as the video format supported by GifRocket is really limited. Also, you are NOT able to customize the frame rate (FPS) in the GIF with GifRocket, and it is only for Mac. If you want to make GIF from your camcorder, camera or phones, no matter they are in AVCHD, M2TS/MTS, MKV, MOV, AVI, H264, M4V, you are able to convert your World Cup videos with Wondershare Video Converter Ultimate(now renamed to Wondershare UniConverter). And below details guide on how you can do so on a PC or Mac and you are able to convert videos to GIF in 60 FPS in HD quality.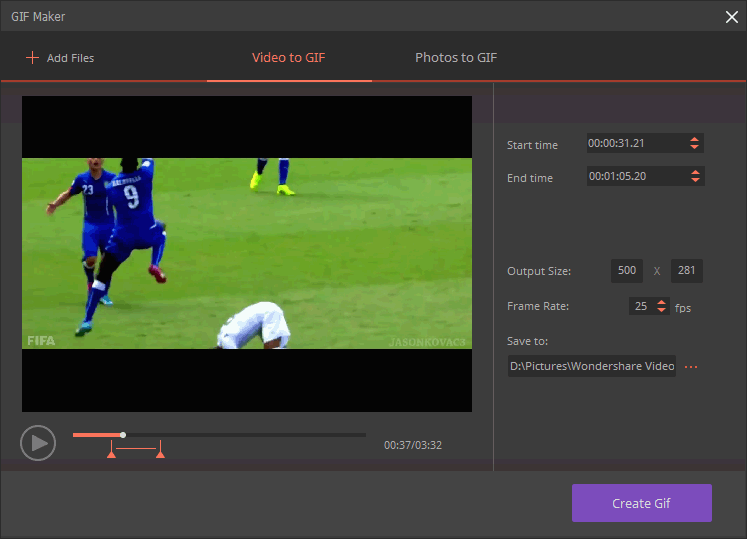 It's really a pity that GIFRocket is no longer working with macOS Mojave and Catalina as you can see in the screenshot below. In fact, there is no update since 2014. This post would still be here for reference. But I'd like to recommend Wondershare UniConverter as an alternative.
GifRocket is still available for previous macOS like Sierra, El Capitan: 
GifRocket Review: Free and Ultra-simple App to Convert MP4 AVI to GIF on macOS
Some GIFs are far more popular than the original video in sites like Facebook or Reddit, as it is short and pithy but captures the essence of the video.
There are a lot of video converters that can convert videos to GIF on Windows. What we recommend today is a free app for macOS to convert MP4, AVI, etc to GIF-GifRocket, a free GIF maker.
Comparing with most similar MP4 to GIF software, GifRocket can be described as minimalist. When I open it for the very first time, I like it. Comfortable color and flat design with very simple buttons and icons. Small as the sparrow is, it possesses all its internal organs.
Quick Guide on How to Create a GIF
The use of GifRocket is very simple! You do not need to learn any knowledge, almost anyone can quickly get started making GIF dynamic pictures. You just need to drag and drop the video file to the GifRocket window to start the conversion. Click the upper right button to set the interface (see below).
I downloaded a popular YouTube video and test it with GifRocket and made a GIF it is great. Click the green gear to set the start and end time, picture width, and quality.
Wait a minute, your AVI is converted to GIF and it is under the same folder with the original file.
Summary:
Although there are a lot of video converters that can convert AVI MP4 to GIF and some of them are feature-rich and powerful, GifRocket is the one that is completely free and extremely simple to use and everyone who's not tech-savvy can make GIFs.
If you or your friends are interested in making some GIF animations but do not like the complex tools, you may try GifRocket. The only pity is that this software supports limited video formats.