HDR is short for High Dynamic Range. However, it may not make sense to you. To put things as simple as possible, it technically improves video quality. Compared to SDR(Standard Dynamic Range), HDR videos come with a 10-bit or 12-bit dynamic range and higher luminance, making it look identical to what you see from our eyes. HDR videos are now widely available on many streaming sites, and YouTube is still the largest and best place for HDR video download.  
In this post, I'd like to recommend a free YouTube downloader for 4K HDR video downloading.
4K Video Downloader is an online video downloader for PC, Mac, and Linux. It's free to download 30 videos from YouTube, Vimeo, Dailymotion, Facebook, etc, every day. It is intelligent to download high-definition videos, extract video subtitles, and music from those sites.
It displays very detailed information like video solution, codec, format, and FPS. If there is an HDR video, it marks HDR as well, making it an ideal downloader for HDR video download.
HDR Video Download Guide: Download 4K HDR Video from YouTube
Using 4K Video Downloader is very easy. Anyone can get YouTube HDR videos downloaded to your PC, MAC, or Linux machine. And, it is free to download 30 videos each day. Below, you have a detailed guide on how to download a 4K HDR video from YouTube. Also, the following tips are helpful and worth reading.
Getting Ready: Please follow the below button to download, install, and launch the HDR Video downloader. Then, you can look for HDR Videos on YouTube or other sites, copy the URL to get ready.
Step 1. Paste URL
Simply hit the "Paste Link" button to paste the URL of your 4K HDR video. It will be analyzed immediately for available videos and music files for you downloading.
Step 2. Select HDR Video
As you can, 4K Video Downloader displays the HDR info if available for a specific resolution of video. Thus, it is easy to see what you would download is 4K HDR video or not, and that is the top reason I recommend this HDR video downloader to you all.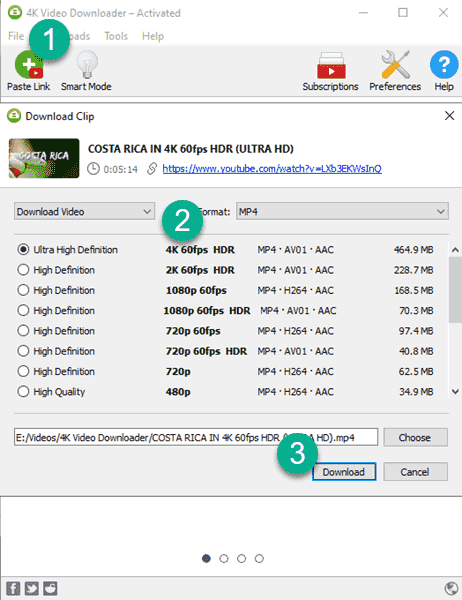 Step 3. HDR Video Download
Hit the Download button as shown in the screenshot to start downloading 4K HDR videos from YouTube. Smart Mode is not quick recommended here to download a 4K HDR video from YouTube. For detailed reasons, please check the tips below.
HDR Video Downloading Important Tips
You may have to disable the Smart Mode, simply because HDR video may not be available in your desired option for downloading. But, it's OK if you set the Smart Mode to Best Quality, as I find HDR videos generally come with the best quality.
MP4 H.264 is recommended for downloading, if available, mainly for compatibility. As you may find, there are a lot of MP4 AV01 videos for downloading. However, AV01 is good for streaming, yet it is NOT that compatible with your smartphones, TVs, VR headsets, etc. You can not even play it with QuickTime player, and an additional codec is required in order to play it on Windows 10 with Movies and TV app.

Bonus Gift: Watch YouTube HDR Video on PC and Mac
To play HDR videos on iOS, Android, or your TV, check your user manual to see if it is compatible with HDR video. You can check if your PC or Mac is ready for HDR video playback.
If your computer display supports HDR, you need also a decent player to play the HDR videos you download from YouTube. And, DVDFab Player 6 to play HDR video on PC and Mac.