In my previous posts, I have detailed guides on how we can download FIFA World Cup videos or record live streaming from over 1,000 video sites like YouTube, Facebook, Dailymotion, BBC, CBS, ITV, Sling TV, etc. Do you want to transfer the downloaded or recorded video as well as your photos to your iPhone, iPad, or iPod so you can enjoy them anywhere you go?
And, I am sure you have recorded a lot of videos during the journeys and trips, don't you? However, you may find the recordings by your HD camcorders from Sony, Canon, Panasonic, etc, are in AVCHD or other video formats and none of the portable devices support. So how can we transfer and sync videos and recordings to iPhone, iPad, iPod?
Today, I am going to show you FOUR possible ways to transfer and sync any of your videos like MKV, AVI, MP4, M2TS, etc to your iOS devices.
DearMob iPhone Manager: Transfer any video to iPhone without iTunes
DearMob iPhone Manager, as the name suggests, is an iPhone manager that can manage all iOS devices that are newer than iOS 7. It managers your photos, videos, music, contacts, podcast, books, voices, apps, SMS, calendars, and bookmarks. It can also backup your whole phone, encrypt your photos, videos, and contacts with a password. Importantly, you can do all those without iTunes installed.
Talking about transferring videos to iPhone, DearMob iPhone Manager can be one of your first choices. It supports almost all kinds of videos and converts to the most compatible format for iPhone with optimized bit rates but with the original resolution.
Working with DearMob is easy. Here's how we transfer video to iPhone with it. I will take an MKV video downloaded from YouTube for transferring.
Step 1. Video & Movie mode
Before transferring, click the Video & Movie in the main GUI. Also, if you want to transfer music to iPhone, you will go for the Music manager. If photos, the Photo Manager.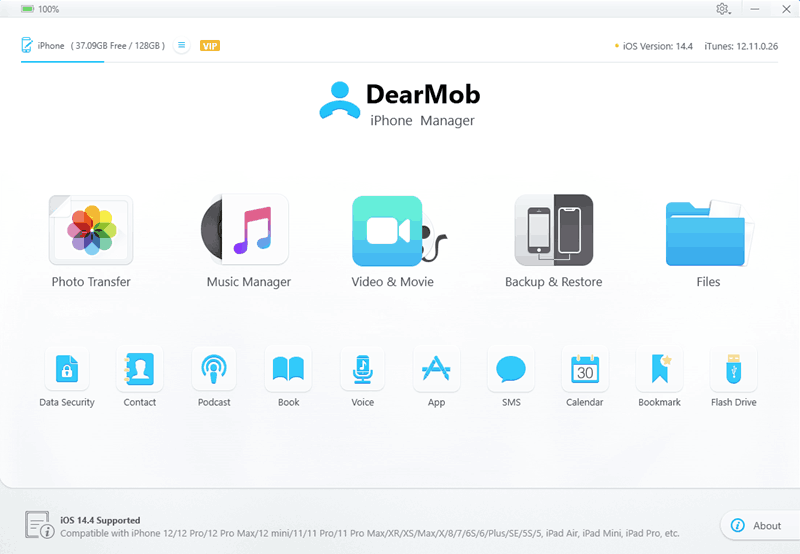 Step 2. Add Video
You will see a list of built-in categories like Home Videos, Video Recorded, TV shows, Music Video, and Movies, etc. Go for Home Videos, and click Add Video. Locate the video in the open window and click Open to load.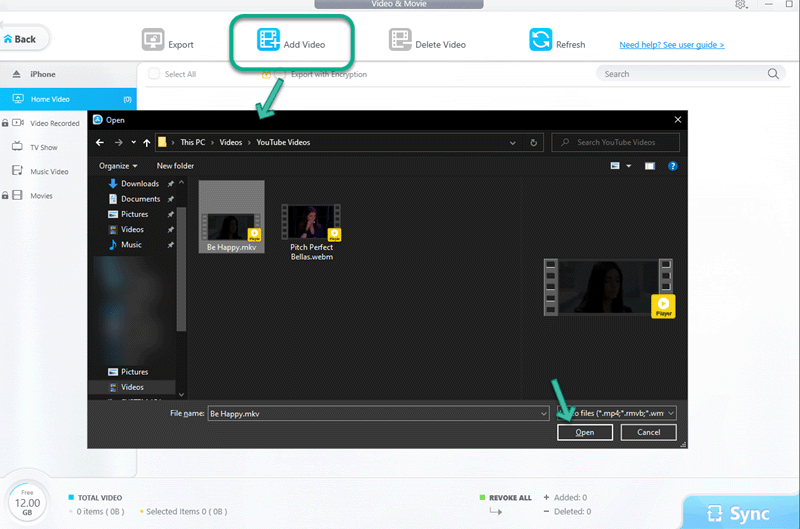 However, please note you cannot add videos to Movies, Video Recorded, etc that have a lock icon. It's OK to export videos from them to your PC or Mac.
Step 3. Convert Video(Optional)
Here I take an MKV video for transferring, and obviously, iPhone does not support. DearMob displays an unsupported video for you and offers an option for you to convert. You are free to convert and then transfer or go directly to Step 4.
Step 4. Sync Video to iPhone
For unsupported videos, you can click the Sync button and DearMob will convert the video for you first and then sync. For supported videos, DearMob will start transferring the video to iPhone directly right after you click the Sync button.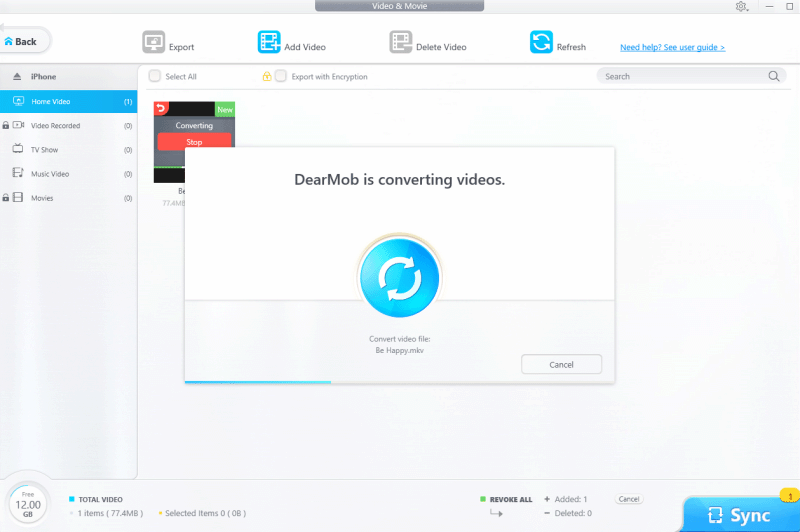 Wondershare Dr.Fone is a collection of iOS or Android tools that are able to recover, transfer, backup, restore, switch, and erase data for your phone. And I have been using Dr.Fone Transfer to transfer my ripped Bluray to Galaxy S9 and transfer MKV to iPhone. You are able to download a trial version and follow my guide below to see how we transfer my World Cup videos or recordings to iPhone/iPad/Android. 
Although there are different function modules in Dr.Fone, you just don't have to activate others if you just want to transfer FIFA World Cup videos and photos to iOS or sync Russia World Cup recordings to Android. dr.fone Transfer is able to do all you need.
As we know there are different video formats by different cameras or camcorders, however, with Wondershare Dr.Fone, you are able to transfer almost any video formats! And you may be wondering if you are still able to play the transferred videos on your iPhone/iPad/iPod or Android phones/tablets? And the answer is YES, responsibly. This is because Wondershare dr.fone automatically converts videos to the most compatible formats with the most compatible codec, bit rate, and resolution depending on your device. Transferring videos, photos, or recordings are just within a few mouse clicks, and below is my step-by-step guide transferring videos/recordings/photos in AVI, MXF, F4V, FLV, MPEG-2, JPG, PNG to iOS or Android device on PC and Mac. AVCHD is a bit special and I will explain in the below guide on how to transfer AVCHD. Besides, my screenshots are taken on Windows, but the guide will apply to the Mac version as well just because they look and work the same.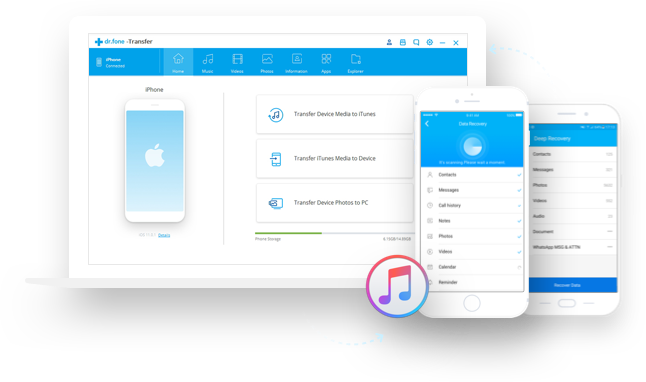 Step 1. Download Transfer
You are able to download the iOS or Android Toolkit of dr.fone, however, Recover comes as default and you will download Transfer separately. Just move your mouse over Transfer and click the Download button. You don't have to restart the program.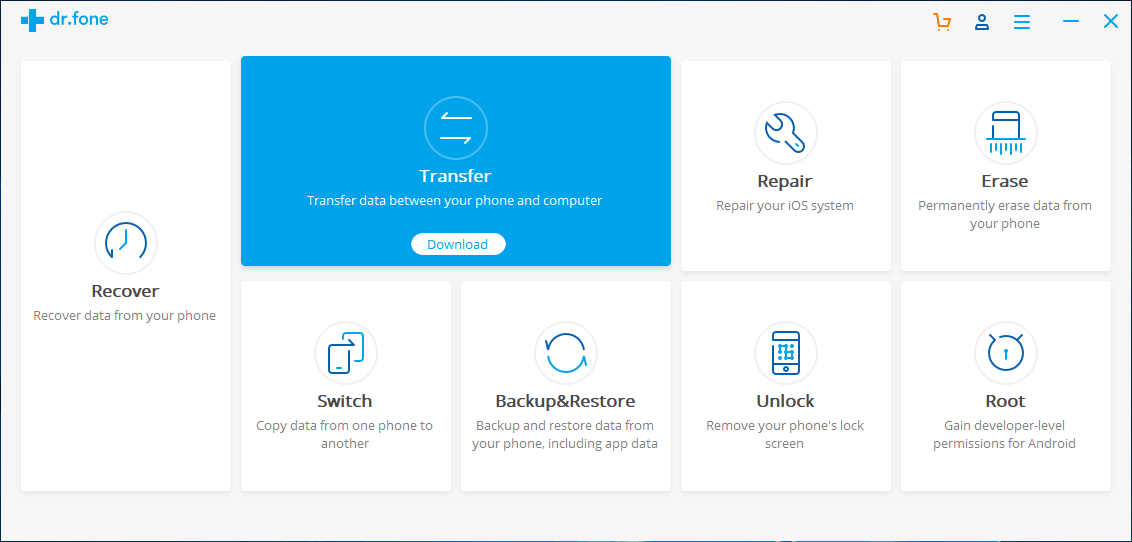 Tips, if you lose your video and photos on iOS or Android, Recover is able to help!
Step 2. Connect iPhone/iPad/Android
Click Transfer and will be taken to the Transfer module and dr.fone will automatically connect your phone.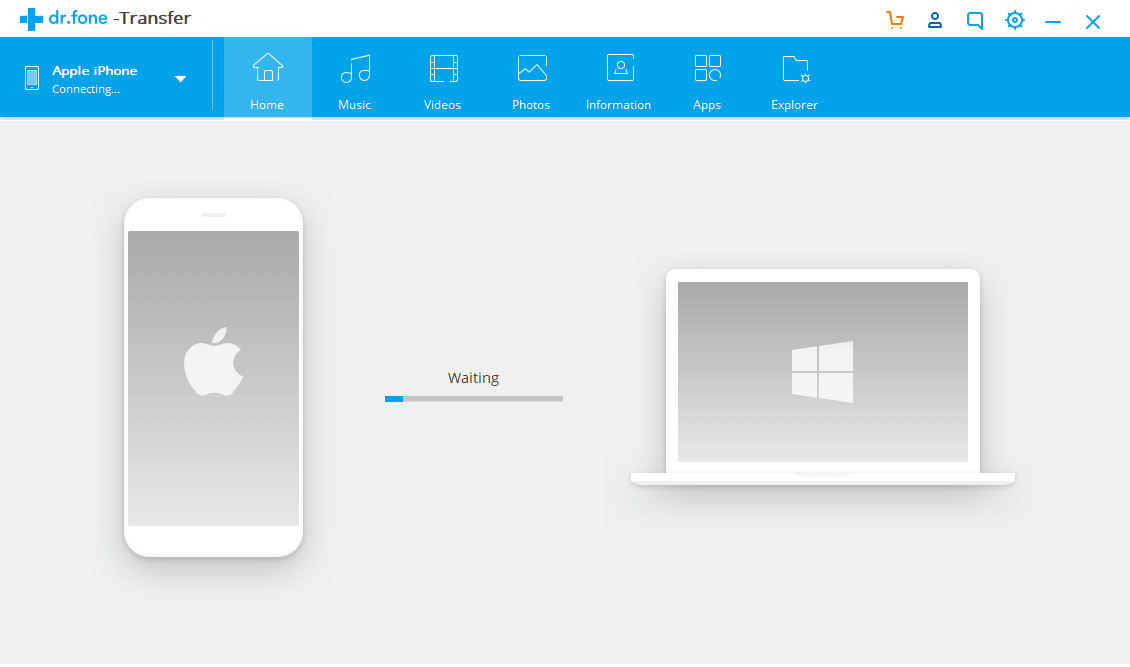 Step 3. Add Video/Photo for Transferring
Go to the Video tab if you want to transfer videos/recordings. If photos, click the photo tab. Click the Add button and its drop-down menu to add any video or a whole folder of your video recordings.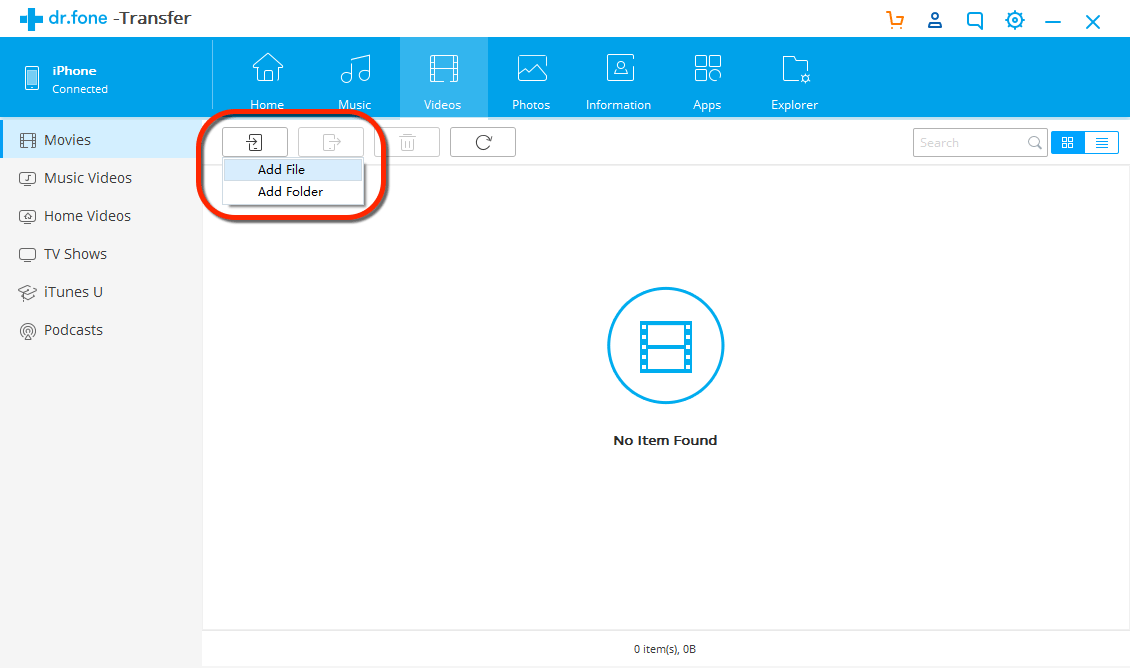 Transferring starts simultaneously when you click Open or OK after your videos, recordings,  photos, or a whole folder are selected. If there is any format that is detected not compatible with your iPhone/iPad, Wondershare will ask if you want to convert before uploading. Click Yes to confirm.
With Wondershare UniConverter[Wondershare Video Converter Ultimate], you are able to transfer any of your videos from PC or Mac to iOS/Android devices as well. The direct transferring steps are generally the same as we do in dr.fone Transfer. Download, install, launch Wondershare UniConverter, and check out the detailed guide.
Step 1. Connect to iOS/Android to PC/Mac
Firstly, you will have to connect your iOS or Android devices to your computer. For Windows, make sure all drivers are correctly installed.
Step 2. Transfer Tab
Go to the Transfer tab and Wondershare will automatically connect your phone. Please note Wondershare will install an app called Wondershare connector to your Android devices for data transferring. It is 100% safe as you can see the rights it requires. It just does what it really needs to do.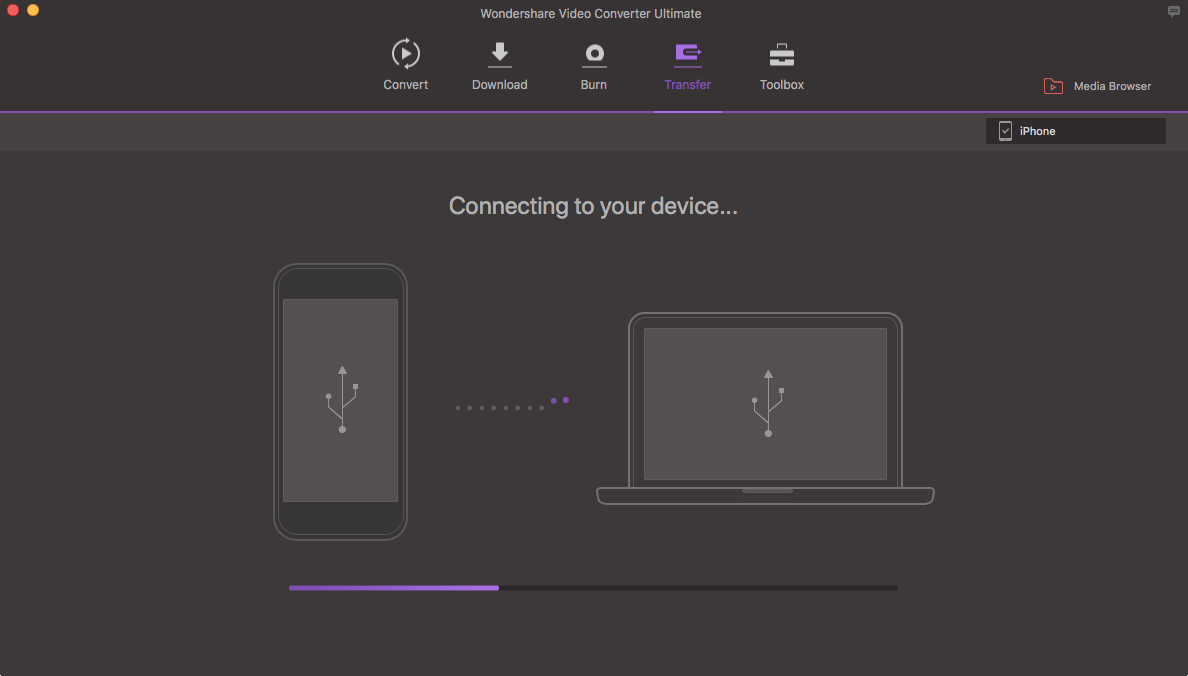 Step 3. Start Transferring
After your device is recognized, click the Add file button, locate the videos or recordings and click Transfer or Transfer All to start transferring videos to the iPhone, iPad, or Android device.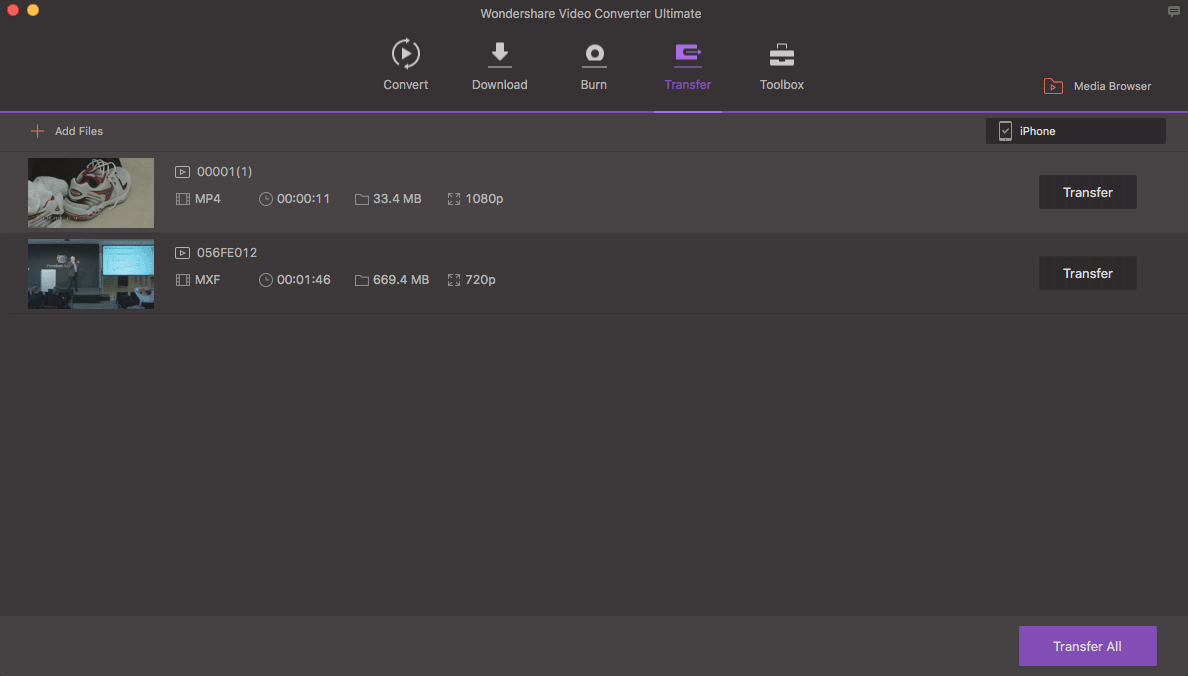 You are also able to convert videos to customize video format with your desired resolution, codec, bit rate and frame rate for your iPhone/iPad/Android and then transfer. 
Anyway, after converting, go the Converted tab and click "Add to Transfer List".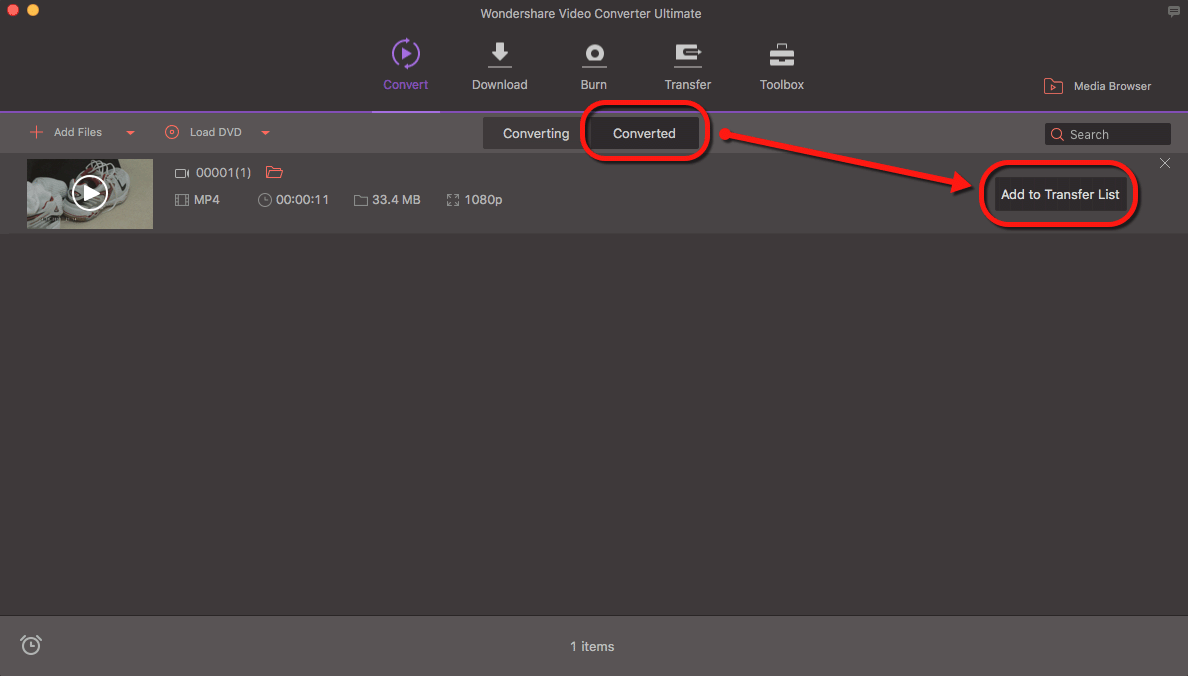 And then go to Transfer tab and click Transfer or Transfer All, which is the same as we do above.
Transferring Video with AnyTrans for iOS
From my recent AnyTrans for iOS review, I think it is one of the best iTunes alternatives as it can replace iTunes in every aspect. It transfers videos, photos, music, contacts, and manage your iTunes library and iCloud data! Check my review for more details.
If you want to transfer videos like MKV, AVI, WMV, M2TS, etc that iPhone iPad does not support, there's the trick for you to do so with AnyTrans. This is because when you try to add videos to the iPhone with AnyTrans for iOS, you notice you can only import MP4 and MOV. This guide helps you to add other videos for transferring. And, it only takes you a drag-and-drop.
Connect your iPhone with AnyTrans, drag the videos that you want to transfer here as shown below. Done! AnyTrans will automatically convert its supported video (WMV, RMVB, MKV, AVI, FLV, RM) to the iPhone. For iPhone-supported videos, it won't convert. It starts transferring immediately.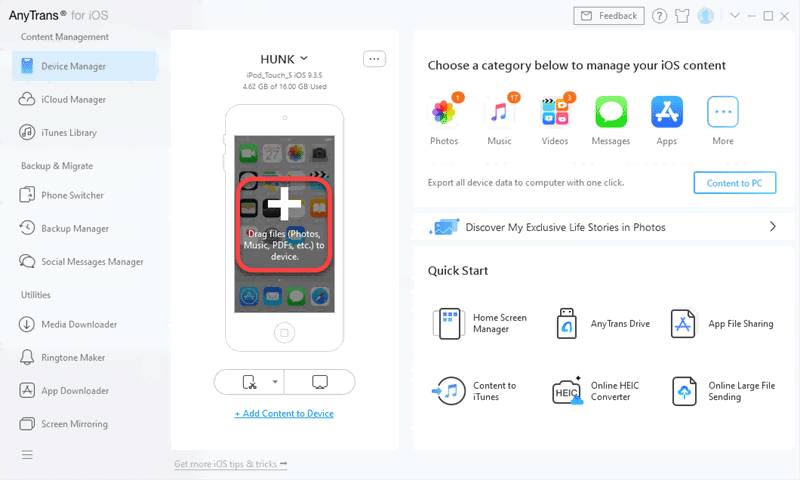 Transfer AVCHD to iPhone on Mac
Wondershare Dr.Fone seems to be able to transfer video recordings in AVCHD directly to iOS/Android devices. However, all I get is a message in seconds that says: "Operation Complete!" However, nothing comes into my phone.

After two days of communication with Wondershare's support team, I was notified "Our program cannot transfer AVCHD directly." But no worry, I will walk you through how to transfer AVCHD to iOS or Android on your Mac if your videos are AVCHD files.  And this guide also applies to DearMob iPhone Manager, AnyTrans, and UniConverter. This is also how I convert AVCHD to MP4 or other videos.
Step 1. Load Actual Video file in AVCHD
The actual video file MTS is hidden in STREAM folder and you can right-click on AVCHD and BDMV to locate it as shown below: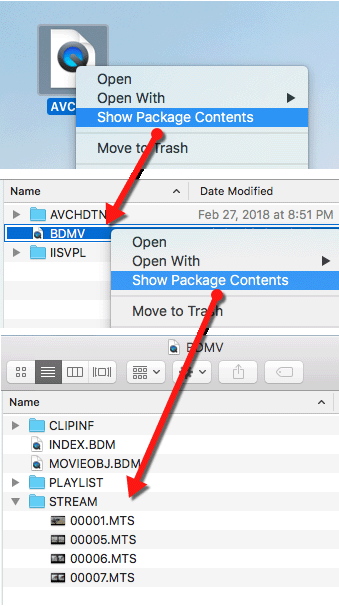 Step 2. Drag MTS to the Video Transfer
Once you locate the MTS video file in your recordings by HD camcorders, you are able to drag and drop MTS to the program for transferring!
Difference between UniConverter and the other three ways for Transferring
We see Wondershare UniConverter, Wondershare Dr.Fone, DearMob iPhone Manager, and AnyTrans iOS are able to transfer videos and recordings like MKV, AVI, WMV, AVCHD, etc to iPhone/iPad/iPod. And, UniConverter looks different. So what's the difference between them and which is the best solution to transfer and sync videos, recordings, and even photos to an iPhone? 
To transfer videos with the "Transfer" function in the four programs, there seems no difference. If your videos are NOT supported by your iOS devices, they automatically convert them to a most compatible video. 
However, Wondershare UniConverter is named as a video converter, we are able to convert AVCHD, M2TS/MTS, MKV, AVI to iPhone/iPad/iPod or different Android devices with customizing video formats, codec, resolution, bit rate, frame rate, but you just cannot do those with Dr.Fone, AnyTrans, nor DearMob. But, you can transfer, sync, and backup videos from your iOS/Android device to PC or Mac with the other three.
So, if you want an all-in-one solution to download, record, transfer, edit and burn your videos or recordings, go for Wondershare UniConverter.  The bonus features of creating GIFs from videos or photos and converting 2D videos to VR are impressive!
However, please note, Wondershare UniConverter does not transfer photos!
And, if you are looking for a more professional iOS/Android transferring, recovery, restore solution, go for Wondershare Dr.Fone, DearMob iPhone Manager, or AnyTrans.