Gear VR, aka Samsung Gear VR, is the first generation product named "Innovator Edition" by Samsung, and this head-mounted virtual reality device can bring immersive gaming experience for the players, but other services as a multimedia center. Samsung is the pioneer in VR headsets and since then a lot of people have had some experience Gear VR as well as Sony PlayStation VR, HTC Vive, Oculus Quest/Rift S and many more and they are said to be able to play 3D videos and bring a pretty good feeling. So I plan to rip and convert my 2D Blu-rays, DVDs and videos in MKV, MP4, MOV, AVI, etc to 3D MP4. And, I'd like to recommend three top all-in-one 2D to 3D converters for you guys.
Top Three 2D to 3D Converter
There are many video converters and some are even free to convert 2D videos, like Handbrake. However, there are not as many 2D to 3D converters out there as general 2D converters. But, in this post, you will see three 3D video converter that can rip 2D Blu-ray, DVD and convert 2D AVI, MKV, M2TS, etc to 3D MP4, 3D MKV, 3D M2TS, etc. Here they are.
Leawo Video Converter Ultimate an all-in-one 2D to 3D converter. So far, it is the most powerful DVD and Blu-ray solution for H.265/HEVC, MKV, MP4, MOV, DivX, AVI, MP3, FLAC with the support of the latest Disney DVD protection and Blu-ray protections like MKB up to v73 at the very moment. Also, it supports all kinds of videos like MKV, AVI, WMV, M2TS, etc. The 3D option can be enabled for almost all video formats as you can see below.
You can set the 3D mode but side-by-side is recommended for better compatibility. 3D Depth is available from -50 to +50.
With the support of 3D options, Leawo Video Converter Ultimate is the perfect 2D to 3D converter for ripping 2D Blu-rays and DVDs to 3D MP4 MKV etc, converting 2D MKV, AVI to 3D MP4 H.265 for playback on VR headsets, TVs and phones from Samsung, Sony, HTC, Oculus, etc. Currently, there is no profile for those VR headsets, but we are able to custom and save as our own profiles.
AnyMP4 Video Converter Ultimate is also an all-in-one 2D to 3D converter. Differently, it supports DVDs and other kinds of videos. AnyMP4 is famous for its 3D options as you can see below. It supports side-by-side, top-and-bottom, and anaglyph. And, the 3D depth is available from 0-15. Also, AnyMP4 2D to 3D converter is explanatory is those 3D options.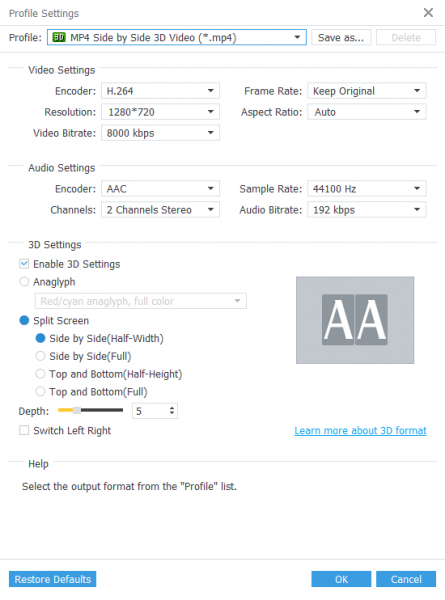 You can enable those 3D options in almost all video formats like MP4, MKV, M2TS, etc. However, for better compatibility, I recommend MP4. You can also check the specification of your TV or VR headset to see what is supported.
Besides, it can optimize video for streaming and compress GoPro 4K video to 1080P.
To rip 2D Blu-ray to 3D MP4, MKV, AnyMP4 Blu-ray Ripper can help. And, I believe AnyMP4 Blu-ray Ripper is the true 3D ripper that supports 3D Blu-ray to 3D MP4. When I say true 3D Blu-ray ripper, I mean it can detect the 3D content and rip the 3D content to 3D MP4, etc. However, for other Blu-ray rippers, they only detect the 2D movie and convert the 2D to 3D. You will see the big difference with a free trial.  
DVDFab is the best program Fengtao Software Inc. It works an all-in-one 2D to 3D converter that supports Blu-rays, DVDs, MKV, M2TS, etc. As you can see, there are a lot of built-in 3D profiles in this converter. And, it's easy to enable the filter-3D to find those profiles. 
With DVDFab, you can convert 2D to 3D in AVI, MKV, MP4, M2TS, WMV, and TS. 4K and 10bit, 12bit are well supported.
DVDFab 3D option is rich as well. Gain value in this 2D to 3D video converter is available from 0-10 with 8 by default. And, virtual depth can be set to max 255. Besides the anaglyph and split-screen 3D formats, you can also set the 3D videos to two separate files or two video streams in one file. To better compatible with your TVs or VR headsets, side-by-side or top-and-bottom is recommended.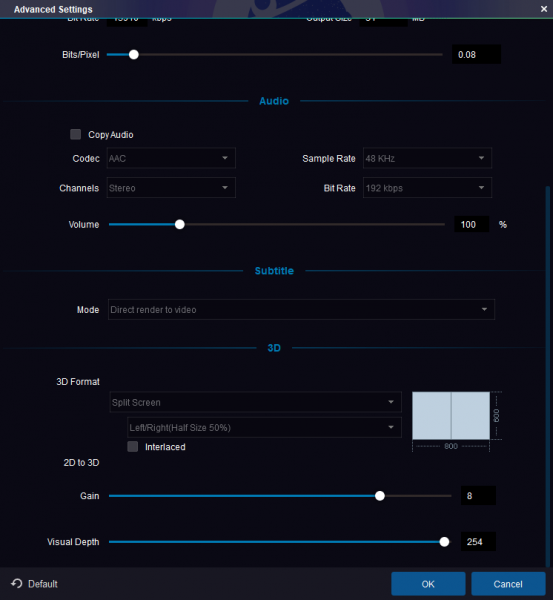 Besides, I have a lot of posts on DVDFab, and you will see how powerful and how much else the 2D to 3D video converter can do for you. If you want 60FPS, no problem. And, the Enlarger AI is nice to have if you want to enlarge 480P DVD/videos to 1080P or 1080P Blu-ray/videos to 4K.
The 2D to 3D Converter How-to Guide
Follow the above Download buttons to have a free trial of Leawo Video Converter Ultimate, which is the very 2D to 3D converter software for ripping 2D/3D Blu-rays and DVDs and converting videos like AVI, MKV, M2TS, etc to 3D. Also, you can have Leawo DVD Ripper for DVDs only, which is about $10 cheaper. There is no double Leawo Video Converter Ultimate comes with more cost performance as it copies Blu-rays, DVDs and all kinds of videos!
Install and Launch Leawo Prof Media. Put a DVD or Blu-ray into the computer. Before ripping 2D/3D/4K Bluray to 3D MP4 for playback on Gear VR as well as other VR headsets, make sure you have a Blu-ray drive. A Blu-ray Drive should also be able to read DVDs.
Step 1. Load Bluray/DVD/Videos to the 3D Converter
After you choose Bluray Ripper, go for Add Bluray/DVD button and load from Disc to add DVD or Blu-ray to the program. If you have your DVD or Blu-ray saved to the hard drive instead of on the disc, click Add from a folder or Add ISO file to add. Please be noted, while you add DVD IFO files from Files-Load from IFO/ISO, make sure the IFO files are along with associated VOB and BUP files, or you won't be able to rip.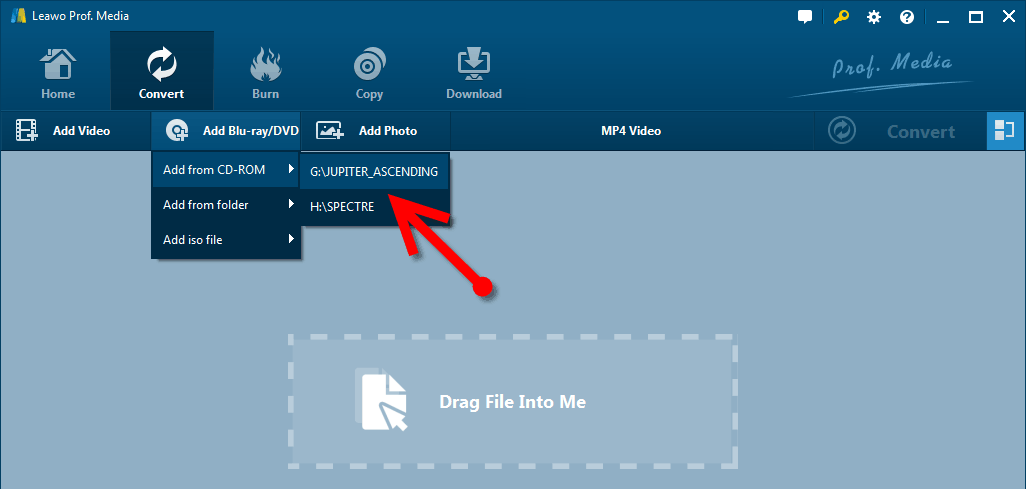 Step 2. Custom Profile for VR Headsets
After the DVD/Blu-ray is loaded, you will see the main title already been selected for you and MP4 Video comes as the default profile. To convert 2D video to 3D video, you won't see the title menu. Leawo will load the video directly to the 3D converter. Click on MP4 Video-Edit to custom a profile for your VR headsets.
You can change the video codec, resolution, aspect ratio, bit rate to meet different VR Headsets. I recommend MP4 H.264 for better video quality and better compatibility.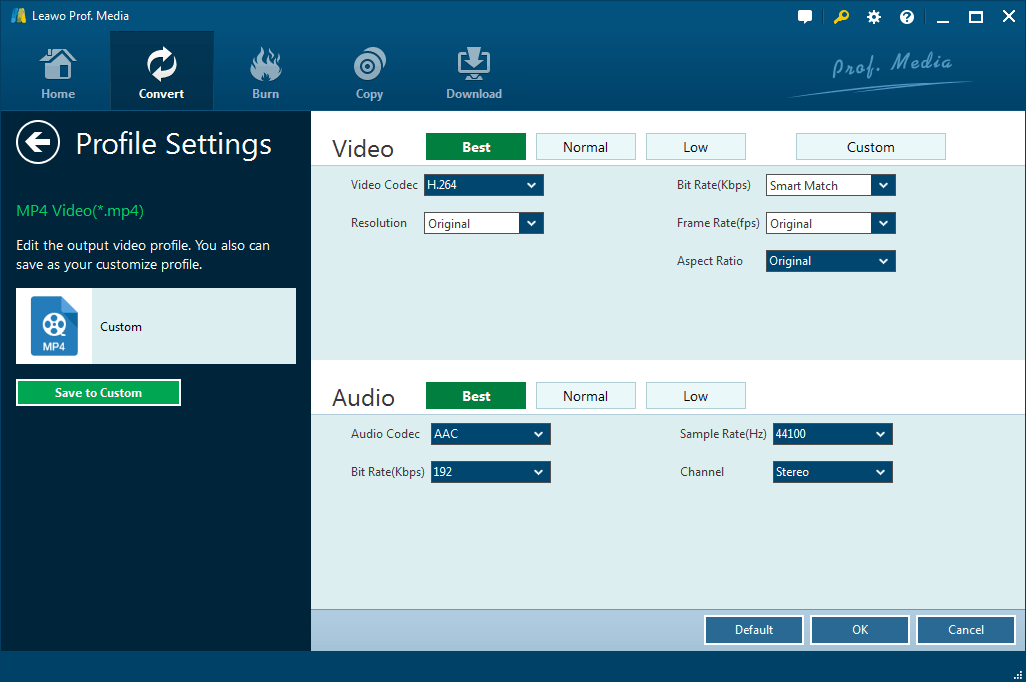 Step 3. 3D Setting for VR Headsets
Click the Edit button below to enable 3D settings:

Go 3D, enable 3D Mode. I recommend Side by Side. Red/Cyan, Red/Green and Red/Blue are most compatible with 3D and VR players but this kind of 3D video does not bring good experience for your 3D watching on TVs or VR headsets.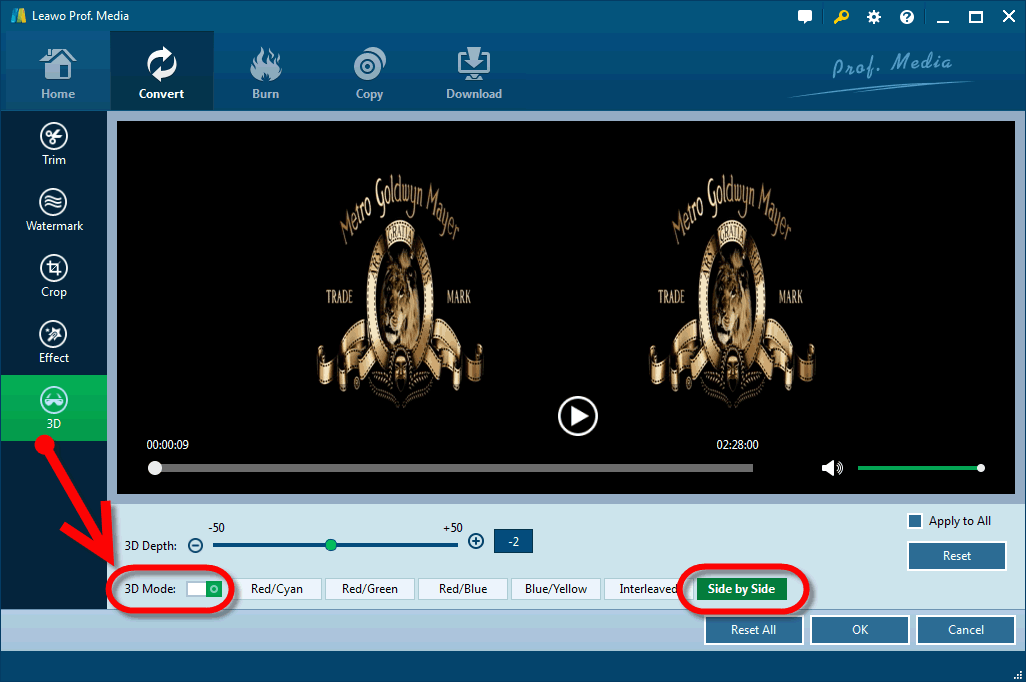 Step 4. 2D to 3D MP4 Conversion
While all the above is done, you are free to set the output folder, preview or just go directly to the big Convert button and start 2D to 3D MP4 conversion.
Besides, if you are ripping 2D DVD/Bluray to 3D MP4 for your Mobile VR Headsets that needs to store the 3D movies on your phone, make sure the output is less than 4 GB.