I took a lot of photos by SLR and my mobile phone and would like to play them like a slide on Windows PCs so everyone can enjoy them. Although a lot of programs are able to play pictures or photos like a slide, they rarely have Apple's iPad or Mac's style.
Ken Burns Slideshow is a free photo carousel on Windows for the photo slideshow. The transition effects are similar to those of the iPad photo gallery and can be accompanied by background music. The overall effect is very warm and feeling! It is particularly suitable for use in the wedding show on the wedding or family gatherings and other occasions, the overall effect is far better than the built-in Windows slideshow player.
A more beautiful and elegant slideshow software
Ken Burns Slideshow Slide shows a carousel tool that is completely free and open-source, and is a single-file Windows program with the volume of only a few dozen KB! It can be copied to a USB drive conveniently and use it anywhere. In addition to personal use, it is also very suitable for wedding sites, meetings, celebrations, meetings, parties, product/work demonstration that need to cycle pictures to show events.
The software supports photo and background music loop. You only need to add a photo/picture folder and music folder (support multiple sets of folders) to the program and then you can immediately play a slide show of your photos and pictures with a variety of transition effects. It is as simple to use like that. The software also supports displaying date or custom text for each image, making each photo more meaningful.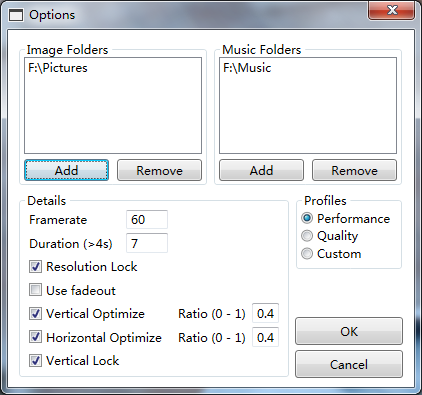 Photo Carousel / Slideshow
Not only does Ken Burns Slideshow has the image transition effect similar to the iPad photo gallery "Ken Burns", but "breathing", "floating/rotation" and several special effects optionally. You can also choose random effects, we can see how it looks on YouTube:
Although the slideshow playback in Ken Burns Slideshow is not gorgeous, noble or luxury, the overall is still very warm and elegant and can be used on a variety of occasions.
If you want to download this YouTube video, I'd like to recommend Wondershare Video Converter Ultimate (now called Wondershare UniConverter).
Keyboard Shortcuts
When the slideshow begins playback, you can use keyboard combinations to control the playback like below:
ESC: Fade out and exit
CTRL + P:Plays / pauses the slideshow
SHIFT + P: Play / Pause the music
CTRL + R:start again
F12: Enter the settings window
F11: Opens the Edit Slideshow window
F1: Opens / closes the control window
Burn Photo Slideshow to DVD
Ken Burns Slideshow is a good free photo slideshow maker, however, it is really a pity it does not support burning photos directly to DVDs as a slideshow. There are free burning programs for you to burn the created slideshow to DVD, but here I'd like to recommend a decent program for you to burn photo slideshow to DVD.