Firstly, let's see what it looks like after you custom thumbnail in Windows and macOS. Is it what you are looking for?
Note:
This post is about how to create a custom thumbnail that shows on your computer, but not how to add a thumbnail to a YouTube video. 
In one of my previous posts, I recommended Media Preview as a smart thumbnail maker for Windows. However, as you can see from the comments, I notice it seems no longer compatible with the latest Windows 10 and nothing happens when you install the program, even after rebooting and clearing the thumbnail cache. I assume this is because there have been no updates since 2014 and it's no longer compatible. 
It is really a pity that such a free and useful program is no longer working, and I am looking for an alternative, only to find no similar programs available. However, in this post, I bring good news for you as you are able to customize your thumbnail yourself with Wondershare UniConverter. I mean, you are able to add a picture as a thumbnail or cover art for your videos like MP4, MOV, and M4V on Windows and macOS. Here is a detailed guide on how we can do so.
How to Custom Thumbnail | Add Thumbnail to Videos like MP4, MOV, M4V on Windows and macOS
Wondershare UniConverter, previously named Wondershare Video Converter Ultimate, is my main converter that helps to convert MKV to MP4, create GIFs from videos, make VR videos, and also rips DVDs. Today, I will show you one of its features to add a thumbnail to videos like MP4 MOV M4V on Windows 10, Windows 7, and macOS Big Sur, Catalina, etc. Here we go.
Step 1. Download and Install
Follow the below link to download and install Wondershare, the thumbnail maker for Windows and macOS. It's also compatible with MacBook Air, Pro, and Mac Mini running M1 chip. 
Step 2: Insert Videos
Click the Add File button to add videos that you want to change the video thumbnail on the thumbnail maker. Drag-and-drop is also supported.
Step 3. Profile
Go to the drop-down menu "Convert all files to", and pick up the profile you prefer. MP4 Same as Source or M4V, MOV is recommended.
Step 4. High-speed Conversion Mode (Optional)
Click the Thunder icon as shown below to enable the High-Speed Conversion Mode. This is optional but recommended as it won't take you much time to add a thumbnail to videos when supported because it won't re-convert your videos.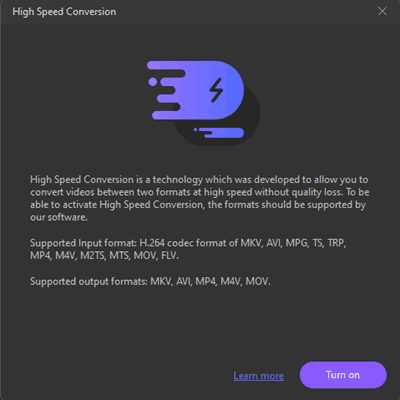 Step 5: Create a Custom Thumbnail
Here comes the most important part. In order to create custom thumbnails for videos like MKV, AVI, M2TS, etc., we will need to click the exclamation mark icon and the edit icon to add a picture to the video as the thumbnail.
Please note the picture will only show up as a thumbnail in Windows File Explorer or macOS Finder; it doesn't show up anywhere in the video. And, though the thumbnail is added on a Windows PC, it works on macOS Finder and iTunes as well! 
Step 6. Add Thumbnail to Video
Click the Convert or Convert All button to start adding a thumbnail to your video!