I cannot remember when it was my first time to use Google Chrome, what I do remember was its tabs that brought me great efficiency and convenience in switching different windows like you do in Internet Explorer. However, have you ever imagined that you could also do so in Windows Explorer? What you need is just a 2.51 MB program called Clover which brings Chrome-style tabs to Windows Explorer.
Clover is from EJIE Technology. It is an enhancement to Windows Explorer. It works like a Chrome extension adding multi-tabs to Windows Explorer and make it chrome-style.
Clover: Tabs for your Windows Explorer!
Clover is perfectly compatible with Windows 8, Windows 7 as well as Windows XP. I have also tested it on Windows 10, version 2.x brings me some tiny problems and get stuck when I open my explorer but version 3.x is fully compatible with Windows 10. Anyway, it brings you the perfect chrome-style tab views in Windows Explorer. With its powerful drag and drop feature as well bookmarks for folders, your work efficiency would be doubled! Since it is integrated to Windows explorer, there is no further steps to learn how to use this program.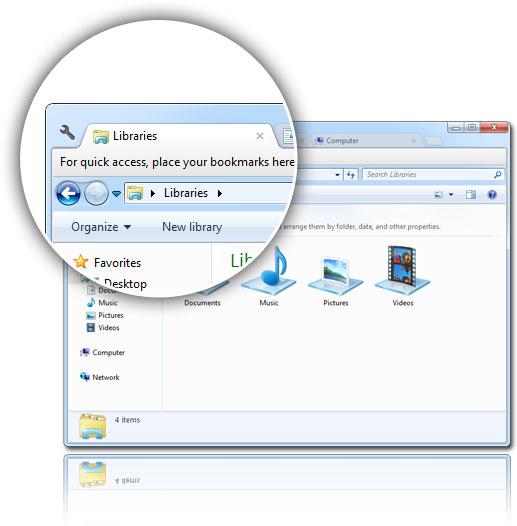 Clover: Windows Explorer Tabs to Double Efficiency
Clover seems to be designed like Chrome, simple but make your work efficient. The keyboard shortcuts are the same as you do in Chrome, Firefox and Internet Explorer 10 as well as other browsers. You are free to open a new Windows explorer window with Ctrl and T, close with Ctrl and W and switch with Ctral and Tab. Ctrl + D also enables you to bookmark your current folder to the bookmark bar and drag-and-drop feature is available. Clover works with many other basic shortcut keys to help you navigate better and faster through your tabbed folders, here are the details:
Shortcuts
Description

Ctrl

 + 

N

Open a new Clover window.

Ctrl

 + 

T

Open a new tab.

Ctrl

 + 

W

Close current tab.

Ctrl

 + 

Shift

 + 

T

Re-open last closed tab.

Ctrl

 + 

D

Bookmark current folder (Delete file or folder if selected).

Ctrl

 + 

Shift

 + 

D

Place all opened tabs into a bookmarked folder.

Ctrl

 + 

Tab

Switch to next tab.

Ctrl

 + 

Shift

 + 

Tab

Switch to previous tab.

Ctrl

 + 

Shift

 + 

B

Enable or disable bookmark bar.
Clover Old Version Download
Clover has been updated to version 3.3.9 now, however I don't like the recent updates at all. They just keep adding ads to the program. However previous version like 3.0.406 or 2.x are good to go. However I'd like to recommend 3.0.406 than 2.x versions as 2.x versions are not fully compatible with Windows 10. You can just follow the below link to download v3.0. It is compatible with Windows 7 and Windows 10 as I tested. It is free WITHOUT any ad. Enjoy it!