My interest is in ripping my DVD collection of movies and TV series. We have a TV series that was on the BBC since 2000. There are a total of 116 episodes in 16 DVD sets. From 2000 thru 2005, 85 episodes were recorded in 4:3 aspect format; and 31 episodes that are recorded in 16:9 aspect format. However, when I try to change the DVD aspect ratio from 4:3 to 16:9 for full-screen playback on Apple TV, I have trouble. 
DVD Movie Playback Not in Full Screen
I was using a ripping software called 123COPYDVD Platinum.   In addition, we had to use a plugin software called BOOOYA to decrypt the DVDs in addition to the 123COPYDVD Platinum software. The original DVDs are in VOB format as are the ripped copies. Each DVD has on average about 5 episodes (30 minute view time each) yet to enable episode separation, it took from 4 to 5 hours to rip and decrypt. This particular software is not able to change the DVD aspect ratio from 4:3 to 16:9. And, as you can see in the image below, it does not play in full screen on TVs.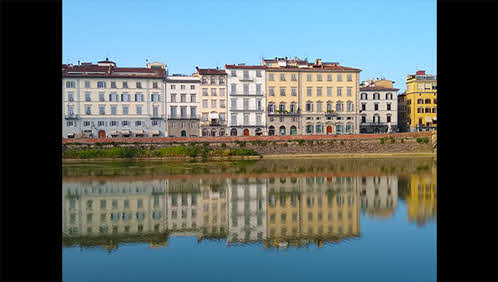 The issue for me is that we desired to rip and decrypt the DVD's to our PC hard drive (Windows 10 64 bit) and copy them over to an external hard drive which plays directly on our Samsung Smart TV. We have been told by Samsung not to play the converted DVD's in 4:3 aspect format at lines will burn into the LED screen and permanently obstruct other full-screen viewings.
Since I have not been able to find any way to change the DVD aspect ratio, I look for an alternative with success. I will share how I change the DVD aspect ratio between 4:3 and 16:9 for full-screen playback on Apple TV, Samsung TV, and other smart TVs. Here we go.
Understanding DVD Aspect Ratio
According to Steve's DIGICAMS, the Aspect ratio is the ratio of width to height of the picture on a television or cinema screen. And there two main aspect ratios for DVDs and TV: 4:3 and 16:9.
The pan and scan come to make 16:9 movies on 4:3 standard TVs. Basically, it adjusts widescreen movies to fit the standard television aspect ratio by cutting off the sides of the movie to show within the middle of the television. This, however, loses 30% of the original image in cropping.
If a DVD ripper tries to change the DVDs aspect ratio, the DVD ripper must be technically skillful. The DVD ripper will go scene by scene to select the main focus of the movie.
Letter Box is the black bars at the top and bottom of the screen for the purpose of preserving the aspect ratio of the movie. Typically, the black bars appear on 4:3 standard TVs for playing widescreen 16:9 DVDs.
As an alternative to Pan and Scan, some movies only have the letterbox as the film producers refuse to use Pan and Scan.
I am impressed by the Leawo DVD Ripper software that converts, decrypts, and changes the DVD aspect ratio between 4:3 and 16:9. What's more, it does at a much faster speed and it fulfills all my needs of ripping DVDs to the PC's and Mac's hard drive and then copy over to the external hard drive to enable playback on our Samsung Smart TV with 16:9 aspect ratio in full screen.
Actually, Leawo DVD Ripper rips 4:3 DVDs to 16:9 MP4, AVI, WMV, MKV and 16:9 to 4:3 as well. As you can see in the screenshot below, it supports Letter, Pan and Custom. 
And, you are also free to trim, crop, watermark your DVD videos. Just follow the below buttons to have a free trial of the DVD aspect ratio changer.
Change DVD Aspect Ratio for full-screen playback on TVs
This is my way of using the Leawo DVD Ripper to change the aspect ratio of DVDs from 4:3 to 16:9.  I want to make the DVD videos more compatible with my Samsung smart TV, which is one of the top smart TVs on Amazon in the United States. Actually, TVs accept different aspect ratios. You can follow the below guide to change aspect ratios of DVDs between 4:3 and 16:9 to better suit your TV, new Apple TV included, for full-screen playback.
Please follow the above download buttons to download, install and launch Leawo DVD Ripper before you change the DVD aspect ratio and rip 4:3 DVDs to 16:9 MP4. Put a DVD into the DVD drive to get ready. Here we will take one of the BBC DVD 3618 as an example. 
Step 1. Once you launch the program, choose DVD Ripper in the main interface. Click the "Add Blu-ray/DVD" option to add the DVD. Other DVD media like ISO or VIDEO_TS folder on HDD are also available to add. Click its drop-down to add a DVD folder or ISO option to add a DVD ISO file.
Step 2. It takes only a few seconds for the program to analyze the DVD. Right after the DVD is analyzed, you will be presented a window to select Main, Full Movie or custom mode before ripping. Choose the one you prefer, but I'd always recommend Main Movie for movie DVDs and Custom Mode for TV shows.
Step 3. Custom the output for Samsung TV. MP4 comes as the default output profile. We need to click on "MP4 Video" and Change, go Device-Apple and find the profile for Apple TV. Or you can just search it for quick access to the profile. I find the profile for Apple TV works on my Samsung smart TV as well, so I go for that profile. For other TV, you will go check the specifications to see the video formats, codec and resolution it supports. But I assume the profile for Apple TV will work for most TVs.
Step 4. Set the resolution and DVD aspect ratio. As we can see the default resolution for Apple TV is 1920×1080, which is great for Blu-ray ripping, but too much for a DVD. Simply expanding a DVD's resolution won't give you better video quality. So I suggest clicking on Apple TV-Change to custom the profile. There we can change the resolution to original or custom a resolution and set the aspect radio to 16:9 for widescreen TVs.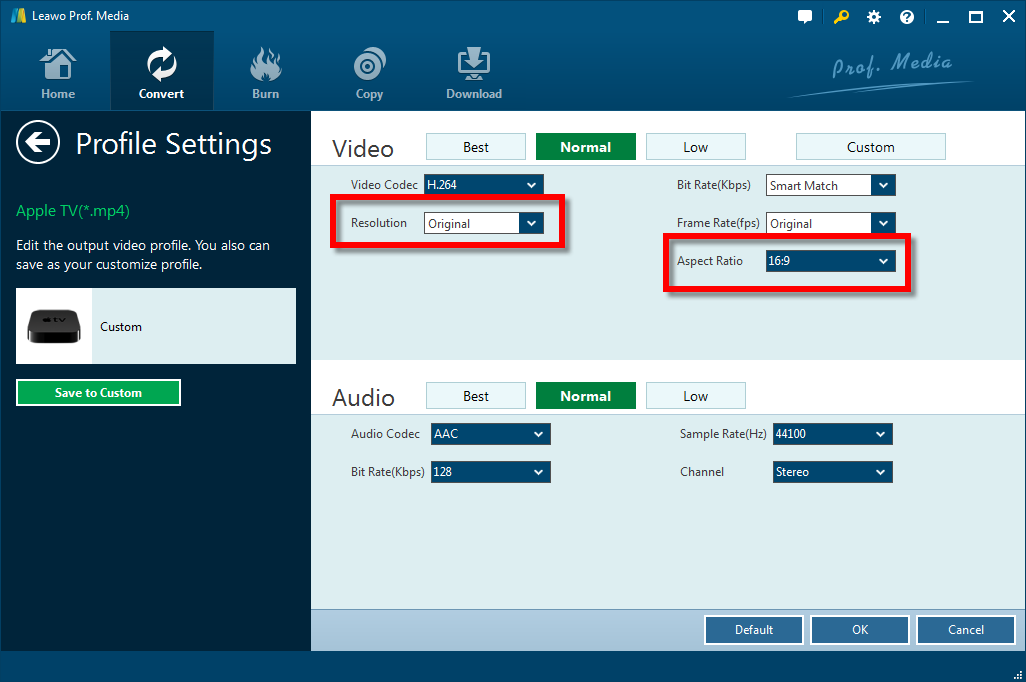 Tips:
You are also able to change resolutions, codecs for videos and audio codecs, channels as well. Please note when adjusting the resolution, it is the small letter x between width and length.
Apple TV won't accept videos with resolution over 640*480 if the video codec is MPEG4.
You are also able to set resolutions and aspect radio in Edit-Crop.
Step 5. There are no other settings needed. So we just go for the RUN button and let the program ripping to change the DVD aspect ratio. The ripping speed is slower using H264 than MPEG4. But I think the video quality deserves it.
The only pity, while watching on TV, is the title individual episodes, as it won't show up similarly to the way they show on the original DVD's. The original DVDs open with each episode titled in a table of contents and you select which episode you desire and play that episode, or you can select to play all the episodes on that DVD. But I am still able to do so on the computer with individual episodes or menus if I copy the DVD to ISO or burn DVD to DVD with Leawo DVD Copy.