A couple of years ago, my brother-in-law called me for help as his computer running Windows XP at that time got hacked and the admin password was reset. The login windows left an email address and asked $200 for a new Windows password. The only way I could think of at that moment was to reinstall Windows but would have to lose all the programs and start all over. This is a true but sad story I almost forget until recently I was invited to review the program iSunshare Windows Password Genius.
For work and personal privacy needs, I set passwords for every computer I have and it is very likely to lose Windows password nowadays since there are just so many passwords to remember. What if we lose the Admin password of Windows and what is the best way to reset Windows password? There are just so many ways on Google but you will find them not working at all, some crash your whole system and some are not just ready for Windows 10 password recovery. 
iSunshare Windows Password Genius is just the very program to remove or change your Windows password without your having to format the whole system. The executive program works as an all-in-one burner to burn bootable ISO to blank DVD/CD or USB drive and starts Windows with the burnt Windows PE system to recover lost Windows password. 
What I am going to review is the iSunshare Windows Password Genius Standard version which I believe is the best Windows Password Recovery Tool.
Reset Windows Password Key with Bootable CD/DVD
iSunshare Windows Password Genius is able to create a password reset bootable CD or DVD for almost all Windows system, including Windows 10, Windows 8/8.1, Windows 7, XP, Vista (64/32 bit), and Windows Server 2012 (R2)/2008 (R2)/2003 (R2). 
I myself would like to recommend users to create Windows 10 password recovery to bootable CD/DVD simply because we can keep the CD or DVD and use whenever we need it. Your other computer will have to have a built-in or external CD/DVD ROM.
It is very simple for us to bypass Windows 10 password by iSunshare Windows Password Genius and we just have to click the CD/DVD button on the main UI and burn the CD/DVD PE system by clicking the Begin burning button.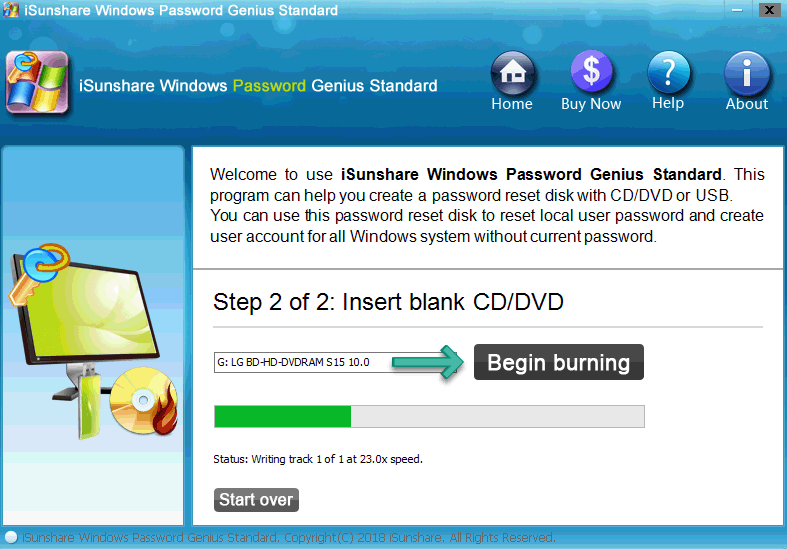 Toubleshooting-Burn Bootable CD/DVD Failed?
For the first time when I was trying to burn the bootable DVD, I was notified an error that reads: Burning Failed! I was using a DVD-R for burning and this is quite common to get an error message for compatible conflicts. And since I have switched a DVD+R, everything goes fine: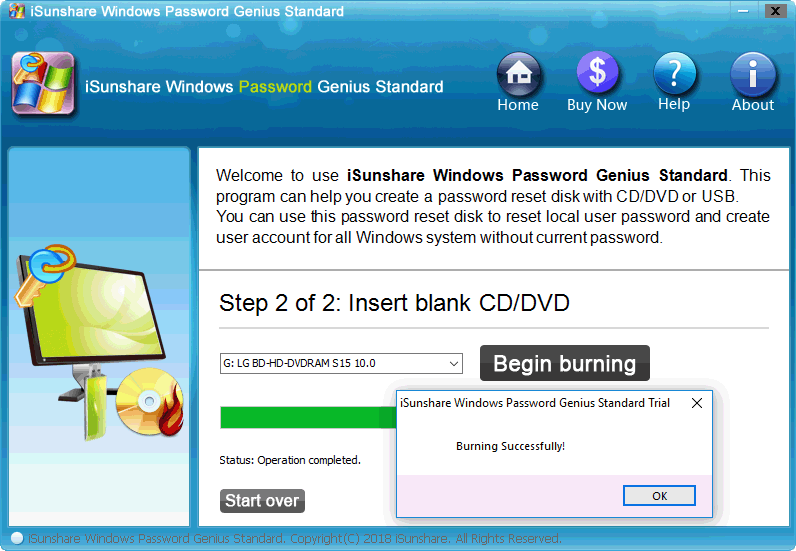 Windows Password Key Recovery on bootable USB
iSunshare Windows Password Genius lets you reset Windows password via bootable USB as well. This is extremely useful for those who don't have a CD or DVD drive. The SD or microSD card of your camera or phone will also work if you have a card reader.
Your USB drive will be formatted to NTFS for bootable. Make sure you have all the data backed up.
Reset Password for Windows Installed on Your Mac
Is there a possibility that no Windows machine is around you, but only a Mac? Or you run both Mac and Windows on an MBP and lost the password for Windows? Does Windows Password Key works on Mac computers and reset the password for your Windows? 
I run both Windows and Mac on a MacBook Pro 2011. Old computer but both systems work great on me. If I forget my Windows password, I am still able to create a bootable USB or CD/DVD disc and remove or reset the Windows password.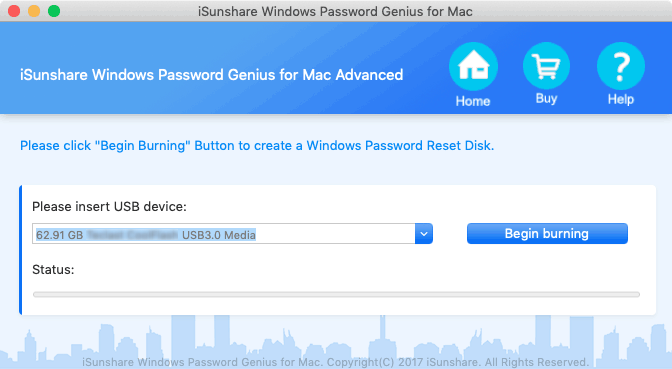 If you run a Mac machine and want to reset your lost Windows password, you can follow the above simple guide to create bootable CD/DVD or USB drive and boot to iSunshare Windows Password Genius to reset/remove the password. As far as I can tell, the burnt bootable DVD/CD and USB drive work on my desktop Windows 10.
Windows Password Key is a similar program developed by 4WinKey. When I compare the two programs I find Windows Password Key is quite limited. First of all, there is only a Windows version? What if we don't have another PC but Mac? 
It seems you are able to burn the ISO with the built-in burning option, but please note this only works on Mac with a DVD drive that is able to burn the ISO to disc. I don't find its way to burn a bootable USB.
Besides, Windows Password Key by 4WinKey is complicated to understand as there are four versions: standard version is able to do a Windows password reset via CD or DVD drive. If there is a  DVD drive, the standard version is able to meet your needs and it is only $19.95. For those who don't have a CD or DVD drive, you will need to the professional version or above.  If you need other features like creating or removing local/domain admin account, you will need to go Enterprise version or above. The Ultimate version works somewhat more like a system care program that is able to check up your PC, remove app and registry junks, tune up the system and protect your privacy.
Well, with iSunshare Windows Password Genius, you are able to do all the above for just $19.95. Considering the price and features needed for most people, I assume iSunshare Windows Password Genius is needed by most users and better cost performance, making it the best for Windows password recovery. 
Pro:
Windows servers and Mac supported.
A high rate of Windows 10 password key reset and another version of Windows including Windows 8.1/8, Windows 7, XP and Vista.
Fast burning process for both USB and CD/DVD.
Very detailed guide on how to reset/remove password for a different brand of computers
Cons:
Need better support for Windows password reset on VM.
Summary:
iSunshare Windows Password Genius is extremely useful for whatever reason you lose or forget your login password. And it's easy to burn a bootable USB/CD/DVD with one click and you don't have to be very tech savvy to reset Windows password with detailed guides on a different brand of computers. It's stable and trusty to use.