When you need photos for professional use, quality is essential. It could be you want to use the photo or image on your blog, social media account, or for advertising. You may feel frustrated when the only image available is of poor quality. 
Poor-quality images appear blurred whenever you want to use them on a larger surface. To solve this problem, what you need is an AI image upscaler. It will increase the overall image size and improve the quality a lot. Many AI image upscalers are available in the market, but we have reviewed the ten best for you.
Besides, video upscaling is also possible. 
Topaz Gigapixel AI[Best for PC and Mac]
Topaz Gigapixel AI automatically detects your images and enhances them. Its AI features make the program detect faces automatically. You can utilize this online tool to run a batch of photos and get results in a real quick time. The program can enhance your images by up to 32,000 pixels if you want JPEG images. 
If you want to enlarge an image, the program can achieve a 600 percent image enlargement from the original. It gives you a super clear image free from blurs and noise. It is compatible with a wide range of browsers and operating systems. It is an entirely web-based application. 
AVCLabs Photo Enhance AI can upscale your photos by up to 400%. The upscaled images will have a better resolution and look sharper. The app removes grain and enhances brightness and contrast automatically. 
The program is already AI optimized to eliminate all the hard work and let AI do it. It processes your photo in seconds to produce unmatched quality. With this tool, you can really play with your photos. You can remove the photo background, enhance color, and remove noise.
This online platform magnifies images up to 4 times with AI. Utilizing deep learning and convolutional neural networks, it transforms low-res images into high-definition masterpieces. Upscale image tool supports JPG, JPEG, and PNG formats, ensuring every image retains its vibrancy and clarity.
The maximum allowable image size for upload is 5 Mb, and users can upscale 10 photos per month at no cost, without a watermark and sign-up. For those seeking more, Image Upscaler offers a package with lifetime updates and access to their suite of AI tools starting at just $6/monthly. This comprehensive package covers all tools on their website. Conveniently, it's available online for desktop versions, including Windows and Mac, as well as mobile phones.

AnyRec AI Image Upscaler can make your image larger by 200%, 400%, 600%, and 800% while preserving high image quality. Advanced AI technology can detect and enlarge your picture in one stop. It is 100% free to use. No watermark. No signup. The maximum image size is 3000*3000px. You can upscale your small pictures for free online losslessly.
Just upload your picture into this free AI image enlarger. Choose which image enlarge option you like among 2x, 4x, 6x, and 8x. Moreover, you can move your mouse above the picture to directly compare the before/after effects. In a word, AnyRec free AI photo upscaler and enhancer can make JPG/JPEG/PNG/BMP/TIFF/TIF pictures larger without getting blurred.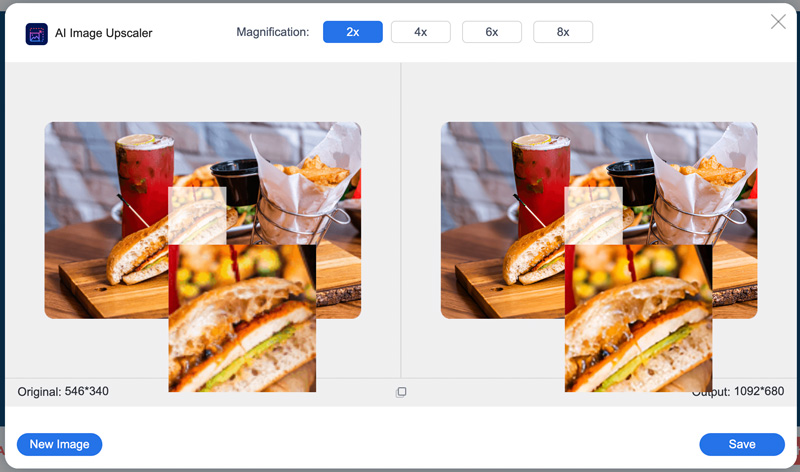 Stockphotos Upscaler allows you to use the app on demand. You will get your first three upscales for free upon signup. After that, you will pay $0.1 for every upscale you do. But it's not mandatory to pay for it as you have to pay only if you decide to use it. 
The premium upscales allows you to achieve up to 8,000 pixels output. The app provides you with stunning results in many aspects. You can change your images into different formats such as BMP, JPG, WebP, and PNG. If you have any unused upscales, you can continue to use them for up to one year.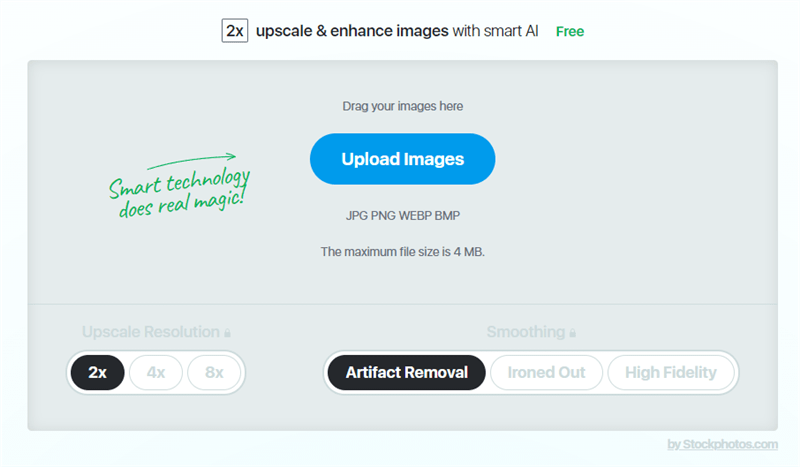 Icons8 AI Upscaler uses AI technology to enhance images. It is used to enlarge and add image resolution. The developer is constantly adding more images. The program currently has over 5 million images. It is safe to use and doesn't use your photos without authorization. 
You can use the app to add contrasting colors, make the texture clear, and the edges sharper. To help you get the colors right, icons8 uses AI to enhance image resolution, generate faces, and protect your data. Use AI to remove background and swap faces. 
There are different reasons you might need to work on your photo – for resume, social media profile, or something else. If the photo quality is not up to the mark, you will fail to get the desired results. An AI image upscaler will help you improve the look of the photo. Besides a good picture, you can also go for a professional-level resume to help create one that is highly appealing to potential employers. 
AI Image Enlarger is available both as an application and web-based. It is compatible with Mac and Windows. It uses AI to boost image resolution while maintaining image quality. The program allows you to perform upscaling in multiple batches.
To make your experience better, the app developer allows limited free use per month. If you don't have a lot of images, you can enlarge photos online for free.  You must pay for a subscription to use it for the rest of the month.
Cutout.pro Photo Enhancer
Cutout.pro Photo Enhancer uses AI to upscale images automatically. Users may opt to pay for a subscription, pay-as-you-go, or use on-demand. To use this tool, there are both options – work it as a downloaded tool or simply in the browser. 
It will enhance any type of photo no matter how poor the image might look. It has tools to improve image appearance, such as adding color, removing spots and background, or improving color. 
VanceAI Upscaler is available in both free and subscription versions. The program can upscale images up to 16 times. The tool improves image quality and enhances resolution by up to 800 times. The moment you paste your image, the tool uses AI technology to automatically upscale and achieve 100 percent color adjustment. It is used to achieve AI super high-definition images. It allows you to retouch your photos to improve their appearance or create an AI anime portrait. 
Deep Image AI Upscaler allows you to achieve up to 100 megapixels when upscaling. Its AI algorithms will enable you to enlarge your photos to any size without losing resolution. Use the tool to remove artifacts and achieve a highly clear photo. Use the AI deep image photo enhancement feature to enhance image quality.
The tool is a good choice for business people. It helps them create sharp images that attract attention. 
UpscalePics is a good choice for upscaling and enlarging images. It upscales different file formats like WebP, JPG, and PNG up to 4500 pixels. The tool is one of the best cases of an AI and machine learning program to ramp up your images. It makes images sharper and larger and does not lose the image details. 
If the image looks blurred due to JPEG artifacts, it will remove the noise automatically and preserve the photo details. UpscalePics ensure your privacy is taken care of to the maximum. None of your images ever leaves your device. Once you acquire the tool, you access unlimited use. 
Cre8tiveAI is an excellent choice for people interested in upscaling photos and videos. The program enhances resolution to give photos and videos a super-resolution. Its AI face illustration algorithms can draw over 1 million different face illustrations/icons fast. You can use the program to change photos into paintings, line drawings, enlarge photos, or generate them into videos.
Photos are useful in communicating information. They are helpful for marketers when promoting specific products. Sometimes you may want to use a particular image but realize its quality is too poor. An AI image upscaler makes the work easier for you. The tool uses AI features to remove artifacts from images. It removes the background, noise, and all unwanted spots. The tool enlarges the photos using AI algorithms and gives you a clear image.