In today's marketing landscape, high-quality photos are essential for content marketing. Fortunately, AI tools like Topaz Gigapixel AI can help you to improve and enhance the quality of your photos, pictures, or images without sophisticated equipment greatly.
With Topaz Gigapixel AI, you can upscale images while maintaining excellent detail and quality. In addition, AI technology can help you to retouch your photos, removing blemishes and imperfections. As a result, this image quality enhancer can be a valuable addition for anyone looking to improve their photo quality.
What is Topaz Gigapixel AI?
Just as it sounds, this photo editing tool uses AI technology's power to enlarge images by up to 600% with enhanced quality, so you can get the desired results without sacrificing quality.
Whether trying to improve a family photo, enhance photo quality, or touch up a professional image, Topaz is the perfect solution. And if you're looking to enhance your career, it can be a great Careersbooster.
And Topaz Gigapixel AI does not only make it easy to increase image resolutions. It also allows you to crop any sections of selected images and even crop them without causing any distortion.
What's more, as the best AI image quality enhancer, you can use the tool as a plugin in photoshop or just as a standalone photo editing software. Most people also love this tool because it adopts face refinement to ensure maximum accuracy when enlarging human faces in images. With its AI capabilities, it can identify and enlarge small faces ranging from as low as just 16 by 16 PX to 64 by 64 PX.
Use Topaz Gigapixel AI to Enhance Photo Quality
Considering that this tool utilizes AI, it is easy to assume that using it is somehow complicated. However, that is not the case. The truth is, using this tool to do AI image upscaling is as easy as using any other photo editing tool. Here's how to use Topaz Gigapixel AI.
Step 1: Download the Tool
On your browser, navigate to the Topaz Gigapixel AI official page. Here's the link:
On the official page, you will find two options; buy for $99.99 or try Topaz AI Gigapixel for free.
To get the free version, you will need to key in your email address, after which you will get an email with the relevant download links. You can choose to download Topaz Gigapixel AI for the Windows version you're using or Mac. The software package is just about 31MB.
Note:
If you choose to go with the free version, you will be able to use this photo editing tool for free with a watermark. You can also upgrade your Topaz Gigapixel AI subscription to enjoy all the premium features.
Step 2: Installing Topaz Gigapixel AI
Once you've downloaded the tool, installing it should be a breeze. It comes with simple step-by-step instructions for installing it. You will only need to follow them.
Note:
The installation requires an Internet connection to download the required files.
Once the installation process is complete, you can launch it to try its powerful features. Just click "Start Trial," and you will get a quick tutorial to make the whole process seamless.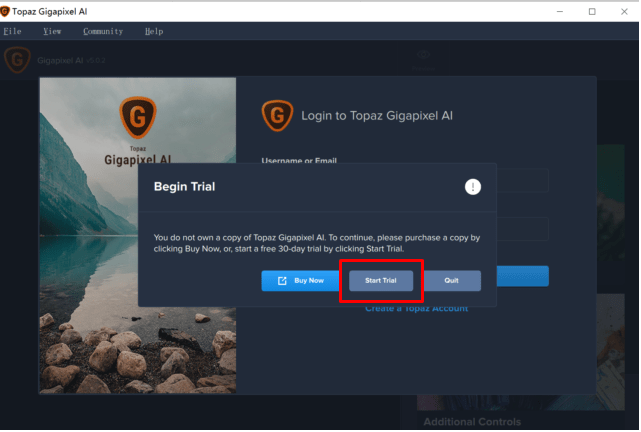 Step 3: Converting Low-resolution Image Files to High-resolution 
To begin maximizing and enhancing your photos' quality, you will need first to load them to the AI upscaler. To do this, click the icon labeled "Browse Images." You should see it located in the middle of your screen. Alternatively, you can also drag and drop the images from your computer.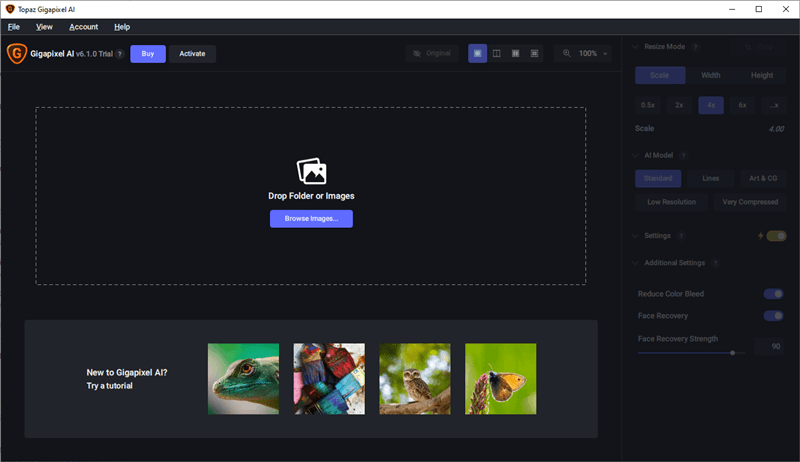 Once the image is loaded, you can decide your scaling value. Topaz Gigapixel AI allows extensive flexibility for enlarging images, photos, or pictures, and you can choose scaling values like 2x, 4x, or even 6x. It also allows you to resize your selected images by height or width.
Step 4: Saving the Images
Topaz Gigapixel AI allows you to save the edited image in the exact location of the original image or a different directory. To change the directory, click the custom source icon and choose your preferred directory.
You can also change the file name so you do not confuse them later. You also have the luxury of choosing different image formats such as jpeg, png, jpg, and tiff.
To enhance the photo, image, or picture quality, please note that by changing the height of your images, the tool will automatically adjust the width for you. This tool is designed to ensure that the aspect ratio of the modified images isn't distorted. When maximizing the quality of your images, you can choose to refine them by removing blur or noise. Alternatively, you can just set PPI.
Set Pixel per Inch (PPI):300 PPI is among the most preferred choices. Now, if you go with 300 PPI and 8 inches, the image you will get will have 2400 pixels for the width at a minimum.
Refining Images by Removing Blur or Noise: By reducing shakiness or misses focus, this tool improves the clarity of your photo. To do this and further refine your images, just move the two sliders.
AI Image Upscale: the Pros
The pretty impressive features make Topaz Gigapixel AI one of the best ai image upscaler on the market:
Automatic face refinement to fix low-res photos: This feature is designed to improve photos with low resolution. Once you upload such images, this tool will automatically detect the faces in them and then go ahead to clear them, which is done by removing any blur or noise around the faces to make them pop up.
Use the neural network to improve image quality: This is one of the most powerful photo enlargers because it uses a neural network. Once you feed in low-res photos, it will create a high-res version several times the original's quality.
It is very easy to use: The fact that it comes with a trial version makes it even more attractive. And the fact that it is very easy to install and use means you won't have any problem getting started.
It is compatible with Mac and Windows: This photo enlarger works with Mac and Windows. So, regardless of your operating system, you can be sure that it will work just fine.
If you are looking for an AI photo enlarger that can help you improve the quality of your photos, then you should consider Topaz Gigapixel AI. With its impressive features and ease of use, it is one of the best photo enlargers on the market. So, why not give it a try? You just might be surprised by the results.