PDF, which stands for "Portable Document Format," is a standard format for storing documents, forms, and images. Its security, compatibility, and portability make it popular in commercial and institutional settings, including schools and government offices. However, one of the downsides of the PDF format is that it's not as easy to edit as other document formats like Microsoft Word or Google Docs. This is where PDF editing tools come in handy.
PDF editing can be done using specialized software tools, like SwifDoo PDF. This type of software allows users to add, delete, or modify the text, images, and other elements of a PDF file. It also enables users to annotate and highlight text, as well as add digital signatures and form fields. 
In this post, you will see my SwifDoo PDF review.
SwifDoo PDF Review: Overview
SwifDoo PDF is an all-in-one PDF software that allows users to view, create, edit, and convert PDF files. With SwifDoo PDF, users can perform a range of tasks on PDF documents, including adding or deleting pages, inserting text, images, or watermarks, and merging or splitting files. The software also has features like OCR, which turns scanned documents into text that can be edited, and the ability to fill out and sign forms electronically.
SwifDoo PDF's intuitive design makes it suitable for users of varying computer literacy levels. And, SwifDoo PDF has the potential to be a helpful tool for individuals and enterprises who regularly deal with PDF file management and editing.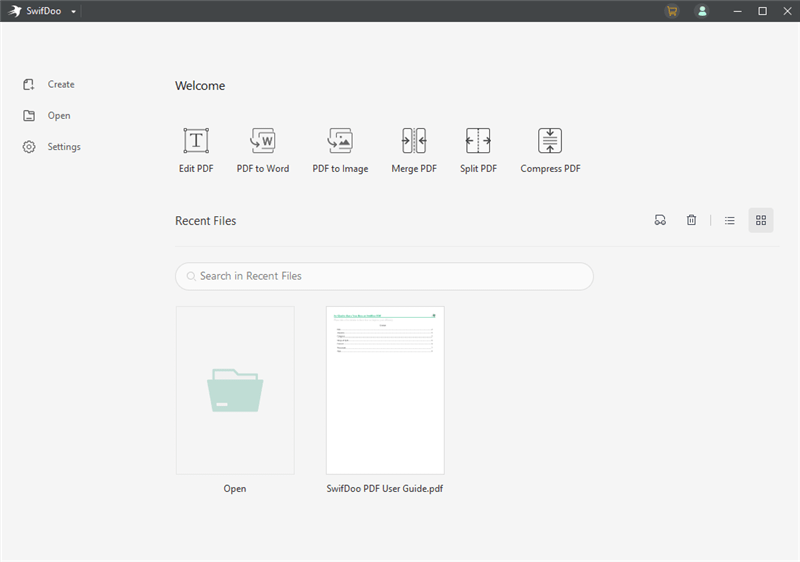 In my SwifDoo PDF review, you will see a detailed list of its key features.
SwifDoo is a PDF software that offers a range of key features designed to help users create, edit, and manage PDF files. In this part of the review, you will see some of the main features of SwifDoo PDF:
PDF Creation and Conversion: SwifDoo allows you to create new PDF files. You can convert other file formats, such as Word, Excel, and PowerPoint, from or to PDF or merge multiple PDF files into a single document.
Editing and modification: With SwifDoo, you can easily edit and modify PDF files. You can modify the number of pages, change the order of the pages, add text, photographs, and watermarks, and change the style of your papers.
OCR (Optical Character Recognition): SwifDoo includes powerful OCR technology that can recognize text in scanned documents and convert it into editable text. This can be a significant time-saver when dealing with scanned documents or other images.
Forms: SwifDoo provides a range of features for working with forms, including the ability to fill out and sign forms electronically. You can also add form fields to your PDF documents, such as checkboxes, text fields, and drop-down lists.
Security: SwifDoo includes features for encrypting and password-protecting PDF files to prevent unauthorized access. You also have the option of adding signatures to your PDF files, which will further confirm the papers' genuineness and overall integrity.
Compression: By using SwifDoo, you can compress your PDFs and make them smaller in size without sacrificing quality. This can make it easier to share large PDF documents via email or other file-sharing platforms.
[FREE ONLINE] PDF Conversion
SwifDoo's features for converting PDF files make it a versatile and powerful tool for anyone who needs to work with PDFs. Converting PDF files online with SwifDoo is totally free, and you don't even need an account.
Indeed, you can convert PDF files with the desktop software you paid for too. Here are more details for you:
PDF to other file formats: SwifDoo allows you to convert PDF files to a range of different file formats, including Markdown, Microsoft Word, Excel, CAD, HTML, EPUB, XPS, and PowerPoint, as well as images in JPG, PNG, TIF, and BMP. You can convert entire PDF documents or select specific pages to convert.
Other file formats to PDF: SwifDoo enables you to convert files from a variety of formats into PDF format. You are able to convert many different sorts of files, including photos, Word documents, Excel spreadsheets, and PowerPoint presentations, to PDF format.
SwifDoo also allows you to convert other file formats to PDF. You can convert Word documents, Excel spreadsheets, PowerPoint presentations, CAD, TXT, XPS, EPUB, images, and other file types to PDF format.
Batch conversion: SwifDoo allows you to convert multiple files simultaneously, saving time and improving efficiency. You can perform a batch conversion on a group of files that you've selected.
Customizable settings: SwifDoo allows you to customize the settings for your conversions, including the output file format, image quality, and page size. You can also keep the fonts, images, and other design elements in your original documents.
Fast and accurate conversion: SwifDoo uses advanced technology to ensure fast and accurate conversion of your PDF files. The software is made to keep your documents' original content and layout while making sure they print out nicely.
Merging and Compressing PDFs
SwifDoo provides a range of features for working with PDF files. You can merge multiple PDFs into one document and compress large PDFs to save space and bandwidth. Here are some details about SwifDoo's features for merging and compressing PDFs:
Merging PDFs: Using SwifDoo, you may combine several PDFs into one. You can browse and choose the files you want to merge from your computer's folders and then drag and drop them to change their order.
Compressing PDFs: SwifDoo allows you to compress your PDF files to reduce their size. This can be useful for sharing or uploading large PDFs, which can take longer to send or download. SwifDoo uses advanced compression algorithms to reduce the size of your files without compromising on quality.
Customizable compression settings: SwifDoo provides customizable settings for compressing your PDF files. You can choose the level of compression you want, from minimal to high, and adjust the image quality to optimize the balance between file size and image quality.
Fast and accurate processing: SwifDoo is designed to process your PDF files quickly and accurately. The software uses advanced technology to ensure that your documents are compressed and merged efficiently while preserving the original content and layout.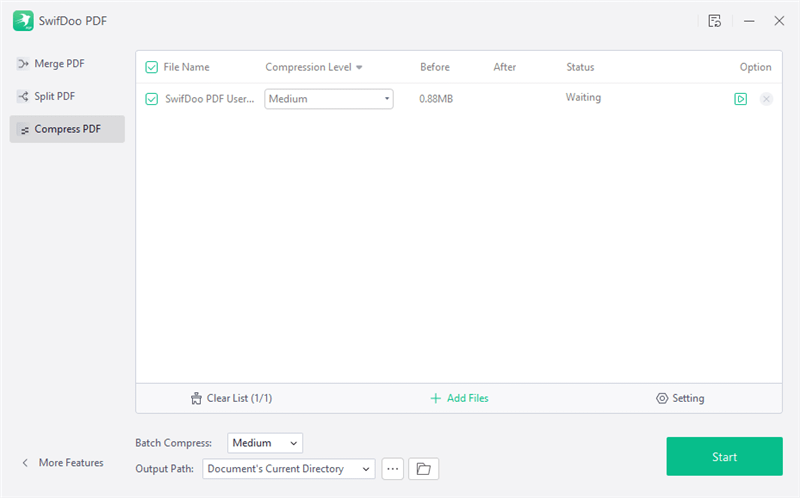 SwifDoo can protect your PDF files from opening or editing.
Password protection: SwifDoo allows you to protect your PDF files with a password, which can prevent unauthorized access and ensure that your documents are kept confidential. You can set a user password, which is required to open the PDF, and an Owener password to change the permission settings.
Permissions settings: SwifDoo allows you to customize the permissions for your PDF files, which can control what actions users can perform on the document. You can set permissions to allow or restrict printing, copying, editing, and/or annotating.
Signatures: SwifDoo allows you to add an image, input, or handwritten signature to your PDFs, which can verify the authenticity and integrity of the document. However, please note that this is not a digital signature using a certificate.
Watermarking: SwifDoo allows you to add a watermark to your PDF files, which can provide additional security and identification. You can choose to add a text or image watermark and customize the position and appearance of the watermark.
System & Hardware Requirements
SwifDoo PDF is currently only available for Windows. The good news is that running the program does not require high specifications. Here are the minimum hardware requirements:
OS: Windows 11, 10, 8, 7, and XP (32 & 64)

Processor: 1 Ghz processor or above

Hard Drive Space: 150 MB or above

RAM: 1 GB RAM or above
As you can see, you don't have to have a very powerful machine to edit PDFs with SwifDoo. But you might need a more powerful computer with more RAM, storage, and processing power to make sure things run smoothly with more complicated tasks or larger documents.
SwifDoo PDF offers three kinds of plans: the Monthly/Quarterly, Yearly, and Perpetual plans, from $48,  $69, to $103.
SwifDoo lets you pay with PayPal, MasterCard, Visa, JCB, Discover, American Express, and Maestro, among other options.

SwifDoo PDF may be activated in a few easy steps. I purchased a pro license before beginning my SwifDoo PDF review. And now, I'd like to demonstrate how to activate SwifDoo PDF.
You can simply log in after your purchase for monthly or yearly subscribers. The PDF software will automatically activate itself. For lifetime license users, you need to redeem the code on its official page here:
Please be very clear that SwifDoo does not offer a no-reason refund policy. SwifDoo provides a free trial before purchasing, and it's recommended to have a clear understanding of the product before making a purchase. If you still need a refund, email [email protected] with a reason why.
SwifDoo Advantages and disadvantages
SwifDoo is a PDF software that offers a range of features for creating, editing, and managing PDF files. Here are some of the pros and cons of using SwifDoo:
User-friendly interface
Range of features to create, edit, convert, merge, protect PDF files
OCR technology support
Compress PDF without losing quality
Free Online PDF Converting
Email support only
No digital signatures
SwifDoo PDF is definitely a good all-around PDF software that can meet different people's needs. However, always be sure to have a trial first, even after reading my SwifDoo PDF review.