I try to merge videos recently. And, I have tried a couple of free video joiners. However, I have real problems with joining videos into one.
Firstly, I try to merge and combine videos online with some free online video joiners. When attempting to merge GoPro footage files, it starts the process and after a time quits, saying it cannot merge the files.  This happens every time I try to merge multiple files (more than 2).
Then, I try some video joiner software. And it was using just CPU, saying 2hrs remaining to merge 1 minute and 17 seconds total of video-no edits made, just the merge. How it takes so long? Sometimes, it says it is loading them and it just stays there and the bar never moves. I try to cancel or shut down and nothing happens. I have to force quit it.
There are numerous desktop programs, mobile applications, and online solutions available that allow you to merge and combine multiple video clips into a single file. Instead of trying each one and trying to find out which one is the ideal option for merging video clips in different formats, frame rates, or even different aspect ratios, I will give you the best options to merge videos like MP4, MKV, M2TS/MTS, MOV, etc.
Free Online Video Joiner to Merge Videos without Watermark
It's a good option to merge videos online. And, various online video mergers are available that allow you to merge several clips at the same time and most of them are free to use.
Note:
When utilizing these online tools, you must keep in mind the importance of security. Online tools may provide some security problems like viruses and Trojan that can cause damage to your files and machine. Also, if what you want to merge are private videos, we recommend using desktop video joiners to better protect your privacy.
Movie Maker Online provides timeline-based editing, and I believe it's one of the best free online video editing software. With Movie Maker Online, you can add titles and effects. In addition, a library of royalty-free music and stock pictures is built-in to assist you in finishing your projects.
The most significant advantage of Movie Maker Online is that there is no registration needed, and it is completely free to use with no watermarks! You can export your video up to 1080P.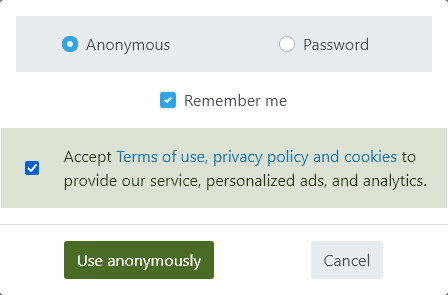 How to Combine Videos Online without Watermark
Movie Maker Online can easily combine MKV, MP4, AVI, M2TS, etc for you. First of all, upload your files by clicking "Add files" or dragging and dropping your videos onto the website.

In contrast to other online tools, videos are placed vertically in Movie Maker Online instead of horizontally. So, to merge videos with Movie Maker, you need to make sure your videos are in the main video track one after another. If one video is added to the Background track, one video will play over another.
Then, click Make Video. When your videos are merged, it will show you that your video is ready. Click Watch the Movie, and the Download is now available: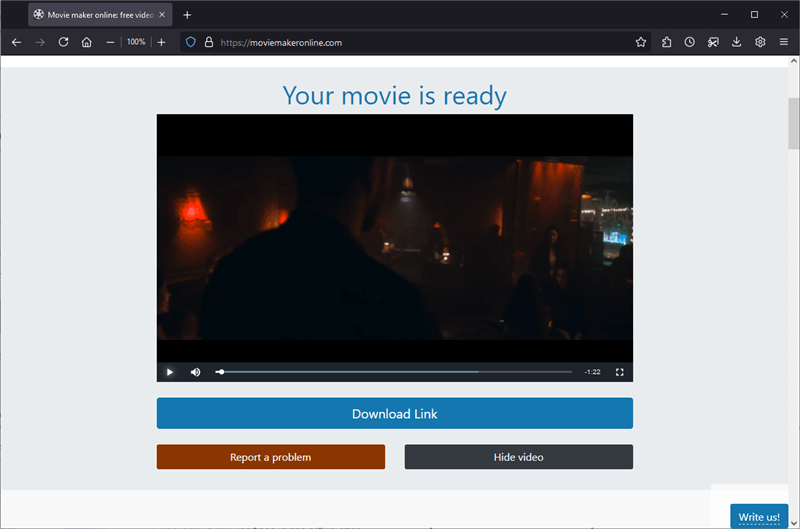 Free Desktop Programs to Merge Videos
As I said, I prefer desktop programs, either a video converter or a video editor, to merge videos. If you prefer this kind of way to join videos, here are a couple of free programs for you do to. You can use them without an internet connection. 
FFmpeg is a super-powerful command-line tool to process anything that is related to video, audio, and other multimedia files and streams. It's free and open-source. Joining videos with FFmpeg only need three lines of commands. For more details, please visit the detailed guide on how to concatenate files using FFmpeg.
MP4Tools is also an open-source project. It consists of two applications: MP4Splitter, a free video splitter, to split MP4 files into multiple clips, and MP4Joiner to combine MP4 videos into one large video.
MP4 video is the only video supported, and because of that, MP4Tools allows you to divide and combine MP4 videos without having to re-encode them. So, you can merge videos without converting. The joining process will be sure fast without any quality loss.
And, MP4 Joiner is super-easy to use. Simply drag and drop the MP4 files into the program, and click Join. Done!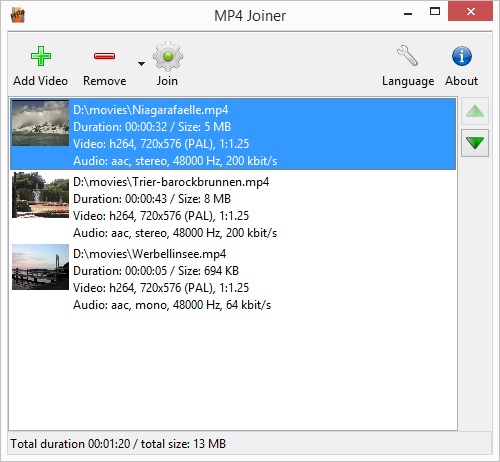 Technically speaking, Avidemux is a free editor with a straightforward UI to accomplish your merging in a few clicks. Avidemux supports the following video formats: AVI, FLV, MP4, MPG, and MKV. Furthermore, if your output parameters are exactly the same as your input settings, Avidemux will not re-encode, saving you time while still maintaining video quality.
I know people are looking for tutorials like "vlc merge videos" or "vlc combine videos". However, to be honest, I hesitate to recommend VLC. It is a great media player that plays almost anything, including DVDs and Blu-rays! But, it's pretty average to rip DVDs, convert, or merge videos.
How Do Hunk Merge Videos?
I myself prefer to use a desktop program to edit and merge videos as I need full control of my videos. For example, I can add music and photos to my videos and merge them with transitions. How do I do that? Well, I prefer a desktop program for video editing and I use Movavi Video Editor Plus.
Movavi Video Editor Plus is a video editor that is both lightweight and powerful at the same time. Movavi created its video editing software with the user in mind, it is not fully suitable for professional work, but it does have sufficient tools for the creation of high-quality videos.
Movavi features a strong yet simple interface that bears an uncanny resemblance to Adobe Premiere Elements. Editing with Movavi is very simple. Clips can be moved about the timeline just like they would in any other software. In this way, we can merge two or more videos clips into one.
Merge Video with Transitions
Do you have the below problem when joining videos?
I am trying to merge a few clips (all of them share the same codec and settings – they all are part of one, the same video which had to be automatically divided into parts since it was being recorded on an exFAT drive). When I test my conversion I can notice that the merge is not smooth. What do I mean by that? I can always spot the merging point in the movie. There is either a little pause in there or some awkward feel to it. Is it possible to achieve a smooth effect?
With Movavi, we can add transitions to your videos before combination. It makes your merged video playback more smooth.
After you have imported and added your videos that you want to merge to the timeline, go for Transitions, and drag the one you prefer to somewhere between two clips.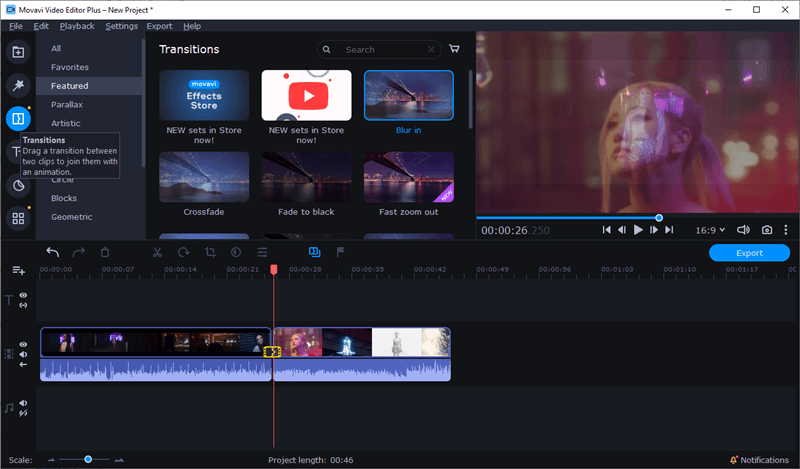 When I try to merge videos, I'd also like to merge photos along with the videos. Or, I need to add a watermark or logo to the videos. It's simple with Movavi too.
Add your videos and photos to the program. Add your videos to the main track and add your photos to the overlay track. Resize the photo and reposition it. Then, click Export to merge videos with photos.
You can also add music to your videos for merging. Add them all first. And, then drag the videos to the main Video Track. After that, drag the music audios to the Music track. You can cut the music to match the length of your videos and click Export to merge videos with audio.
While performing the above tasks, you might encounter any issue leading to a data loss scenario. Such as videos not playing, lost or deleted, corruption, etc. During such time, the best way to fix video corruption is to make use of a reliable video repair tool like SFware Video Repair. This tool is designed with advanced video repair algorithms to fix any type of corrupt video in just a few simple steps. Also, this read-only mode video repair tool is compatible with all versions of Windows and Mac.