In general, I wouldn't say I like the practice of downloading videos from the web. However, I am often asked to include a video in a presentation. No matter the internet speed, for multiple reasons, it's never a great idea to 'stream' a video during a presentation (lag/buffer, ads, etc…). In my opinion, having a file is the ONLY reliable way to share a video in these scenarios.
I have a free youtube downloader on Windows, the 4K Video Downloader, which worked great for me. And I am going to recommend another free YouTube downloader to you today-MacX YouTube Downloader from Digiarty Software, along with a review.
YouTube Downloading Problems
I tried different free YouTube downloaders on Mac to download the required videos from YouTube and wasn't very lucky. One downloader stopped in the middle, and I could not paste youtube URLs to the other program. When I tried to paste, it started to analyze, and after that, it just failed.
On the other hand, some take too long to analyze, and some even fail. Also, downloading times are increased while others overwrite duplicate named titles of the files, forcing the end-user to hunt down the overwritten files among potentially hundreds of files.
MacX YouTube Downloader: Free Download MP4 MP3 from YouTube
I do a lot of re-encoding and downloading, particularly youtube and Instagram, and MacX YouTube Downloader is very capable of that task!
MacX YouTube Downloader amazes me with its power to download videos from YouTube and other video sites, including Facebook, Vimeo, Vevo, Dailymotion, and Metacafe. And it supports up to 8K video downloading! Importantly, it is free! Let's see if this is the truth, and I will take a Veve video on YouTube and a Dailymotion video for a test.
How to Download YouTube Vevo Video Free
MacX YouTube Downloader is Mac user-friendly and easy to use to download online videos. It is intelligent enough to detect the current open YouTube video. Thus, you don't have to copy the URL, go to the downloader, and paste it to analyze like other programs.
I like having the resolution option and different file type options. I most often select MP4 at 1080P when it's available. In this review of MacX YouTube Downloader, I will also take that as an example. Okay, let's go into the step-by-step guide about downloading YouTube videos.
Getting Ready:
Download MacX YouTube Downloader, install, and launch it. Open the YouTube video you want to download.
Step 1. Click the "Add YouTube URL" button
Step 2. Click Paste and Analyze.
Step 3. Choose the video in the preferred resolution, codec, and format to download and click Done.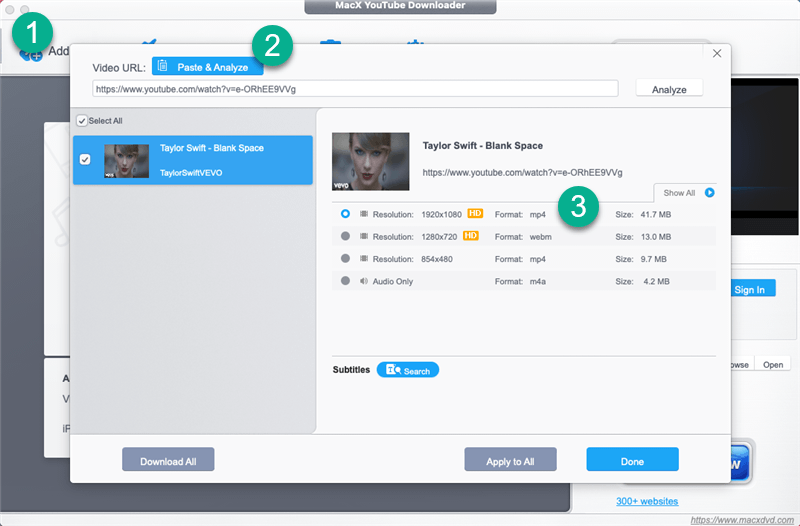 MacX YouTube Downloader can analyze all possible formats, resolutions, and codecs for you to download. It also can offer the exact size of the corresponding video in a specific resolution code or format, including MP4, WebM, and FLV. 1920×1080 is the most common video on YouTube, but the program is able to detect 4K or even 8K resolution videos for you to download.
By default, the program chooses the highest resolution possible to download. But you are free to set the preferred resolution and format yourself in Settings.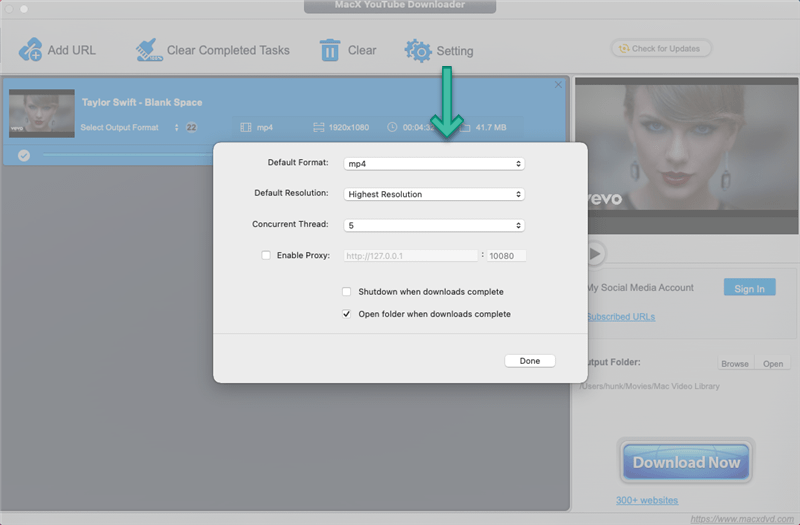 You are able to add multiple YouTube videos for batch downloading. If you want to sync the download video to iPhone, iPad, or iPod, check Auto-add MP4s to iTunes, so you don't have to add them manually. What if the available videos cannot be added to iTunes or synced to iPhone/iPad/iPod due to the special requirement for videos? Check MacX Video Converter Pro to download and convert YouTube videos to iPhone/iPad/iPod compatible formats.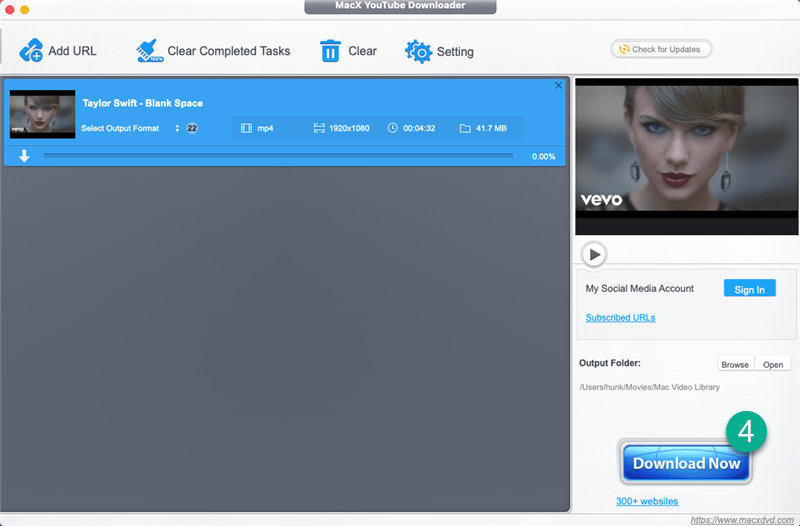 MacX YouTube Downloader Review: Troubleshooting
When I did the MacX YouTube Downloader review for the first couple of tries, I got the below error message that reads: "An error occurred while analyzing video link. Please try again. Please check the link address, firewall options, or proxy settings. If you're trying to download the watch later list, please check your YouTube account information."
Failed to Analyze Embed Link
When I paste the URL in the screenshot into the software, it won't analyze before downloading. I find it is not on YouTube, and the fix is simple. Just go bottom right and click watch on YouTube.com.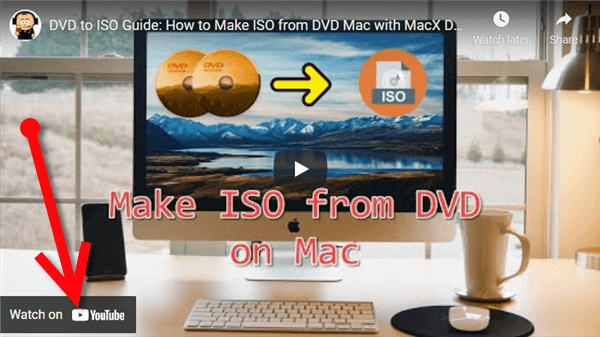 You will get the actual link on YouTube and try that link instead. I find it normal that a YouTube video is embedded in another connection or site. MacX YouTube Downloader should improve on this part. I don't know if it is hard to do so, but currently, it cannot. Just do as above. It won't take you a minute.
Cannot Analyze Any YouTube Video
I encountered times when the program failed to paste and analyze any YouTube video. I've tried to contact the support team and was told to wait for their fix because Google changed the encrypted on YouTube videos. After a short time, it is again working as it usually does. I actually did nothing, but it worked. I assume the program automatically updates itself. So, if you cannot paste and analyze YouTube videos anymore, just wait to have a rest and try sometime later!
Does MacX YouTube Downloader Really Work on Facebook, Vimeo, and Dailymotion, etc?
MacX YouTube Downloader is more than a YouTube downloader; it also works on Vimeo, Dailymotion, and Facebook videos, as well as other 300 video sites. And I think it is TRUE: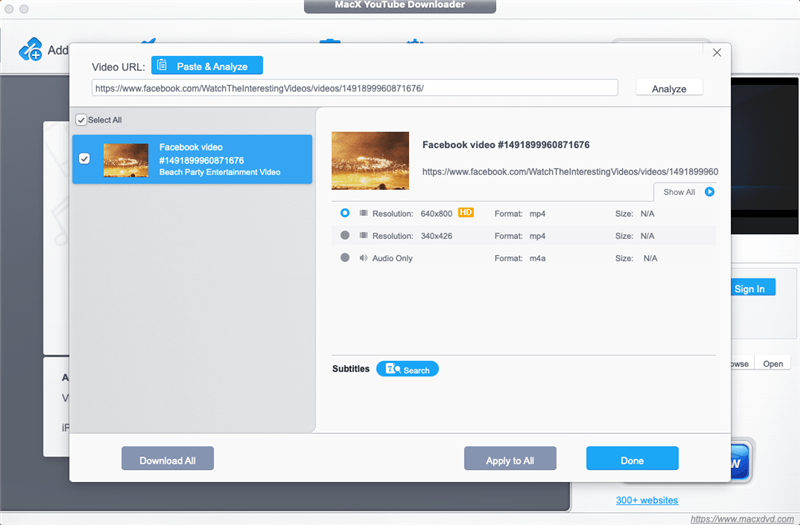 Note:
MacX YouTube Downloader fails to detect the right size for some online videos, but it is Okay in downloading.
Pros, Cons and Suggestions:
Ease of use and reliability are the two big pros for me. The fact that the program auto-renames duplicated file names and not just overwrites them!
Also, the huge thumbnails help select which videos to download and which to skip.
Cons? Every once in a while, a video simply doesn't process in the software. I assume these videos may have stronger copyright protection, which changes every now and then. The good news is that this can be fixed within a day or two.
Besides, it worked just fine when I was doing the MacX YouTube Downloader review. However, I do have some suggestions for it. Yes, allow for increasing/decreasing download threads. Otherwise, we risk alerting anti-bot algorithms, and Instagram uses its anti-bot algorithms to ban video download users. Also, a good tip for folks would be to use link gopher to collect all the links to the files you want to download, so you don't have to constantly right-click on the actual links/thumbnails to the files themselves!
MacX Free YouTube Downloader is definitely your top choice to download whatever video format or resolution on YouTube, Facebook, Vimeo, Vevo, Dailymotion, Metacafe, as well as other 300+ video sharing sites on your Mac free. It also works if you want to extract pictures from videos. But there is also something that MacX needs to improve, one mentioned above about the embed video, and the other is to download subtitles as well; even the pro version cannot do this.
Last, but not least, as much as possible, I discourage the use of YT videos…especially if/when credit isn't given where due. We are licensed to be able to use such videos for illustration and teaching (and even in our live streaming), but I still don't love using them. Respect the artist/videographer and respect the copyright.
If you found this guide helpful, please leave me a comment below to let me know or share it on Facebook, Twitter, etc, to let everyone know!