I don't burn much. To me, it is really not convenient to take physical DVDs along with me when I try. I'd prefer to rip DVDs to MP4 and watch on whatever devices like iPhone or bigger screen iPad or Apple TV with kids and I even upload them to the cloud for watching. But there seems that a lot of people are still want to burn CDs, DVDs or Blu-ray discs for various reasons.
For any reason you want to anything to CD, DVD or Bluray, Ashampoo Burning Studio 19 is something you cannot miss. And, below is my review for the latest version Ashampoo Burning Studio 19 and let's see.
Download and Installation
You are able to download Ashampoo Burning Studio 19 on its official site. 
Downloading and installing Ashampoo Burning Studio 19 is as usual as what we do for other Windows programs. We need to agree with the End User License Agreement, set the installation folder, install it and done.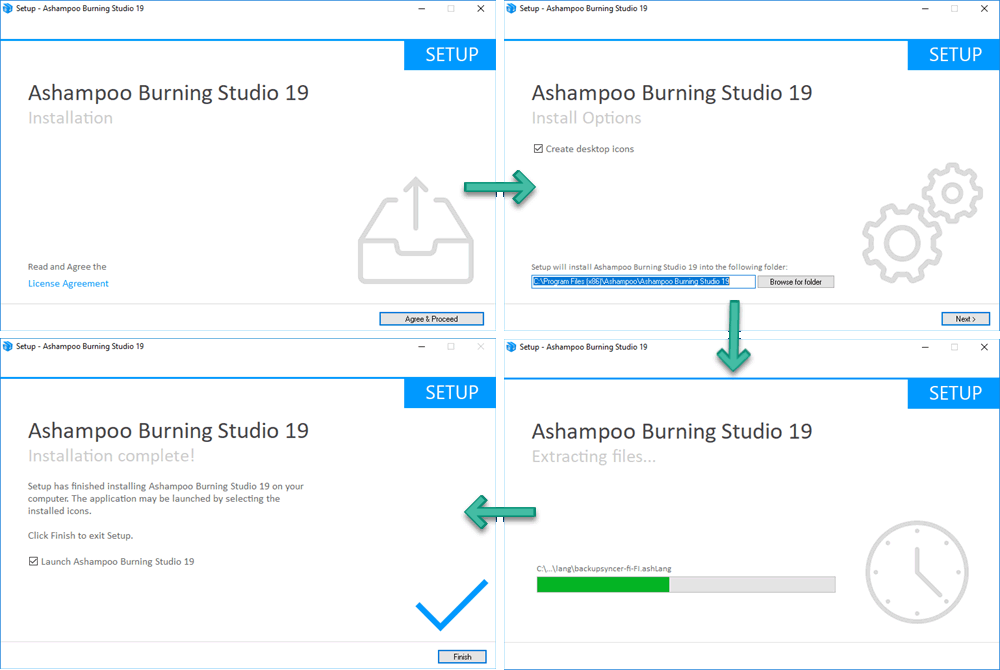 In version 18, before laughing the program, Ashampoo offers two themes for the burning studio, I prefer the default but the dark theme looks good too.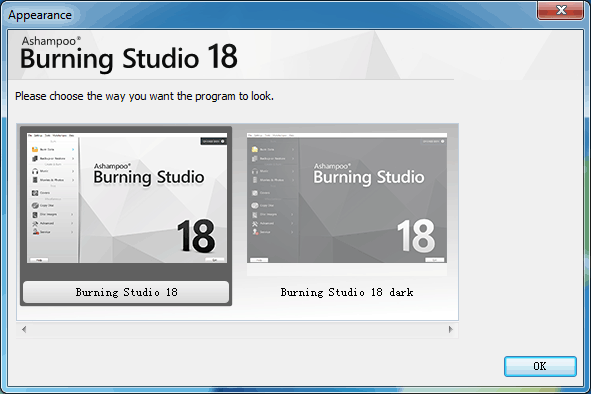 The dark theme becomes the default one in Ashampoo Burning Studio 19 but you are able to download more themes now: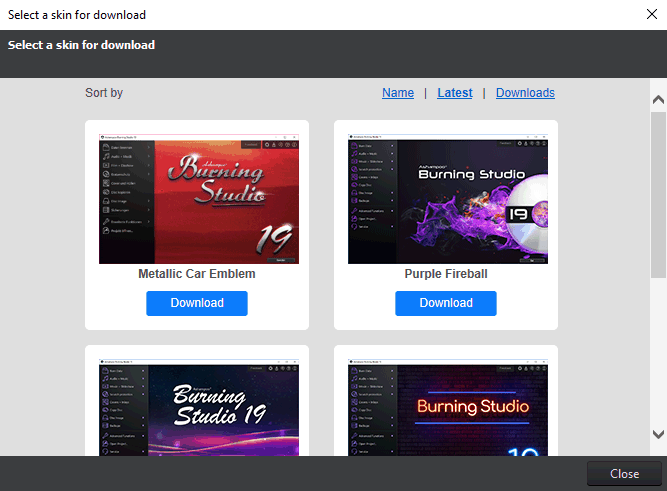 Ashampoo really impress me because of its generosity to extend the trial by 20 days. Normally, we have 10 days full version trial to fully evaluate the program before purchase. If you find the ten days is not enough for you or just forget about the trial like me, click the below Extend trial period button to add 10 more days.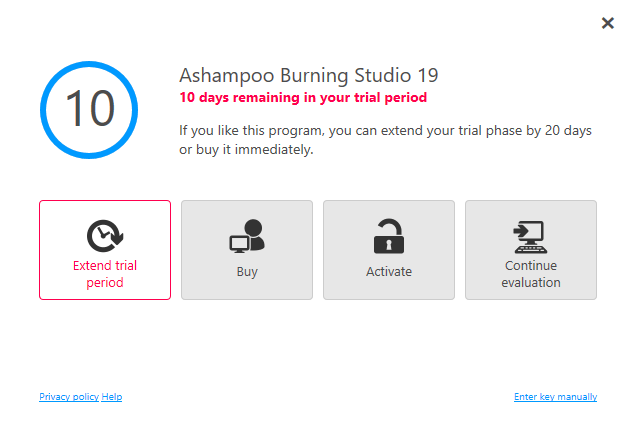 However, I got some trouble while registering Ashampoo Burning Studio. It seems when I was asked to review the program, it was still version 18 but when I begin the review, it is version 19 and the registration failed. So, when you are registering the program, make sure it registers the right version.
Besides, when I click Activate, it asks me to enter my email, but it does not match any record on the Internet, probably because I didn't pay for it. I was sent a key to the program. So to me, the best and most simple way to register the program is to click the Enter key manually below and register it like below: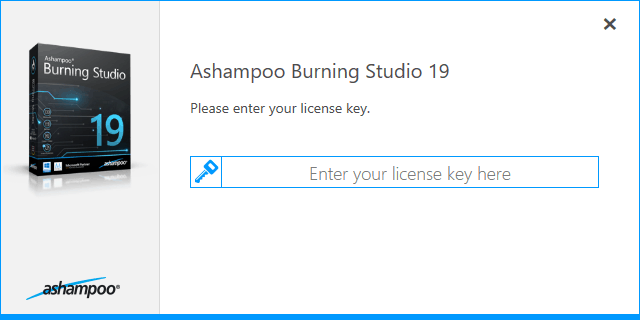 Difference between Activate and Enter key manually
I was not given the chance to fully try the Activate button but was quite wondering if it gave an easier way to register the program. I suppose that I don't have to enter a key but only my email address to activate because the keys are always long with letters and numbers, email address of your own are much easier to remember.
If this is the case, it would be nice and convenient for people who replace their computer, who's computer is stolen, whose computer crashes and who just want to move the program from one PC to another.
Update:
Below is the answer from Ashampoo:
In Burning Studio 18, we have a new activation method. In case customers buying a program activation can be done just by entering an e-mail address and MyAshampoo Password. In fact, it does work only, if you have a valid license key in your account. As you got a press key, you need to use "Enter key manually", as the license is not part of your account.
Before I go and burn my first ISO to a blank DVD with Ashampoo Burning Studio 19, I come across a problem with the below error message:
Security Alert
Revocation information for the security certificate for this site is not available. Do you want to proceed?

I see similar reminders when I surf the Internet, I never learn much about this. I just normally need to click Yes and this kind of warming never comes up again. But this time I just send an email to Ashampoo and want to see how their support it.
It is disappointing that the first reply takes over two days. But then I am able to get quick and clear answers with 8 hours. I think it is acceptable considering the time difference.
However, I see no online or phone support by Ashampoo. Though I can live with email support I am sure there would be a lot of users that need urgent help.
Ashampoo Burning Studio 19 is a very comprehensive disc burning application and it does a great job burning as the name suggests. It also comes with a lot of extra features like creating MP3 USB stick, backing up and restoring file etc. Below are some details about the features I think will be quite useful.
What is supported to burn?
I was adding some MP4 files to create a movie/slideshow DVD but some failed with the error message:
Error while loading the following movies:
D:\Desktop\2016.mp4
Possibly, the format is not supported because the codec is missing on your system or file is corrupted. Please contact the support for further information.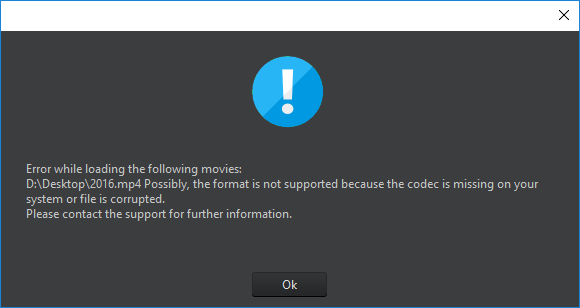 I tried some other files like MP4, AVI, M2TS, etc and some added but most failed. I then went to check the website and find nowhere about what video format or codec is supported by Ashampoo Burning Studio for creating Movie/Slideshow DVDs or Blu-rays. If you want to burn photo slideshow to DVD, this guide helps.
Update:
Burning Studio has Native MPEG-4, H.264, and AAC support. Further formats are supported as well with additional codecs/codec packs.
The K-Lite Mega Codec Pack is a good one which should solve the above error loading problem. Right after installing your system will handle your movie files correctly. You can download K-Lite Mega Codec Pack here.
Every format the K-Lite Mega Codec Pack supports is supported by Burning Studio and audio don't have to be in AAC.
Make Backup CD/DVD/Blu-ray
When I order programs online, I am always offered an option to buy Backup CDs or DVDs for the program. Those kinds of backup CDs or DVDs will cost you around $9.99 to $29.99. It is not a big money for one program, but what if there are a lot to backup? With Ashampoo Burning Studio 19, you are able to create your own backup CD or DVD as you like and you don't have to spend money for just one program in one CD. You are able to burn any files like .EXE, .DOC, .DOCX, .XLS, .PDF,.TXT, .CSV, .JPEG (.JPG), .GIF, .PNG and all kind of programs, documents, photos or even a whole folder as well!
It shows an estimated size of all data you want to burn and will suggest you put in a CD if the data is less than 700MB or DVD5 blank DVD if less than 4.7GB, DVD9 if less than 8.5GB and Blu-ray disc if over 9GB. As the Blu-ray is a bit expensive, making backup CDs or DVDs especially DVD5 is cheaper and cost-effective.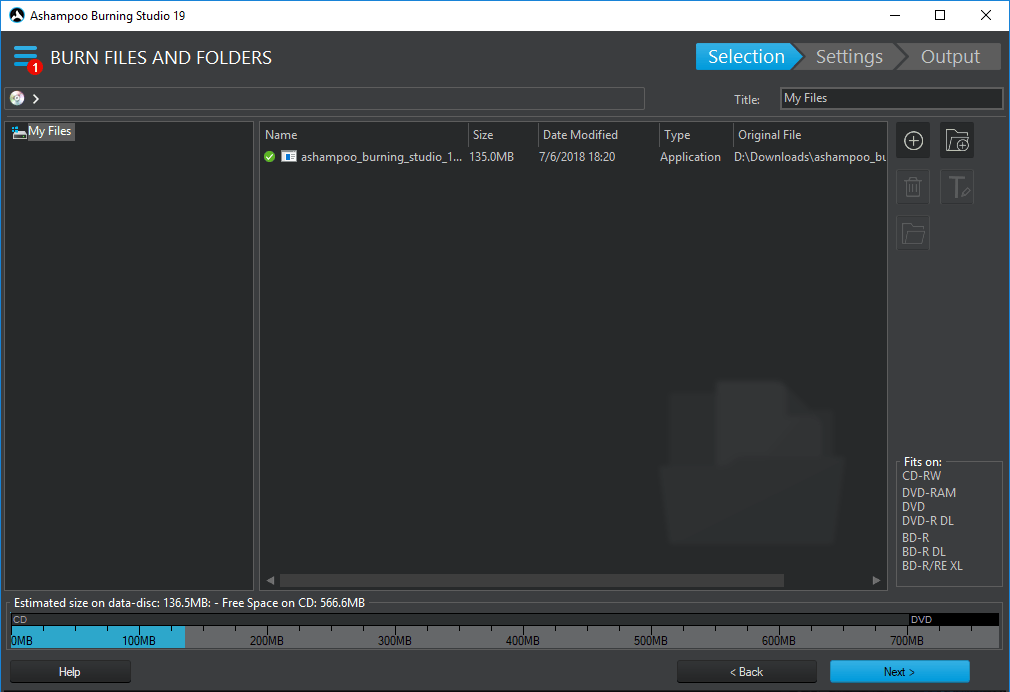 You probably notice one of my previous post about how to rip DVD to ISO and burn ISO back to DVD on macOS. Well, with Ashampoo, you will be able to burn ISO to blank DVD as well. And it supports CUE/BIN and ASHDISC too. You just need to go Disc Image-Burn Image to do so. Ashampoo walks you through with a step-by-step guide. You just need to add your ISO file and leave the rest to Ashampoo Burning Studio 19. It's just as easy as that.
Besides, you are actually able to burn Blu-ray ISO files to blank Blu-ray discs as well. However, Ashampoo is not able to decrypt protected DVDs nor Blu-rays. It is really a pity if you are wondering for a one-in-all DVD/Blu-ray backup solution. COCO is the example in the screenshot.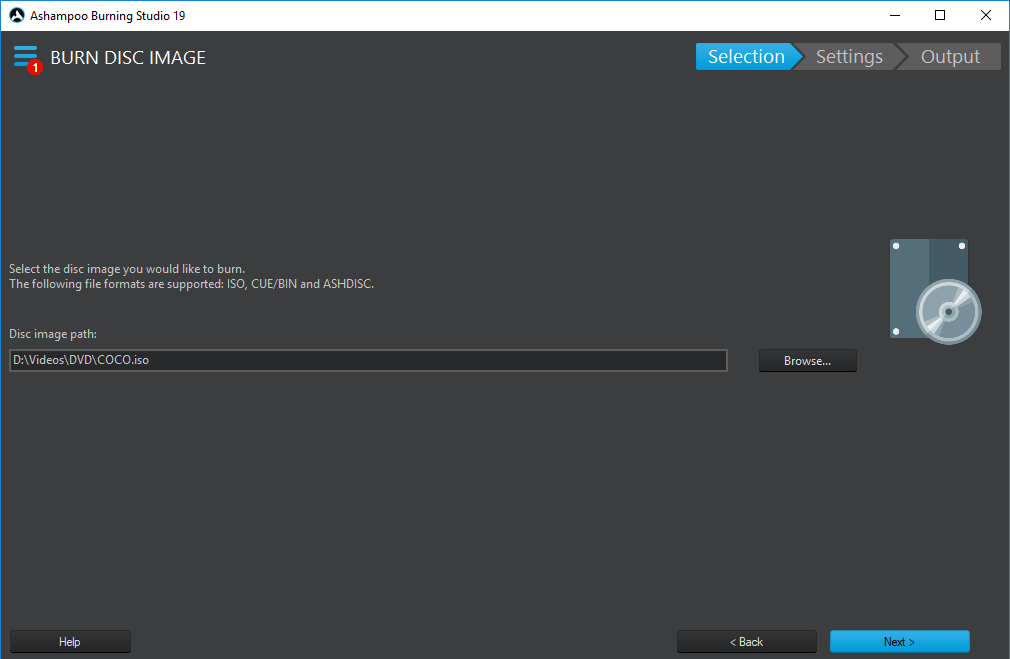 Pros:
Unlike other burning software, either free or paid ones, who only burn movie DVDs or Blu-ray or audio CDs, Ashampoo Burning Studio series burn data CD/DVDs, game CD/DVDs as well.
It is fairly easy to use with its self-explanatory icons and step-by-step layout.
It burns as fast as your blank discs'max write speed and is extremely stable during burning and no error message whiling playing on my stand-alone DVD player collected with my TV and car DVD player. The disc also plays on Mac computers.
It offers AES-256 disc encryption
Cons:
It does not decrypt DVDs or Blu-rays for you, you will have to find another alternative way before you use Ashampoo to burn for you.
Windows only. This is really a big pity for Mac users.
Bottom line:
Discs may be not quite convenient to take with but are convenient to create with Ashampoo Burning Studio 19.