TikTok is now one of the most downloaded apps all over the world. And it's understandable why! Have you ever used the TikTok app? Bet you stuck to that as well and binge-watched these short videos for hours. Besides, when it comes to vertical videos, TikTok is also a winner. Instagram Reels, YouTube Shorts, Likee, and other apps which try to replicate the TikTok success are way behind their main competitor. 
TikTok was previously known as Musical.ly lets you create short vertical videos, that can be fun, dancing clips, lip-syncing videos, or even educational content. TikTok creators are so versatile nowadays! You can spend hours watching TikTok content (at least I can) but have you ever wanted to download TikTok videos you liked and save them for good? For the sake of memories, their practical or whatever reason? 
If you have, there's an easy solution that can help you with this – Qoob Clips. But Qoob Clips is not a simple TikTok viewer and downloader. Keep on reading to find out what the app can help you with.
Qoob Clips Downloader: Why You Should Install It
Qoob Clips is a smart tool that lets you view and download clips and music from public and private TikTok accounts, back up your TikTok page, follow TikTok profiles and monitor other accounts' feeds.
Here's what Qoob Clips can do for you: 
Download TikTok videos in batch by hashtags

Download whole TikTok accounts by username

Automatically download new videos of the accounts you're subscribed to

Save TikTok video captions

Download TikTok videos selectively if you set a specific time range 
Let's cover all these and more in this article. 
How to Download TikTok Videos with Qoob Clips
Here's a step-by-step guide on how you can save TikTok videos in just a couple of clicks with Qoob Clips on your computer. 
Step 1. Open the Qoob.co website, find Qoob Clips, and install it on your computer. 
No worries, the downloading and installation is free of charge and credit card info is required from you.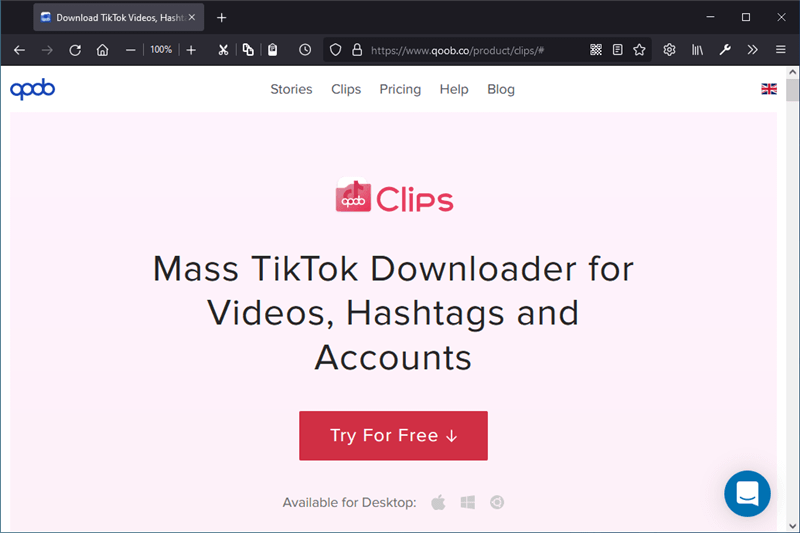 Step 2. Open the app on your computer and find the main window of Qoob Clips.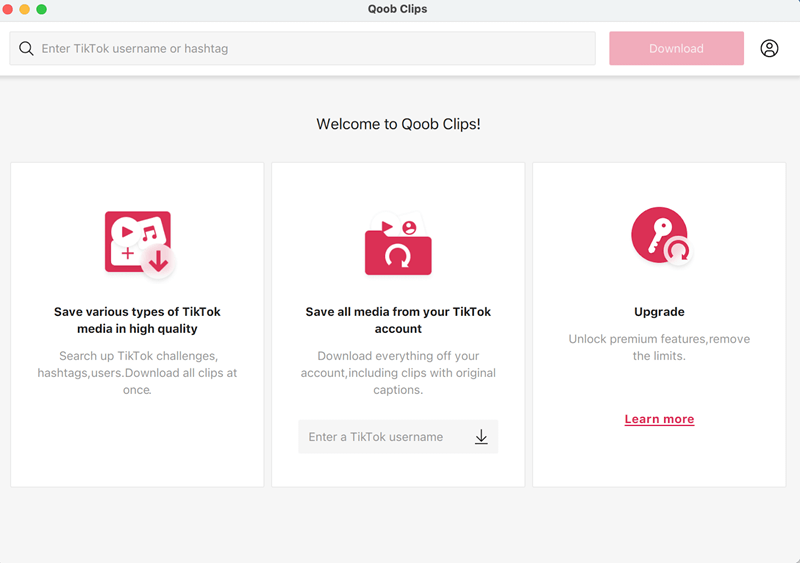 Step 3. Find the search bar and enter a TikTok account's username into the field. Right after you did it, press 'Download', and the app will do the rest for you.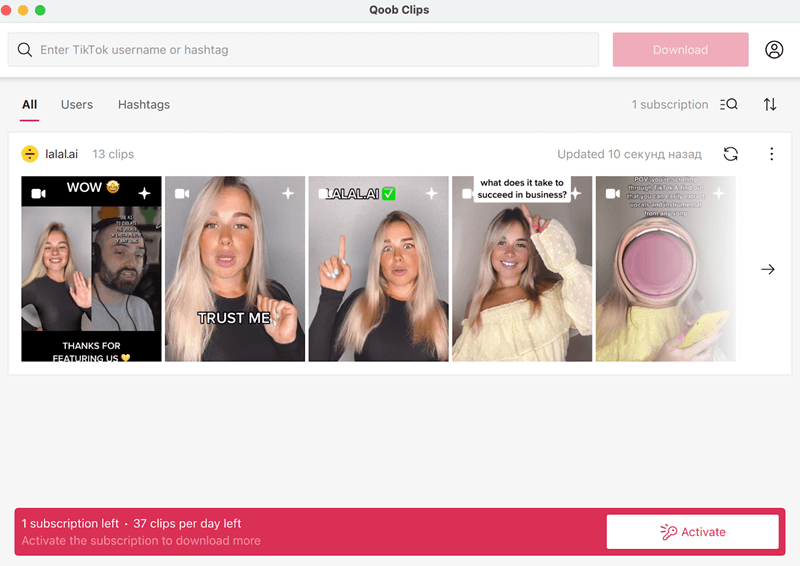 Qoob Clips will quickly download all videos that belong to this particular account and store them on your device. To find where the videos are on your PC or Mac, press the three dots icon on any video and press 'Show in Finder'. 
If you want to stop downloading, press the pause button above the video results. Once you decide to resume downloading, click on the update button. 
If you don't want to download the videos of a specific TikTok account but rather a TikTok hashtag, you can easily do so as well by entering the hashtag into the search bar. Don't forget to add the # sign before the hashtag and start entering. Let's take #cooking as an example.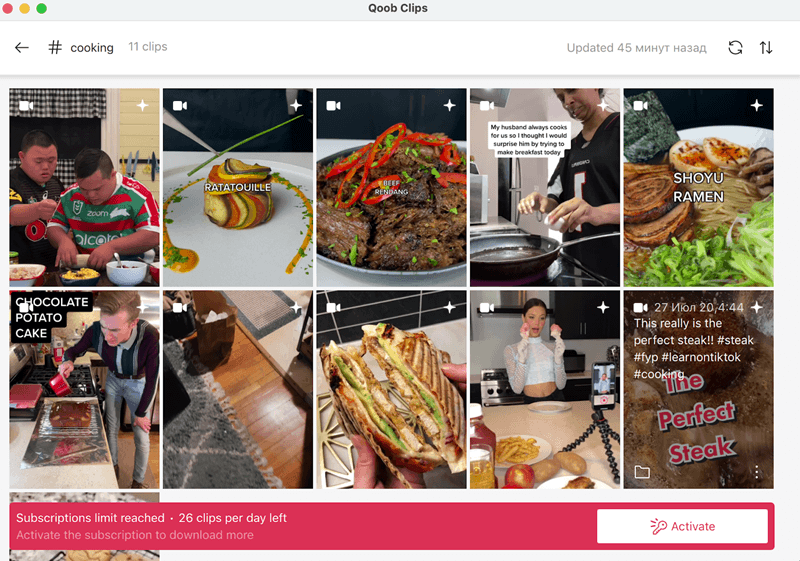 This works exactly like with usernames: Qoob Clips automatically downloads all recent content connected to the hashtag you entered. 
To play any video, click on it, and it will be played in your default player. You can also play it on TikTok. 
Here it is! With these three simple steps, you can enjoy your favorite TikTok videos for good even with no Internet connection. 
Other Cool Qoob Clips Features
With Qoob Clips, you can not only download someone else's from TikTok but also back up your own account. If you don't feel about your account and are afraid it'll be banned for some reason, you should no more: just enter your own account username and press 'Download' just like you did with other usernames. 
Qoob Clips will download all your media and thus you will have your content safely stored on your PC or Mac. 
Qoob Clips automatically downloads all captions and hashtags along with videos. To see the caption, just hover the cursor over one of the videos you just downloaded with Qoob Clips right in the app, and you'll see its captions and hashtags as well. If you want to, you can also copy them to the clipboard. 
Automatically download TikTok videos
Qoob Clips allows you to subscribe to users in-app without following them on TikTok and have their videos automatically downloaded on your device after they are uploaded on TikTok.
Qoob Clips Pricing Plans and Availability
Qoob Clips is compatible with any of your desktop software: macOS, Windows, or Ubuntu. 
As for the prices, the application has three plans to choose from Starter, Personal and Professional. 
The Starter plan is completely free of charge for good. But it also limits you to only two TikTok hashtags and usernames searches and up to 50 daily downloads. 
The personal plan costs you $10 and allows you to download up to 500 videos a day and 10 hashtags and users. It is ads-free and it supports the video auto-download feature. 
The professional plan is $30 and it offers unlimited downloads, it also has a video caption and URL export, a new video auto-download feature, and is ads-free.