I keep having problems with certain YouTube videos that I want to download and I get the message that says something like "Analysis Failed", "Failed to obtain video info". I contacted the customer support and I was despondent as they didn't support age-restricted YouTube video downloading at all even I was signed in. In this post, I'd like to share my way to download age restricted YouTube videos on PC and Mac, without signing in. Along with this, I will share a way to free WATCH those kinds of videos without login.
When I am on YouTube I am signed in and my age is recorded by Google and I can play any video that says age restricted with no problem on any channel! I can with no problem download any and all videos from any channel.  My current free YouTube downloader works with many other videos from the SAME CHANNEL so long as they do not have the AGE-RESTRICTED notice.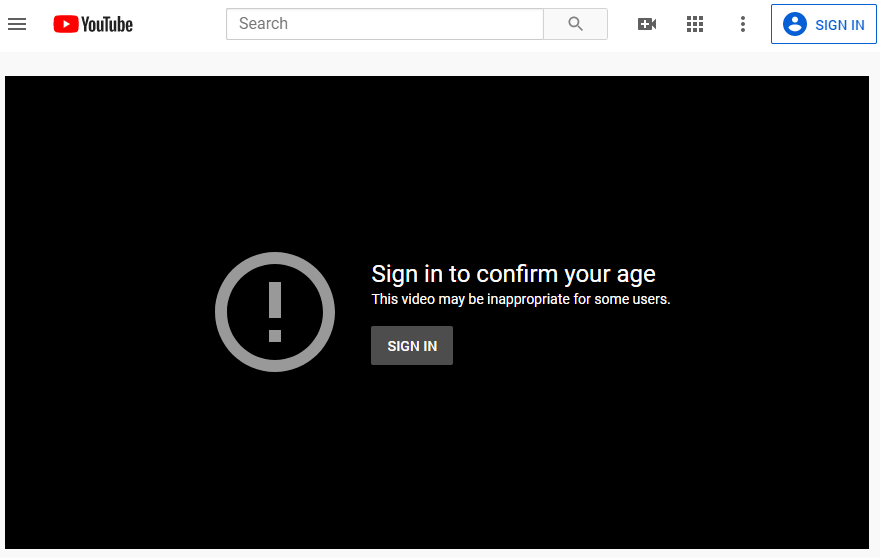 When the age-restricted notice is there on a YouTube video and I try to download, I get the error message "Analysis Failed" or "Failed to obtain video info" every time. So, I am quite wondering how to download age-restricted YouTube videos, especially without signing in?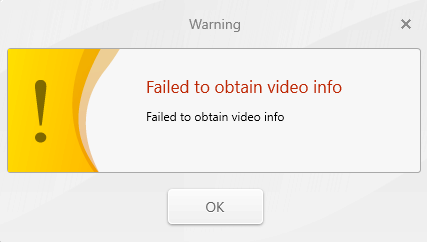 Top 2 Age-restricted YouTube Video Downloaders for PC and MAC
In order to download any YouTube videos including those that are age restricted, you may need a more powerful YouTube downloader! 
And, Wondershare UniConverter is what I recommend here. If you do a search on my blog, Wondershare UniConverter is my main YouTube downloader, just because it is super-powerful, stable, and always working to download any YouTube videos. As you can see, I have recommended it to download 8K YouTube videos, download 360°videos, 60 FPS YouTube videos, etc. You can even download and burn YouTube videos directly to DVD. Today, I am trying to download the age-restricted YouTube video, I find it the only one working. And you can even analyze and download without signing in.
Besides, Wondershare UniConverter is an all-in-one video/audio converter, downloader, compressor, editor, transfer, and DVD burner that can convert, edit, transfer, burn all kinds of videos like MKV, AVI, AVCHD, MMV, etc. It downloads videos from other online sites like Facebook, Dailymotion, etc.  
StreamFab Downloader is renamed from DVDFab Downloader because the initial name seems nothing to do with YouTube downloading. StreamFab Downloader works like an explorer to download any kind of videos from YouTube, Facebook, Twitter, Instagram, Vimeo, and more. What's more, it downloads YouTube to MP3 in 320 kbps! And, for age restricted YouTube videos, you can sign in to download them too!  
However, please note, it does not allow us to download videos other than MP4, and I find nowhere to set the video format. 
StreamFab also downloads videos from Netflix, Amazon, Hulu, Hbomax, Apple TV +, and more! 
Download Age Restricted YouTube Videos
You may not notice that the YouTube videos you're watching are age-restricted until when you try to download them, only to find it failed with your current YouTube downloader, free or paid. I see you can sign in to your YouTube account within the downloader, but the analyzing or downloading of age restricted videos or such blocked video fails as well.
How to Download Age Restricted YouTube Videos Without Signing in?
With Wondershare UniConverter, everything seems so easy. Downloading those restricted videos is just a few mouse clicks, and you don't even have to sign in YouTube account within the program or your browser. Now, you see the detailed guide on how we achieve this.
Please follow the below buttons to download and install a free trial copy of the blocked YouTube video downloader.
Step 1. Go for Downloader
Wondershare UniConverter lists its main functions on the right side. It used to be on top. We need to go for the Downloader so as to download blocked and age restricted YouTube videos.
Step 2. Paste URL
Click the Paste URL button as shown below to paste the URL for the age-restricted YouTube video that you want to download. You can even add multiply of those kinds of blocked URLs as well.
Step 3. Choose Video for Downloading
After you paste the URL, UniConverter starts immediately analyzing the blocked video and displays the video format, resolution, and size for you to choose for downloading.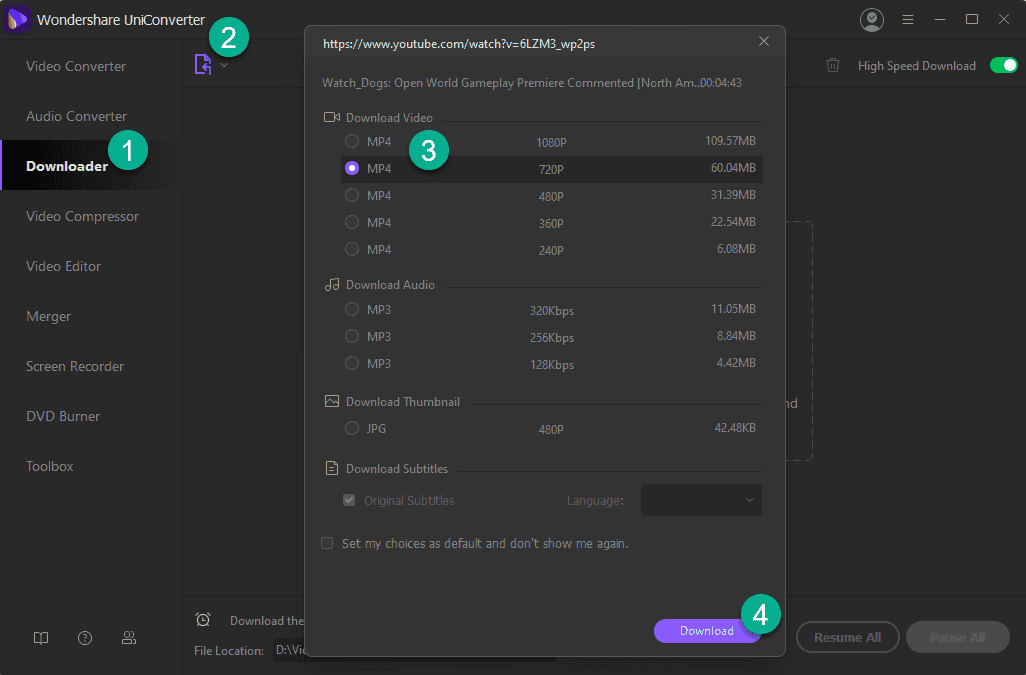 As is shown above, you can even download restricted YouTube videos directly to MP3 along with its thumbnail and subtitles.
Step 4. Download Blocked Video
Hit the Download button, and Wondershare will go downloading the age restricted YouTube video.
Sign in to Download Age Restricted YouTube Videos
To download age-restricted videos from YouTube with StreamFab, you will need to sign in first. Go Explorer within StreamFab and visit YouTube and sign in: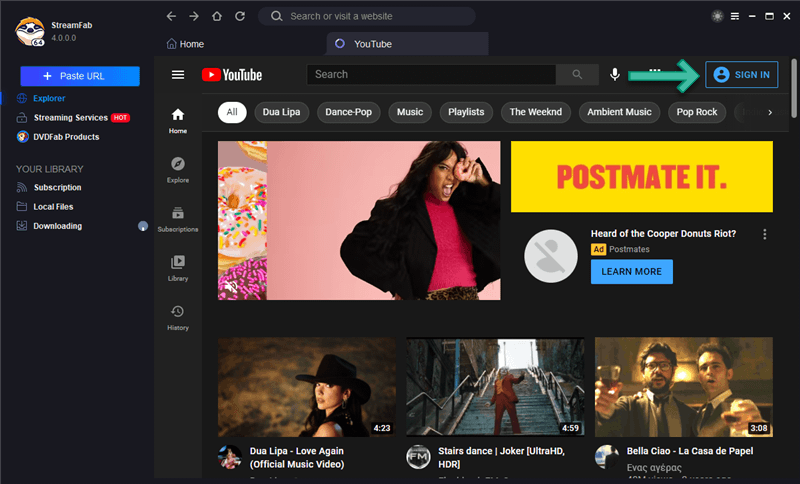 After that, click the Paste URL button, and choose Video to download. You can also watch the video within StreamFab.
Blocked YouTube Video Downloading Tips
Video downloading is one of the main features in Wondershare UniConverter. As you can see from the above guide, it successfully downloads the age restricted video from YouTube. It's actually more powerful and can do more things that bring a better user experience. Here are some tips for your video downloading, especially for those blocked and age-restricted YouTube videos.
You can make your above choice as your default, so you don't have to choose the video format or resolution in the future, and UniConverter will go directly to download any YouTube video that matches your selection.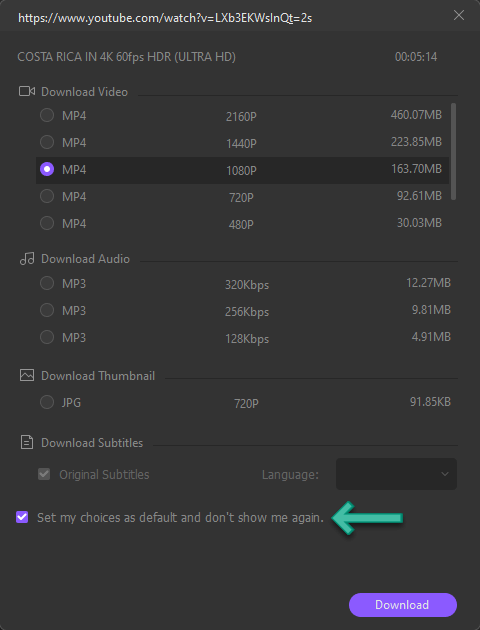 It's also available in Preference, and you are free to disable it here as well: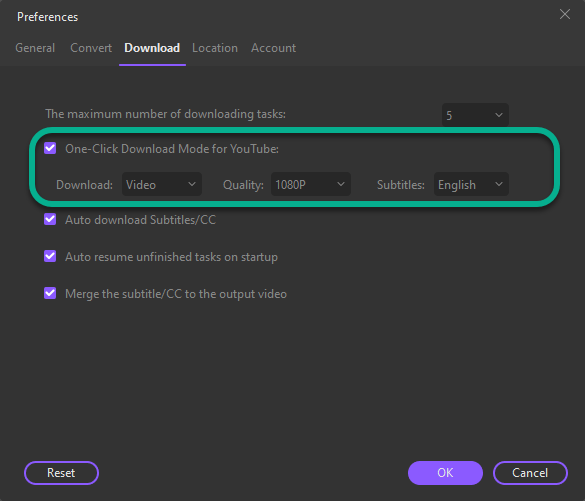 Download and then Convert Mode
The downloaded video from YouTube as well as other online sites are mostly MP4, Webm, etc, it may not 100% meet your needs. No worry, as a video converter, you can convert the downloaded restricted YouTube video to other popular videos like AVI, WMV, MOV, MKV, VOB, M2TS, etc.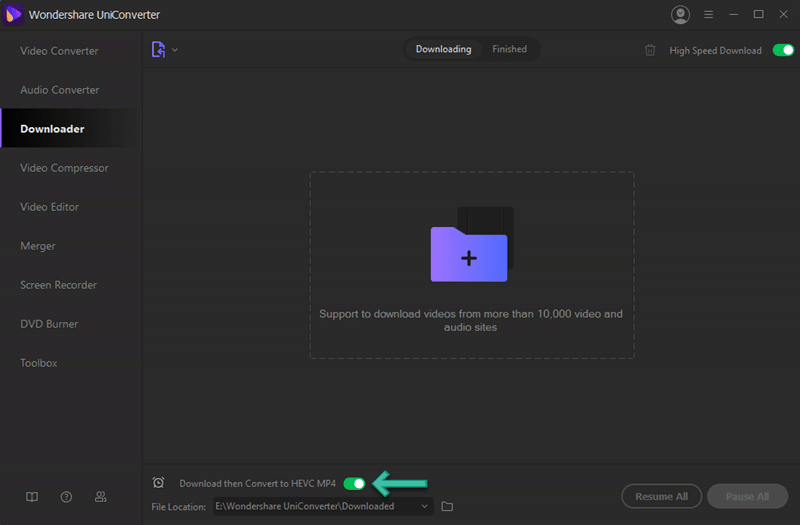 Wondershare UniConverter also works as a video to iOS and Android transfer. I have recommended it in Four ways to Transfer video to iPhone. To be honest, I prefer UniConverter, this is because it can customize the resolution, bit rate, FPS, etc before transferring. For age-Restricted YouTube video, you try to transfer the downloaded to iPhone/Android in Toolbox-Transfer: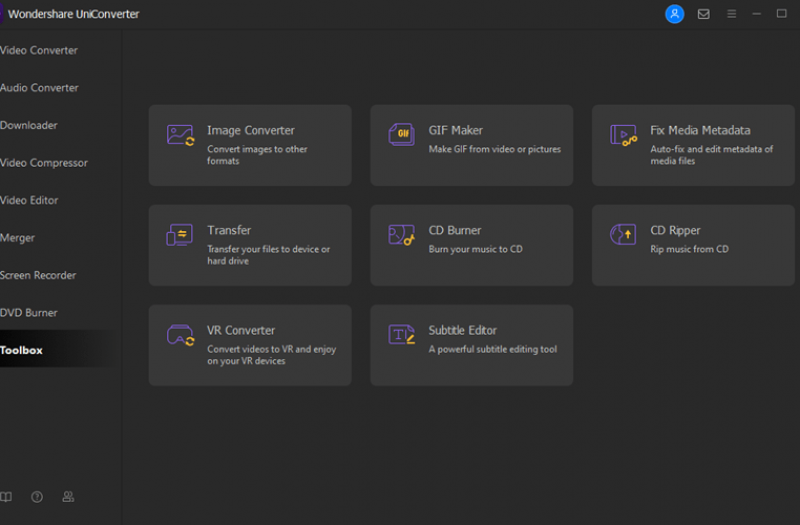 Troubleshooting: Analyzing Says 0 KB to Download?
I found UniConverter shows me 0 KB age-restricted video to download. But, when I try to download, the output is all right! So, no worry at all! It just seems to be a display error at all. 
Bonus Gift: How to Watch Age-restricted YouTube Videos without Signing in
If you want to watch an age-restricted YouTube video without signing in, there are two extreme ways without other third-party programs needed. You just need to change the URL as follows:
Way No.1: Replace watch?v= and with embed/:
For example, you can choose this blocked video URL from youtube.com/watch?v=6LZM3_wp2ps to youtube.com/embed/6LZM3_wp2ps.
Way No. 2: Add nsfw Before youtube.com:
So, the link becomes:
nsfwyoutube.com/watch?v=6LZM3_wp2ps
For more ways how of watch age-restricted YouTube videos without signing in like on Android, or via VLC, you can visit the below page for more details. I only list the above two ways just because I think they are working just fine and easy to go, therefore, fully meet my needs.