We all want independence in our lives. The independence to browse anonymously in a private room, the independence to watch any sort of content that we like, and the independence to download torrents and watch HD movies!
However, some internet controllers think it's a bad idea to give so much liberty to users on the internet. This is why the geographical bans were introduced. If you live somewhere where a certain website is blocked, you might want to access it.
The blocked website can be a blog, a news podcast, or a store. It can be anything. Torrent, as we all know, is totally shut down in many different regions.
CyberGhost is an antidote to these problems. With lots of options, you can find in the market, and one might lose his head trying to pick one suitable VPN. Despite so many options, CyberGhost tops the list thanks to the generous features and functionality it may offer.
Enough of the ted talk; let us jump into how you can fully install and configure CyberGhost to utilize it.
Choose a Subscription
You have to visit their website to learn about their subscription packages and to choose the one that suits your needs. If you want to permanently end the everyday struggle while accessing blocked torrents, go for the 2-year plan.
If you are unsure and want to try this new road before embracing it fully, we recommend the 1-month subscription.
Add Your Device
Once you have purchased the subscription successfully, you need to add your device to use the VPN on it. The first way you need to do is to log in with your credentials on their website. After logging in, go to "My Devices" and click the "+" sign. There, you can easily notice a button to download it. Click on it and select the required version (PC, Mobile, iOS, Other).
Install CyberGhost
Installation of the CyberGhost VPN is easy. All you have to do is head over to the downloaded file, open it, and select the installation destination. Once you do the required steps, the installation will start. It takes only a few seconds for CyberGhost VPN to install as it isn't software that takes a toll on your computer.
The installation wizard will let you know once the download is completed.
VPN Server Connection
The fun part starts now. On launching the installed VPN app, you will see a new interface. This is when you can see the login page. So, enter your username and password to enter. To make the user experience easier, you will see six types of profiles after logging in.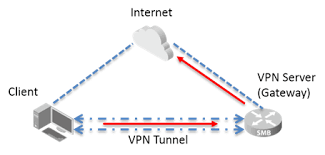 Each of these profiles has been optimized for specific tasks to make them smoother. The six profiles are:
Surf anonymously: This includes surfing without keeping a record. This is like an incognito tab. You can surf any website without keeping any PC record and without leaving a footmark on the website.
Unblock streaming: It allows you to stream your favorite apps without concern. Let us consider an example HULU is banned in your region for some reason. You can choose this profile to stream HULU all day without worrying about any errors.
The other options include "Torrent Anonymously," which allows you to search for torrents without leaving a trace. There is also an "Unblock Basic Websites." This feature allows you to browse the websites banned in your region. This is one of the most commonly used features of the CyberGhost VPN.
With the countless features of CyberGhost, the main feature that you will be using the most on your Smart TV is to watch Netflix country restricted shows every evening. The superb connectivity and amazing connection speeds allow flawless streaming.
Choose My Server
This profile deserves a separate mention as it is the backbone of this VPN. This option allows users to choose their own server for browsing the internet. Sometimes, websites are banned in a whole locality. For example, suppose youtube is banned in a certain country due to some reason. In that case, you can select any other server location from the list of CyberGhost VPN and enjoy non-stop YouTube video streaming.
The standout feature of the "choose my server" profile is that it displays the user load on each server and tells you whether a server supports torrents. Ideally, you can choose a server with less user load to enjoy the best streaming or surfing experience.
And the range of server choices here is pretty aplenty. You can freely move from and to everywhere with much ease.
Additional Features
The additional features of the CyberGhost VPN include:
Ad Blocker is a significant feature of the CyberGhost VPN. Ads have lately become very annoying, and the best way to deal with them is to block them. The ad blocker is automatically on in all the profiles. In the "Choose my server" profile, you will have to manually turn it on by navigating to the "Extra Features."
Most people pay their bills for every megabyte. Regarding this scenario, CyberGhost VPN can "Compress Data," which can save you some bucks.
Online Tracking can be annoying at times. With the algorithms of the websites advancing, CyberGhost VPN deals with them efficiently by turning off online tracking of all the apps.
You can also stop worrying about getting digitally robbed. As you see, CyberGhost VPN can sense and "block malicious websites" so that they cannot steal your valuable information.
Conclusion
CyberGhost VPN is your partner for ideally streaming blocked websites, choosing your own servers, getting rid of annoying ads, and torrenting with peace. Buy CyberGhost VPN and surf anonymously!