Visual effects are critical for social media network marketing to immediately capture the audience's attention in today's information explosion websites. Pictures are necessary for information transmission on all social media networks and the best social media ads, including YouTube, Facebook, and Instagram. As a result, we need to analyze how to create social pictures. Are you looking for a program to help you develop social graphics? I prefer Fotor in this case. It is accessible via the internet, mobile devices, and PC. But do you know which Fotor features are most suited to creating social images? This post will provide you with some helpful social media picture editing advice.

Let's start by considering what type of social media photographs you'll need to create. You can think of the picture types we need based on our experience with Facebook, Instagram, YouTube, and other well-known platforms: profile background image, personal avatar image, post image, story image, video thumbnail, and so on.
I constantly have trouble uploading the same photo to numerous platforms because of their varying size restrictions; do you have the same problem? Now I've discovered that Fotor's social media picture templates provide image templates for a variety of social circumstances, and the proportions of these templates are standard social media size. Using Fotor's Image Template Center saves me from worrying about size and image variety choices. On this page, you can find that the standard size of an Instagram post is 1080*1080px, and the standard size of an Instagram story is 1080*1920px. And you can quickly create and download various social media images through these templates provided by Fotor.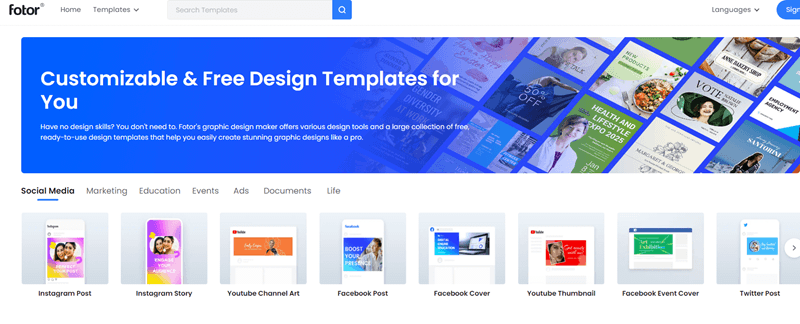 Social media image quality
Do you have a better understanding of how to create a social image now that you know the size and type? Let's have a look at the image quality standards for social media.
First and foremost, we can be confident that social media must encourage us to share original photographs. As a result, we'll need to get the correct camera and capture some clear, unique photos from the correct position. Then there's the matter of dealing with the photographs' brightness, shadow, saturation, and other flaws. Fotor has certain picture effect modification features, such as one-tap-enhance, that allow us to brighten, clarify, and color-correct your images.
Then, using Fotor's editing tool, one of the best Photo Graphics makers online, we can add some call-to-action buttons to the image, allowing the picture to reflect our message. Make a bold statement about the main topic of your photo shoot, or add some charming, exciting text effects to your photos to make them appear even more appealing. You may also utilize this background remover to modify your background if the background of your picture shoot is cluttered or you don't like it.
Remember not to use blurry, grainy, or poorly lighted photographs with overly cluttered backgrounds. Make sure to emphasize the main body of your shot so that it catches the viewer's interest immediately.
If you want to make your social media photographs stand out, try these tips:
Crop the image, eliminate any undesirable elements, and alter the composition effect.
Combining several images to create additional scenarios and effects, such as visual contrast.
Alter the image to create a gradient color effect.
You may also make the photographs look like they're from an anime or an art.
Experiment with different filters and sticker effects.