Photo graphics are incredibly useful. In this article, I'll show you some programs to create photo graphics easily online because they do not require a specific hardware configuration or operating system to work. All you need is a web browser. Then I will share the six best free tools to create photo graphics online.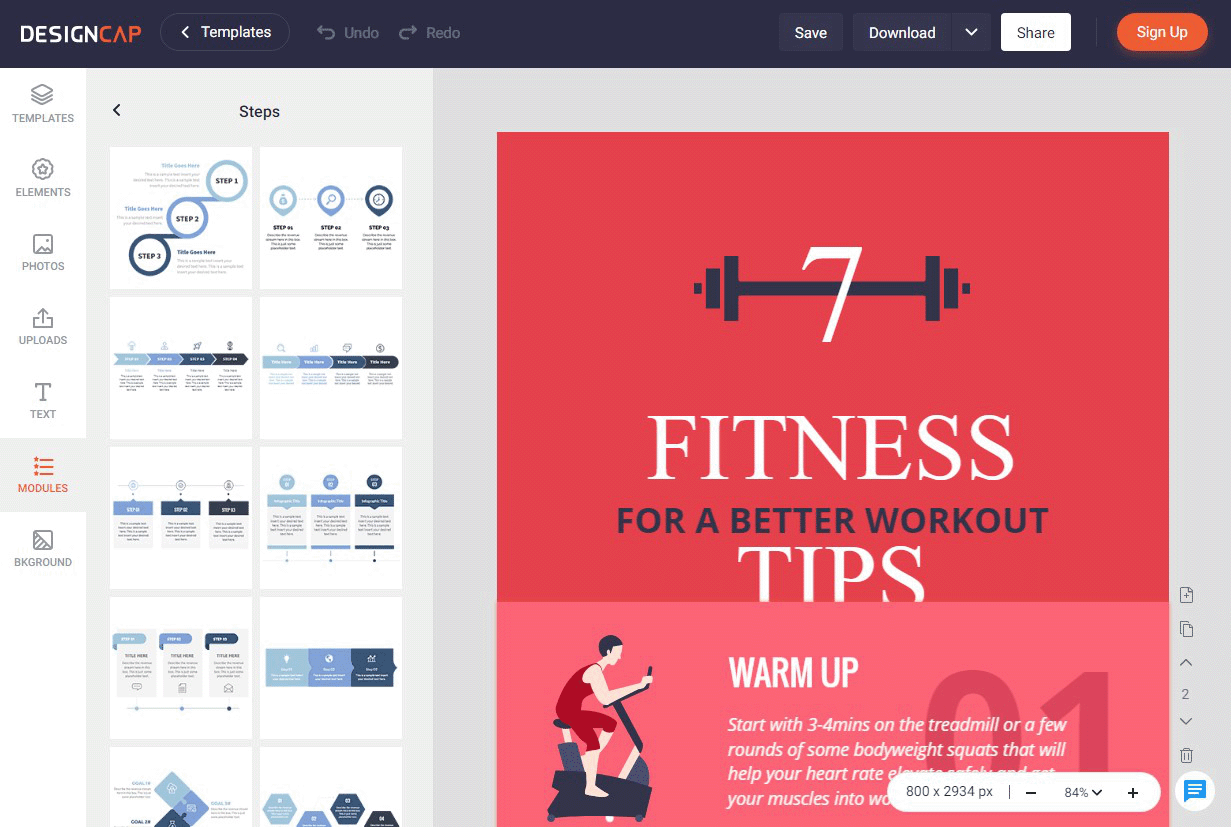 With the DersignCap graphic maker, it's possible to accelerate your creative process to create striking graphic designs for your business, events, social networks, and more.
You have access to countless templates for different topics and resources to boost your creativity. A large number of resources and easy editing tools will help you create designs that stand out from the crowd in minutes at no cost or with a little budget if you choose a plan.
With DesignCap, you don't need to be an expert in graphic design. Simple but powerful editing tools allow you to customize your design the way you want. In DesignCap, you can find millions of high-resolution stock photos and millions of icons. Modify them with different styles, sizes, and effects to take your design to the next level. Although you start from a template, your final product will never look the same as someone else's.
The software allows you to gain more control over your design by importing photos and choosing from more than 100 fonts, using the list of preset text styles, abundant modules, shapes, and background resources. DesignCap offers many editing tools for your customization needs, such as applying effects, cropping, and managing layers. Touch up your graphic design until you are satisfied with it.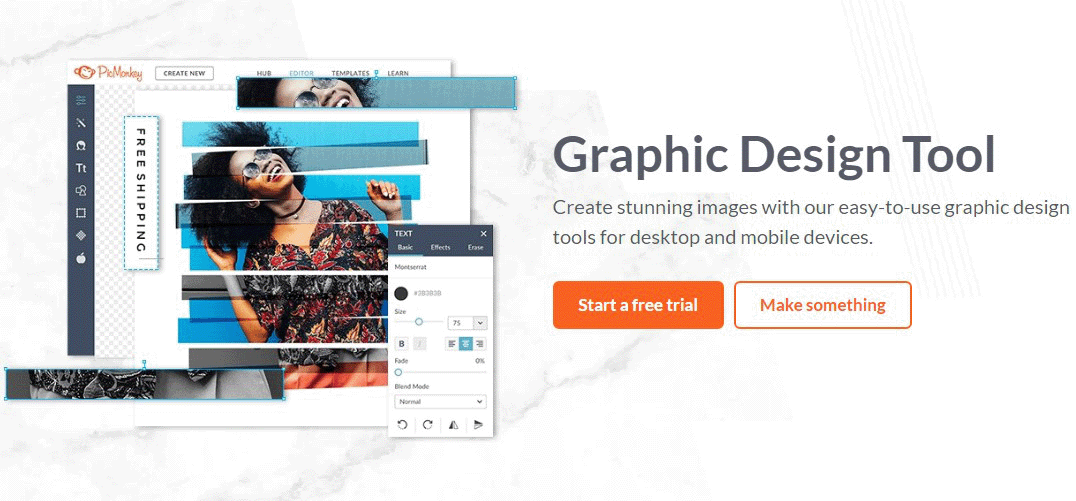 The last four Canva alternatives I'd love to talk about are PicMonkey, Visme, Creately, and Mural. Let's take a quick look at PicMonkey then.    
PicMonkey is an online application that allows you to edit images or photos easily and quickly. It has a variety of filters and effects that enable you to edit any image without downloading anything to your computer. This great tool allows you to design infographics as well. Choose a template from the numerous preset ones and customize the content with the PicMonkey library or your own images. To make it more personalized, edit photographs, retouch them as you wish.   
In fact, you will know what to do next with the straightforward interface, even without any tutorial.   
PicMonkey allows you to create collages and give free rein to all types of designs. It integrates an editing panel with features that allow us to modify the exposure, colors, and other elements of the composition. It's quite recommendable. The special features of the tool are:
It has an amazing photo editor.
Enable portrait retouching option.
In fact, it is one of the best design programs of the year.

Fotor is an internet-based photo altering, bg remover, and photograph-making program.
You can utilize its AI editing functions such as background remover (switch background tones and scenes easily), one-tap photo enhancement, and High Dynamic Range (HDR) Photograph Technology to make photographs taken with you unique.
You can also select Portrait Retouching to get rid of those pesky red eyes, wrinkles, and so on.
Then, you click on one of the thousands of templates, import your photograph, add or erase textual styles, foundations, styles, stickers, and so forth, and you can in a flash make alluring social pictures (Instagram, Facebook, YouTube), business pictures.
One hundred thousand layouts and components give you different creation thoughts, permitting you to create extraordinary photographs.
Be it adorable, exquisite, life-like, or retro, these layouts and components are sure to motivate your internal artists to make astonishing pictures.
One more advantage of the preset templates is that you don't need to stress over the size of your social pictures; they give you the most generally utilized sizes. 
As for Visme, it is a creator of free general content, which also allows us to make infographics of all kinds. Its editor is very intuitive and offers us a series of predefined designs and templates, as well. The modification is agile, simple, and fast.
To start using it, register an account. It is possible to log in directly through your Facebook account or Google account. Then write the name of your project and choose the type of content you are going to create a presentation, infographic, banner, or blank document on which you will edit from scratch. On its website, you can also find other infographics recently published by other members of the platform that can serve as inspiration.
Visme offers options to include video and audio. It also allows you to record a voiceover directly in the editor. This functionality is very useful because you can animate your content so that it can be understood even better.
With Creately, you can create original schematics and graphics to present your data or mind maps in a more visual way. It also offers numerous templates for you to customize. With the online editor, you can add all kinds of objects and texts. Its interface is very simple and intuitive. Like all the tools we have explained to create infographics above.
In creating diagrams and flows of any kind, Creately offers a very powerful and interesting solution. You can configure figures, add connectors, and customize the result. Since there may be more than one user modifying the document, it allows you to work in a collaborative way to add comments or access the revision history. What's more, this software ends with the export to various types of formats. Very complete!
Regarding its interface, personally, I think it is not as attractive as some other alternatives to Canva in terms of infographic making. Even so, the range of templates available is remarkable. Perfect for those who want to start in this way or for those who are looking for simple solutions for companies. The templates are many themes, perfect for flowcharts, sitemaps, and others.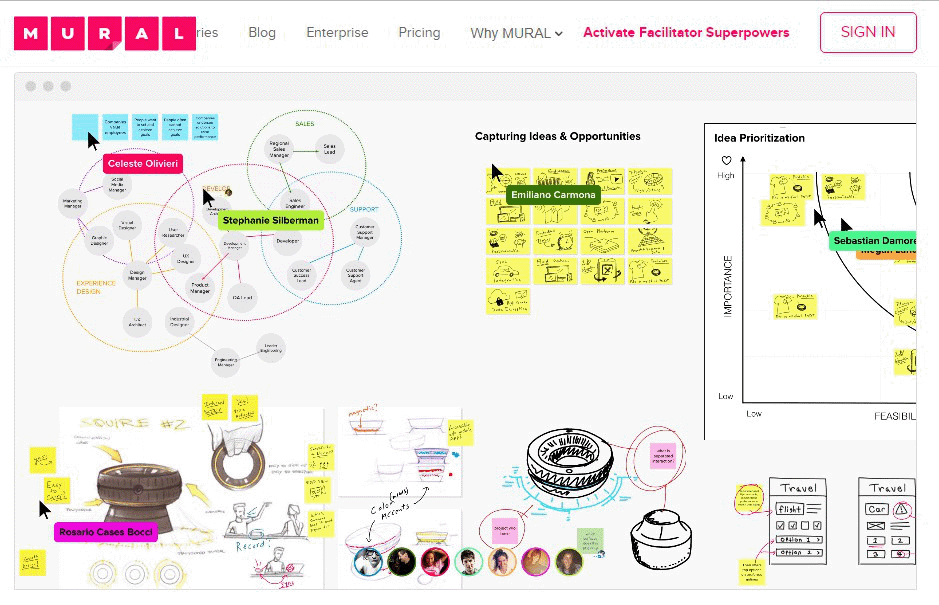 One of the last tools I'm going to show you in this article for Canva alternatives is Mural. Mural is an online tool to design infographics, graphics, and even original mind maps. It allows you to create original and very professional designs through templates. You can add objects, texts, and icons like other online editors that we have seen so far.
Thanks to its interactive tools and the innermost base, it allows you to create high-quality infographics efficiently. This tool allows you to create and publish different quality designs without having to know how to use programs such as Photoshop or Illustrator.
Users can draw freely with the smart inking in the tool. If you are looking for an application for visual collaboration, innovation, and inspiration, it could be a good workspace.