Professional video editing is complex and takes a lot of effort. Editing issues are a common problem when you are using an Apple device. Apple laptops have a pre-installed video editor, the iMovie. It is relatively easier to use compared to other complex video editors. Since the macOS Sierra update, iMovie has been facing export and import problems. While you might come across minor issues while editing on an Apple device, there are many ways of fixing them.
Experts believe a significant percentage of Mac users are encountering these issues after the version update. This guide will explore the top 5 video editing issues encountered by Mac users and explore the fastest solution. We will also learn how to change .mov to .mp4 in Mac versions.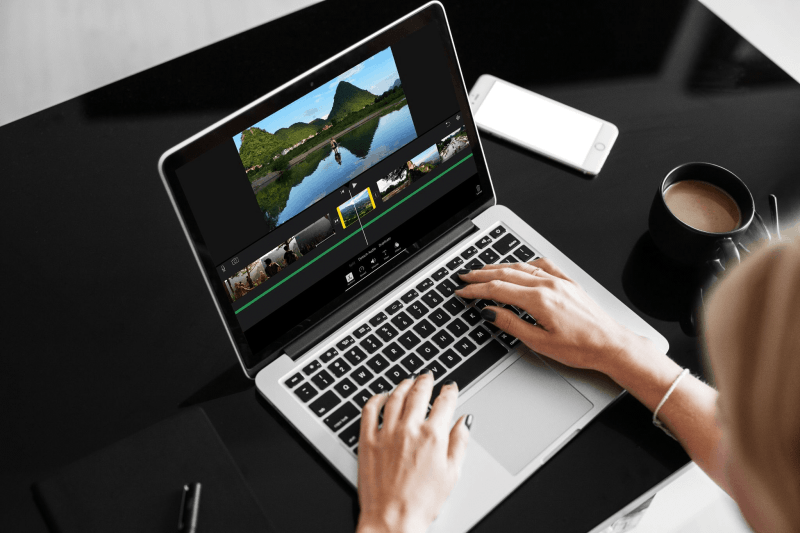 It is common for iMovie to run slow while editing. You might have given too many commands to the program, which it might fail to deliver. It can cause unnecessary glitches while you are working on your project file. To ensure optimal performance, make sure you do not overwork the video editing software with unnecessary tasks. Speed issues can also be caused by memory shortage which you can fix quickly. Follow the steps below, and you will see results:
Delete all unnecessary files which are eating up space
Don't keep any idle files in iMovie if the storage space is insufficient
Check the memory requirements before you start editing, which will cushion the program from encountering issues
Difficulty Connecting Camera And Lack Of Sound
The incompatibility of your USB cord with the camera or Mac is another reason for poor connectivity. Replace your USB cable with FireWire, which will probably solve the issue. But if you face a problem while connecting the camcorder, follow the guidelines in the user manual.
Selecting wrong preferences and incompatible formats can result in the absence of sound. Adjust your settings properly, and you can get good quality sound if you use formats supported by iMovie.
iMovie Not Exporting And Files Distortion
Mac users expect smooth functioning of their device. But sometimes, you might face issues while exporting videos from iMovie. You might receive distorted audio or video that jostles for space. It will help if you begin your troubleshooting by checking the available disk space to determine the cause of distortion. If you don't find any anomaly, there might be something wrong with the original project files which means you need to start from scratch. You should ultimately ensure that problems with video exporting settle amicably.
Video and audio file distortions are quite common for users not following proper import and export techniques. You will get questionable video and audio quality that will be hazy. Ensure that you import the video and audio files of the correct size, which iMovie can handle. Also, complete every retouching inside the timeline, which is the default editing mode for iMovie, and any poor password selection will cause file distortion.
Error Building DVD's And Frequent Crashing
Crashing is a common occurrence in iMovie, which can result from corrupted files. It will be best not to open too many files or perform multiple tasks to prevent frequent crashes.  The presence of viruses is another reason for files to crash, which you can correct through scanning. It will clean the system and prevent any further issues.  
When you convert files from iMovie, lookout for the DVD length, iMovie can convert short videos flawlessly, but longer movies might create some issues. Slow RAM or an incompatible Mac device could be the reason behind this problem. We suggest you improve your RAM or change your Mac system to get better results. You can also ignore the iDVD feature in iMovie and convert the files simply to DVD.

Unacceptable Bend Results And Irritating Video Effects
Poor quality video, unfinished tasks might cause problems at the end of a project. Follow the outlined instructions from the start to ensure that iMovie doesn't give unexpected results.
You can add special effects to iMovie videos to enhance their appeal. But some of the impacts may not look as good as you expected. It is mainly related to improper rendering. Follow the guidelines for every development and add it correctly. Don't expect some magical effects but keep working till you achieve the result.
If you want to know how to change .mov to .mp4, here are the best solutions that will work for anybody. Use the built-in Movie Tools to convert the files easily.
Launch iMovie from the video editing section
Once it opens, click the File menu and select New Movie from the dropdown list.
Click on the Import Media Button
It will open the media browser.
Click on the file you wish to import from the bottom right corner
Select and click on the imported file with a yellow border. Click the File menu from the toolbar and select share
Adjust the export settings and click Next
Name your file and click Next. You will see the export progress as a small circle on the right side of iMovie.
Once the export completes, you will get a desktop notification confirming the conversion of MOV to MP4 files.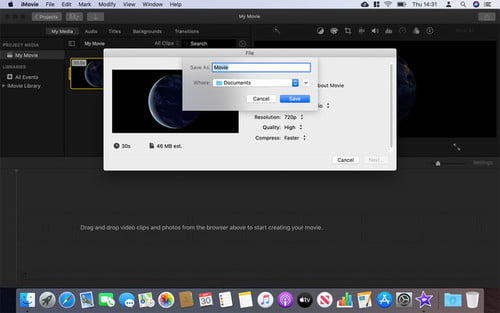 In case you are facing issues with iMovie, you can take help from other video editing formats in case of an emergency. There are several alternatives to iMovie which you can try, like Adobe Premiere Pro, Adobe Spark, Blender, Windows Movie Maker, and Filmora. Out of these, the Filmora Video Editor is simple to use, and you can start editing right away.
The solutions discussed in the blog for video editing issues on iMovie will work fine if you follow the procedures and ensure your movie editor's smooth functioning.