Topaz has launched its 2022 Black Friday Discount! You can officially save up to $478.97 to enhance images and videos. That's over 65% discount!
Over the past few years, Topaz Labs has made great applications using artificial intelligence. DeNoise AI and Gigapixel AI have quickly become the best programs for reducing noise and upscaling photos. Sharpen AI has also proven to be a good program for saving pictures that aren't very clear because of motion blur or because the focus was off. They are all regularly updated in 2022.
In September 2022, Topaz combined its Denoise AI, Sharpen AI, and Gigapixel AI into one program: Topaz Photo AI. It comes with a brand-new UI and finds and fixes image quality problems automatically and clearly with its "Autopilot". 
Topalabs also upgraded its Video Enhance AI to version 3 and renamed it Video AI in October. It's newly coded with new AI models, parallel tasks, and filters to do batch AI upscaling, AI stabilizing,  AI slow motion, AI frame interpolating, etc., simultaneously.
Topaz Black Friday Discount 2022
During Black Friday and Cyber Week 2022, Topaz offers a handful of packages that, when purchased together, provide savings of over 65 per cent on these incredible applications.
NOTE:
You won't have to pay for what you already own. So, be sure to log into the Topaz MyAccount when you go to the special Black Friday deal page. If you already own one or two items in the bundle, your price will automatically go down.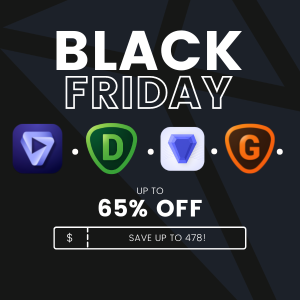 Save $478.97 for The Everything Bundle
Regularly, we don't have the everything bundle. It seems only available on promotions like Black Friday. It's the best price of the year.
The Everything Bundle includes Photo AI, DeNoise AI, Gigapixel AI, Sharpen AI and Video AI for only $279. You save $478.97 if you buy them separately.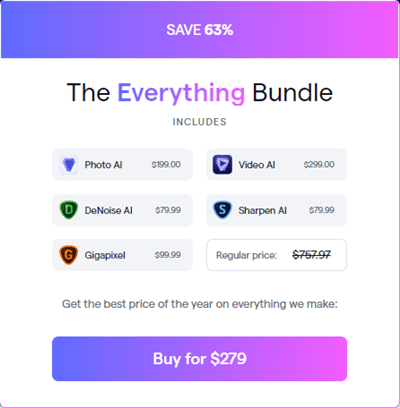 Save SAVE 65% to Enhance Images
If you just want to enhance images, you can go for the Image Bundle, which includes Photo AI, DeNoise AI, Sharpen AI, and Gigapixel AI, for $159.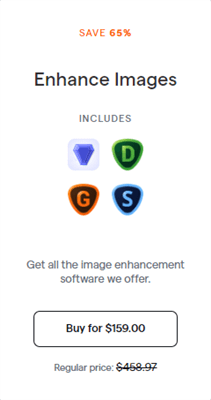 DeNoise AI, Sharpen AI, and Gigapixel AI, each is on the Topaz Black Friday promotion too.
DeNoise AI: $59.99
Sharpen AI: $59.99
Gigapixel AI: $74.99
However, they are not on the special Black Friday deal page. You need to go for the product page if you just want a single app for denoising, sharpening or upscaling. 
53% Black Friday Discount for Video AI
Video AI is the best AI video upscaling software for PC and Macs. It upscales videos up to 8K, denoises, stabilizes, and enhances video details, and creates additional frames with its own AI models. 
Topaz Video AI is regularly sold at $299.99. Now,  with the Topaz Black Friday discount 2022, it only costs you $159.