Nvidia has developed a new AI upscaling technology called RTX Video Super Resolution that enhances the quality of videos viewed in Chrome and Edge browsers. The feature requires an Nvidia GPU from the 30 or 40 series to work and uses AI algorithms to make low-resolution videos clearer, sharper, and closer to their high-resolution versions. The technology is an improvement over traditional video upscaling methods. It is expected to be available shortly, bringing high-quality video to more people regardless of their display.
What's Nvidia RTX Video Super Resolution
Nvidia has announced that the latest version of its RTX technology is available on two of the world's most popular web browsers – Chrome and Edge. Nvidia RTX AI Video Upscaling is a cutting-edge technology that uses AI algorithms to upscale low-resolution videos to higher resolutions, resulting in a better viewing experience for users.
Implementing Nvidia RTX in Chrome and Edge browsers is a significant step forward for the tech giant, as it will allow millions of users to enjoy the benefits of AI video upscaling without needing additional software or hardware. This means videos on websites, YouTube, and other platforms will look clearer and more detailed without requiring manual intervention.
RTX Video Super Resolution Key Feature
One of the critical advantages of Nvidia RTX AI Video Upscaling is its use of Tensor Cores, AI-specific hardware components in Nvidia RTX GPUs. These cores allow the technology to perform upscaling in real time, making it possible to enjoy high-resolution videos with no lag or buffering. Additionally, the AI models used in Nvidia RTX are trained on a massive dataset, ensuring that the upscaling results are highly accurate and of the highest quality.
When will RTX Video Super Resolution be available?
According to the latest information, the new RTX Video Super Resolution feature is available now on February 28, 2023. 
How to Enable Nvidia RTX Video Super Resolution
If you have GeForce RTX 40 or RTX 30 Series GPU, you can enable the new feature this way:
Download the latest Game Ready Driver(531.14 or  higher).
Download the latest version of Chrome(110.0.5481.105 or newer) or Edge(v110.0.1587.56 or later). They are the first browsers to support Nvidia RTX Video Super Resolution, and it is enabled by default.
Go to NVIDIA Control Panel-Video-Adjust video image settings-RTX video enhancement, and tick Super resolution.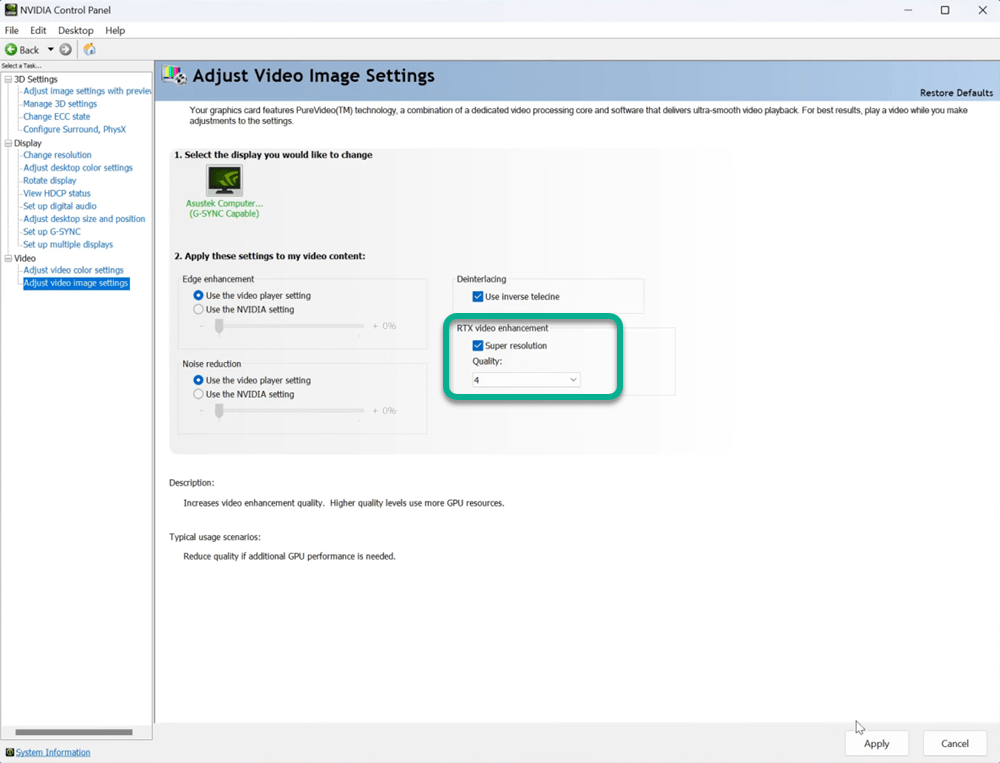 Set the quality level from 1 (lowest) to 4 (highest).
Good news to Mozilla Firefox! Although not an official statement, you are able to enable NVIDIA Video Super Resolution (VSR) in the latest version of Firefox as shown below.
1. Enter "about:config" on the search bar.
2. Accept the risk and Continue
3. In Advanced Preferences, search "gfx.webrender.super-resolution.nvidia" and Toggle it to "True"

				
					gfx.webrender.super-resolution.nvidia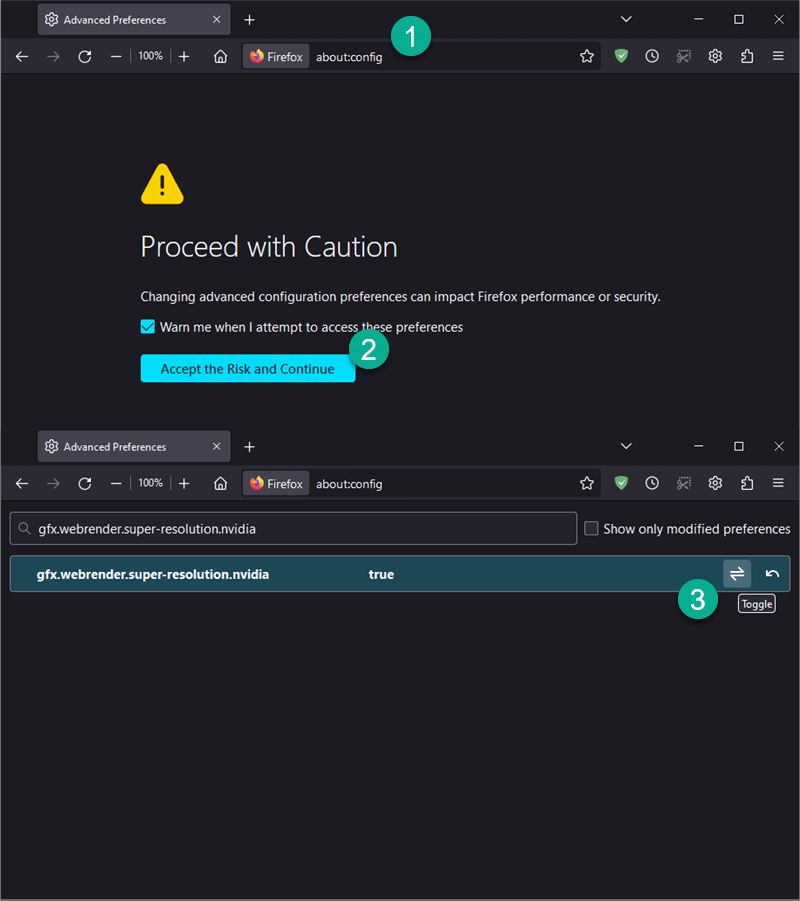 We know that NVIDIA's RTX Video Super Resolution is an advanced upscaling technology that can improve online videos' resolution when played in Chrome and Edge browsers. However, what about our local videos?  Now, we have good news!
VLC Media Player released version 3.0.19 RTX on April 13, 2023, a custom version of the "Vetinari" branch, which incorporates NVIDIA RTX Video Super Resolution support. This innovative update is designed to significantly enhance video playback quality for users with NVIDIA RTX graphics cards by leveraging AI-powered upscaling technology. 
To enjoy the benefits of this update, users need to have a compatible NVIDIA RTX graphics card and download the custom VLC 3.0.19 RTX version from the official VLC website. And, it is enabled by default in VLC. According to the test from Videocardz.com, it costs only 9% of RTX 4090's GPU power for a 1080p upscaling.
The new VLC 3.0.19 RTX version is a testament to the open-source community's commitment to keeping up with the latest technological advancements, ensuring that VLC remains a top choice for media playback across various platforms. By incorporating NVIDIA's cutting-edge AI-based upscaling solution, VLC is poised to provide an even better user experience for its millions of users worldwide.
RTX Video Super Resolution FAQ
It's free. However, it is important to note that RTX Video Super Resolution also requires an Nvidia GPU, such as a 30 or 40-series GPU, which may have additional costs. 
It is supported now! Check how to enable RTX Video Super Resolution here. 
RTX Video Super Resolution and Nvidia Shield Pro both use AI to upscale video content, but they are not exactly the same technology. RTX VSR is a newer development that also reduces compression artifacts and sharpens details. It works with any video content played in Chrome or Edge browsers, as long as you have a RTX 30 or 40 series GPU. Nvidia Shield Pro is a streaming device that uses AI upscaling for 4K TVs, but it only works with certain apps and content. RTX VSR may offer better quality and compatibility than Nvidia Shield Pro, but it also requires a more powerful and expensive GPU.
Alternative Ways to Upscale Local Videos
If you don't have a 30 or 40-series GPU, or you want to upscale videos online or on your local computer, either PC or Mac, how can we do it? There are various video-enhancing software tools and online services available that use AI algorithms to upscale videos. I'd like to recommend one for PC and Mac and one for online.
NOTE:
It's important to note that the quality of upscaling will depend on various factors, including the quality of the original video and the method used for upscaling. Some methods may produce better results than others, so it may be worth trying a few different options to find the one that works best for you.
Topaz Video AI: Upcale Videos up to 8K on PC & MAC
Topaz Video AI is a piece of software for enhancing videos that makes use of artificial intelligence to produce higher-quality results. It can upscale videos to a higher resolution, reduce noise and artifacts, stabilizes shaky footage, and perform other video enhancement tasks. The software can improve the quality of both standard-definition and high-definition videos. Topaz Video AI uses advanced algorithms to produce results closer to the original high-quality video than traditional video enhancement methods.
Topaz can upscale videos up to 8K. And, it's super easy to do so:
Pixop: Online Video Upscaling
When it comes to improving the quality of videos, Pixop is the platform to use thanks to its innovative AI technology. It provides a suite of tools for video upscaling, denoising, color correction, and other video enhancement tasks. The platform uses advanced machine learning algorithms to produce results that are closer to the original high-quality video, compared to traditional video processing methods.
Pixop's technology is designed to be fast, flexible, and scalable, making it suitable for use in a variety of applications, such as video streaming, post-production, and content creation. The platform is available as a cloud service or as on-premise software, depending on the needs of the customer.
Overall, Pixop provides a powerful and effective solution for improving the quality of videos, making it an attractive option for businesses and individuals looking to enhance their video content.
In conclusion, adding Nvidia RTX AI Video Upscaling to Chrome and Edge browsers is a significant step forward for the tech giant and a major win for users. The technology allows for a more enjoyable experience when watching videos, and it does so without installing any additional software or hardware. Whether you're watching a movie, a video on YouTube, or any other video content, Nvidia RTX AI Video Upscaling will ensure it looks its best.
If you don't have a 30 or 40-series GPU or want to upscale videos yourself, Topaz and Pixop are here to help.