In my previous post, I recommended a couple of programs for you to rip music DVDs to MP3 for Car Play. MP3 can be a good choice for common users, however, if you are a music enthusiast, I don't think MP3 would be your first choice, do you? And, I am sure Hi-fi audio would surely be your top choice and this post explains how to convert music Blu-ray discs to lossless Hi-fi audio in FLAC and WAV.
DVDFab Hi-fi Audio Converter
DVDFab Hi-fi Audio Converter seems to be the only program that can decrypt protected Blu-ray discs, especially your music Blu-ray, to Hi-fi audio. It works as a profile in the Blu-ray Ripper module in DVDFab and is available since DVDFab 10.0.6.0. Please be sure you download the latest version via the below official link.
With DVDFab Hi-fi Audio Converter, you can rip and convert your Blu-ray discs to FLAC (stereo and multichannel), and WAV (stereo, and multichannel). While converting, you can keep the source sample rate, channels, bit rate, and bit depth(24 bits). You can even set the sample rate to 192 kHz. And there are six channel options in total: Mono, Stereo, Dolby Surround/ProLogic, Dolby ProLogic II, 5.1 multichannel, and 7.1 multichannel.
Besides, we know music Blu-ray and DVDs usually divide each song into a chapter, DVDFab easily split music Blu-ray by chapters. Just don't forget to set the Split mode in Advanced settings.
One more thing that is important for accurate playback is the support of the CUE file. DVDFab Hifi Audio Converter automatically creates the cue file for you if the Split mode is NOT enabled.
How to Convert Blu-ray to Hi-Fi Audio in Lossless FLAC and WAV
With DVDFab, converting Blu-ray to Hifi only takes a few mouse-clicks. And below, you will see a detailed guide explaining to you how to do this.
Before that, please follow the below button to download and install the latest version of DVDFab. Launch the Hifi audio converter and insert your Blu-ray disc to get ready.
Step 1. Load Blu-ray
DVDFab will automatically load your Blu-ray disc that you insert into your Blu-ray drive. Blu-ray ISO and folders are also supported. You can manually click the Add button to load them to the Hifi audio converter. Make sure you go to the Ripper mode, or you won't see the Hifi audio profiles.
You may be presented to choose a region for your Blu-ray disc as shown below. Feel free to disable it.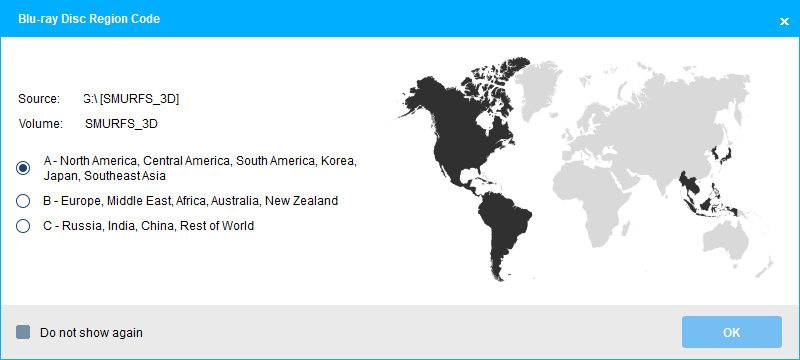 Step 2. HiFi Audio Profiles
MP4 or the last used profile is the default for ripping. Click it and choose your preferred profile in Format-Hi-Fi Audio:
Step 3. Advanced Settings for Hifi Audio Converting [Optional]
Advanced settings are available after you click the wrench icon. Here, you can set the codec, sample rate, channels, bit rate, bit depth, split and volume. You are even able to save your customized profile as your own for future use.
Step 4. Set Output Folder [Optional]
DVDFab rips your Blu-ray to Hifi into the documents folder in default on Windows. Feel free to set the output folder as you like to somewhere else like your external drive by clicking the "Save as movie folder" icon.
Step 5. Convert Blu-ray to Hifi
Yes, here you are ready to go. Hit the Start button and leave DVDFab for the rest of the job and enjoy your Hifi audio after that!