A cloud drive, also called cloud storage, lets users store and access their files and data from anywhere with an internet connection in an easy, safe, and flexible way. While Dropbox and Google Drive seem to be known to all, have you ever heard of pCloud Drive? In this post, I'd like to give you my pCloud Drive review and recommend it to all of you.
While pCloud offers other services like pCloud Pass, my review is mainly about its cloud storage for computers.
Why do we need a cloud drive?
There are several reasons why someone might want to use a cloud drive:
Convenience. The convenience of cloud storage is that you can access your data from any internet-connected device, no matter where you happen to be in the world.  And this is the main reason I use a cloud drive. pCloud Drive, working as a virtual drive, makes it even more convenient.
Data backup. By storing your files in the cloud, you can ensure that they are safe from loss due to hardware failure or other issues. This can be particularly important for businesses that rely on important data.
Collaboration. Many cloud drives allow multiple users to access and work on the same files simultaneously, which can be helpful for group projects or remote teams.
Cost savings. Cloud drives can be a cost-effective alternative to purchasing and maintaining physical storage devices.
Security. Many cloud drives offer robust security features to protect your data, including encryption and authentication protocols.
So, how does pCloud Drive work? Is it practical to back up your data at a low cost and with high performance? You can check it out in my pCloud review.
pCloud Drive is a cloud-based storage solution to keep data safe and accessible from any location with an internet connection. It works by syncing files between your computer and the cloud, so you can access your files from any device or location. When you install the pCloud Drive software on your computer, it creates a virtual drive that appears in your file explorer. You can then drag and drop files into this virtual drive, and they will be automatically synced to the cloud. After everything is uploaded, you can view your documents, watch your videos, or listen to music anywhere in the world if you are connected to the Internet.
Additionally, you can share all your files or folders in the drive with others for them to view or download. With its user-friendly interface and robust features, pCloud Drive is a popular cloud storage solution for individuals and businesses alike.
pCloud Drive Review: Features and Benefits
pCloud Drive offers a wide range of features and benefits, making it a reliable, secure, and user-friendly cloud storage solution for both personal and professional use. Here are some of the key features and benefits of pCloud Drive.
NOTE:
Some of the features may vary depending on your subscription plan and device compatibility. For example, client-side encryption is only available with pCloud Crypto, which is an additional service that costs extra.
pCloud Drive offers up to 10TB of storage (Individual & Family) and unlimited for the Business Pro plan, making it an excellent choice for users who need to store large amounts of data. For individual and family users, pCloud is not the one that offers the largest storage capacity, but it is still a generous amount.
The virtual drive is what I found to be the most convenient feature to use. While you have to use some commands or third-party tools to mount other cloud services like Dropbox, Mega, etc., as a virtual drive, pCloud Drive automatically creates a virtual drive for your PC, Mac, and Linux after you install the pCloud Drive application and sign in. Thus, you can do almost anything with your files like you do on an actual hard drive. All files you store on the virtual drive will automatically be synced to the cloud.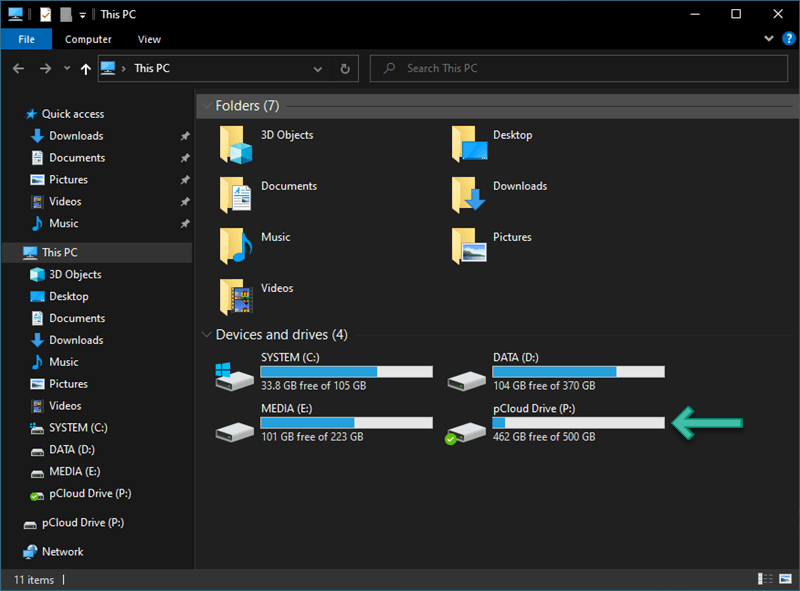 File sharing and collaboration
pCloud Drive allows you to share files and folders with other users, making it easy to collaborate on projects with team members or share files with friends and family.
You can share any files in your pCloud web or pCloud client on PC, Mac, Linux, iOS, and Android devices. However, if you want to password-protect your sharing, set the download permission, and expiration date, or customize your branding, you should use the web version.
pCloud Drive automatically syncs your files across all your devices, including your computer, mobile device, and tablet, so that you can access your files from anywhere.
It has a sync icon over your files or folders on your hard drive, so you can quickly tell whether your data is syncing or synced.
This offline feature is actually a derivative of the Sync feature. You can easily tell by how you enable it in pCloud Drive: Select the folder you want to access offline and right-click it. Choose "Offline Access (sync)."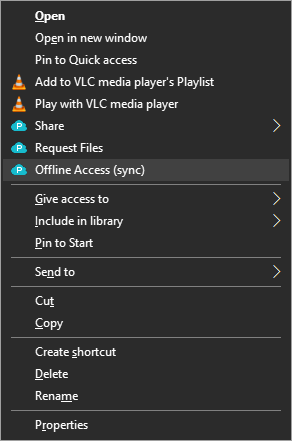 Then, it will take you to the Sync window, where you need to set a local folder (Choose Device Folder) and click "Add sync" for offline access.
NOTE:
For pCloud Drive, you can only set a FOLDER for offline access. For mobile users, you can follow the official guide to 'Make available offline.'
pCloud Drive includes a backup and restores feature that makes it easy to keep your files safe and recover them if they are lost or damaged. You can back up files on your computer or mobile devices. 
You can also back up files from third-party services such as Dropbox, OneDrive, Google Drive/Google Photos, and Facebook.
NOTE:
OneDrive for Business is NOT available for backup. And Facebook is temporarily unavailable for no reason at the moment.
pCloud Drive uses TLS/SSL encryption to protect your data and includes additional security features such as two-factor authentication and client-side encryption for added security. You can also use the Crypto folder for no-knowledge encryption of your sensitive files.
Besides, whenever this is a new login from a new device or IP address, you will get an email notification. 
pCloud Drive keeps track of previous versions of your files, so you can easily restore an earlier version if needed. pCloud offers 15 days of file versioning for free accounts and 30 days for paid users. I don't use this feature much, but I have used it two or three times. It is extremely useful when needed.
"File Version" is a hidden feature. You can only see it in the pCloud web version by right-clicking a file: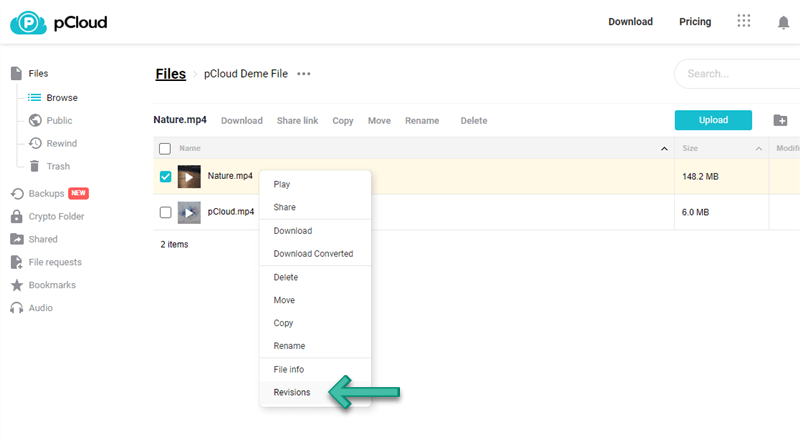 pCloud allows you to preview your office and PDF documents directly in the dashboard. pCloud has integrated audio and video players that let you play your favorite media in almost any format. You can create playlists of your music and watch videos on your device, even offline, if you favorite them.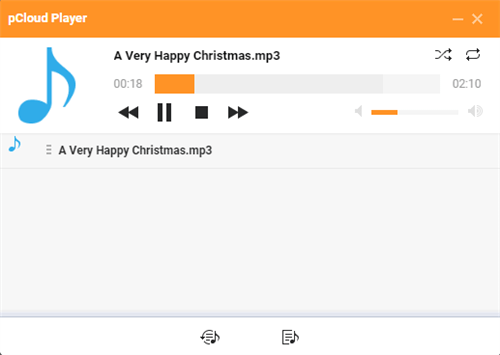 To listen to the music you store in pCloud, you need to have some audio files available in your pCloud account. Then you can tap the Audio tab at the bottom for iOS, on the right for the web, or the music note icon at the top for Android, and your integrated music player will appear. You can add songs, create playlists, and listen to your music.
To watch videos you store in pCloud, you can simply tap on them, and they will start playing automatically. Note that you cannot control the playback speed in the free plan. It's a paid feature.
pCloud Drive supports a wide range of operating systems, including Windows, Mac, Linux, iOS, and Android, making accessing your files from any device easy.
It has special builts for Windows XP and native support for Apple Silicon Macs. 
One more thing, pCloud also provides a browser extension, called pCloud Save, to save images, contents as well as other files on a webpage to your pCloud account. 
NOTE:
This extension is no longer updated since December 2021. And I find it no longer works with Chrome 110 on Windows 10.
pCloud Drive features a user-friendly interface that makes it easy to navigate and use, even for users who are not familiar with or are using pCloud for the first time. I know this feature is subjective. But, indeed, all features are easy to navigate and use.
Get started with pCloud Drive
Getting started with pCloud Drive is a straightforward process. pCloud Drive offers web access, so you can access your files from any computer with an internet connection by logging into your account on the pCloud website. pCloud Drive also has a mobile app for iOS and Android that you can download to access your files on the go. In this part of my pCloud Drive review, I'd like to show you some basic steps you need to follow to configure pCloud on your PC or MAC.
Step 1. Account setup
Go to the pCloud website and create an account by entering your email address and password. You can also sign up using your Google, Apple, or Facebook account.
Step 2. Download and install pCloud Drive
After creating your account, download and install the pCloud Drive software on your computer. You can download the software from the pCloud website, and it is available for Windows, Mac, and Linux to use on a computer.
Tips:
According to the pCloud website, there are two versions of pCloud Drive for Mac: one for Macs with an Intel processor and one for Macs with Apple Silicon. The latter requires some extra steps to install pCloud Drive, such as allowing kernel extensions in the Recovery mode.
Step 3. Configure pCloud Drive
Once the software is installed, launch it and enter your pCloud login information to connect your account. 
Then, you can choose which folders you want to sync to the cloud, decide if you want offline access, set the cache location, and change other settings.
Step 4. Start using pCloud Drive
After configuring pCloud Drive, you can start using it to store and access your files. The pCloud Drive virtual drive will appear in your file explorer (the P drive on Windows).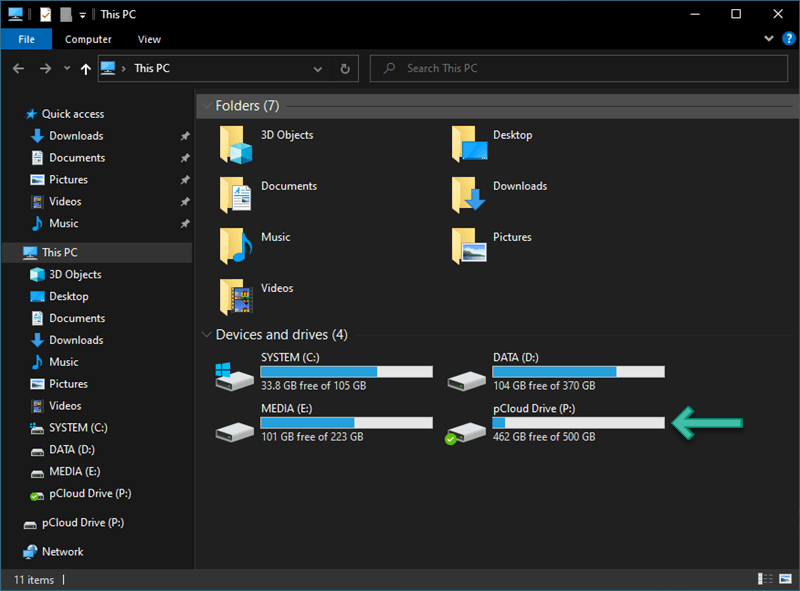 This drive looks and acts like any other folder on your computer, and you can drag and drop files into it to sync them to the cloud. Also, you can copy and paste files between folders in pCloud Drive, just like what you do in a true hard drive.
How fast and reliable is pCloud Drive?
pCloud Drive is known for its fast and reliable performance, with high upload and download speeds and minimal downtime, all because of the distributed server infrastructure, advanced caching algorithms, LAN sync feature, bandwidth management settings, compression and encryption techniques, and continuous updates. Whether you are syncing large files or working with a team on a collaborative project, pCloud Drive is a reliable and efficient cloud storage solution.
Here are some of the factors that contribute to pCloud Drive's performance and speed:
Server infrastructure: pCloud uses a distributed server infrastructure with multiple data centers around the world. This is one of the most widely used technology for faster uploading and downloading while efficiently keeping your data safe with less downtime.
Advanced caching: pCloud Drive uses advanced caching algorithms to optimize file transfers and reduce the time it takes to sync files to the cloud. The cache is only used for uploading and downloading files to and from pCloud Drive, not for syncing files or folders. The minimum cache space recommended for optimal performance is 5,120 MB.
LAN sync: pCloud Drive includes a LAN sync feature that allows users to sync files over their local network, reducing the amount of data that needs to be transferred over the internet and speeding up the syncing process.
Bandwidth management: pCloud Drive allows users to control the amount of bandwidth that is used for file transfers, which can help to optimize performance and reduce the impact on other applications. Although the Upload Speed Limit is set to Unlimited by default, the speed is actually capped at 80 MB/s for paid users and 40 MB/s for free users.
Compression and encryption: pCloud Drive uses compression and encryption techniques to optimize file transfers and keep data secure. However, encryption is optional and requires an additional fee for Premium users.
What measures does pCloud Drive take to protect your data?
What do you care most when using a cloud drive? Data security and privacy should be your top consideration. pCloud Drive takes several measures to ensure the security and privacy of its users' data, giving you peace of mind to use. Let's take a look at the key security and privacy features of pCloud Drive:
pCloud Drive uses TLS/SSL encryption when data is transferred from your device to the cloud, even if it is intercepted during transmission. If you want to protect your local data, you should enable pCloud Crypto.
Two-factor authentication: pCloud Drive offers two-factor authentication as an additional layer of security, requiring users to enter a code sent to their phone or other devices in addition to their password.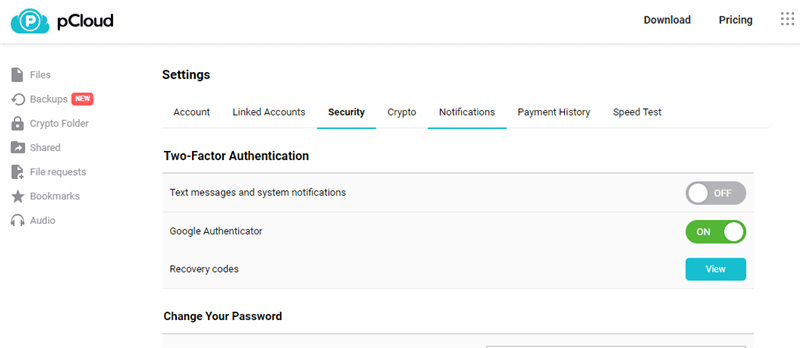 Data centers: pCloud Drive uses secure data centers with advanced security measures to protect user data. These data centers are located in Luxembourg (EU) and Dallas, Texas(US). The data centers are subject to each county's privacy laws.
Backup and recovery: pCloud Drive includes a backup and recovery feature that allows users to recover deleted files and restore previous versions of files. Go to Files-Trash to recover your files deleted up to 365 days ago! 
Zero-knowledge privacy: pCloud Drive operates on a "zero-knowledge" privacy policy, which means that the company does not have access to users' encryption keys or data. This ensures that only the user has access to their data and that the data is not accessible to third parties or the company itself.
Privacy policy: pCloud Drive has a transparent privacy policy that explains how the company collects, uses, and protects user data. The policy is easy to understand and is available on the company's website.
In a pCloud review, you may also wonder how helpful and responsive is pCloud Drive's support team, and what resources are available. Well, pCloud Drive offers a variety of options for its users to get answers to their questions and resolve issues efficiently. If you have any problem or question using pCloud, you can get help via the below ways:
They have a comprehensive help center that includes FAQs, tutorials, and troubleshooting guides. Users can browse the help center by category or use the search function to find specific information.
Users can also get help via email support by filling out a form on the pCloud Drive website or by sending an email to [email protected].
Troubleshooting: pCloud does not show Sync icons on PC
Some time ago, after installing a new version, I no longer have the sync icon. The pCloud support team fixed this issue in just one email. If you have the same problem, here's the fix for PC:
Step 1. Press the Win+R button together
Step 2. Type "regedit" in the Run window, and click OK to go to the Registry Editor.
Step 3. Allow it to make changes.
Step 4. Locate the directory:
Computer\HKEY_LOCAL_MACHINE\SOFTWARE\Microsoft\Windows\CurrentVersion\Explorer\ShellIconOverlayIdentifiers
Step 5. Right-click and Rename the pCloud folders(pCloudINPROGRESS, pCloudINSYN, pCloudNOSYNC) with more spaces in front of their names so our folder will be on top of the list and status icons will appear in File Explorer.
Step 6. Restart the device to see how it works.
pCloud Drive offers several subscription options for individual, family, and business users with varying features and storage capacities.
Here is an overview of the different pricing and plans:
Free plan: pCloud Drive offers a free plan with 10GB of storage, which includes basic features such as file sharing and syncing, and access to mobile and desktop apps.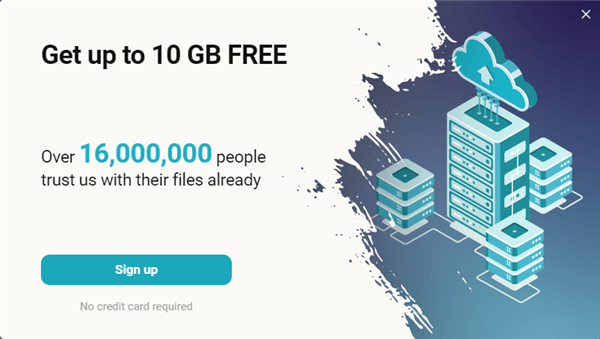 You can also pay to get more storage. For individual users, there are three plans:
Premium: The Premium plan offers 500GB of storage and shared link traffic. The Premium plan costs 49.99 USD annually or 199 USD lifetime.
Premium Plus: The Premium Plus plan offers 2TB of storage and 2TB shared link traffic, with 99.99 USD for one year or 399 for LIFETIME.
Custom Plan: A new plan with 10 TB storage and 2TB shared link traffic for a one-time payment of 1190 USD. No monthly or yearly payments in this plan.
NOTE:
1. Shared link traffic refers to the traffic generated when other people stream or download content from your shared links. Reset every month. 2. Lifetime in pCloud pricing plans means: "99 years or the lifetime of the account holder, whichever is shorter. "
For family users, you can get 2TB storage for 595 USD or 10 TB for 1499 USD, all up to 5 family members with a one-time payment, no monthly or yearly payment either.  
For business users, there are two plans: Business and Business Pro.
You can get 1 TB for each user for 9.99 per month or 95.88 per year. The Business Pro is also a new plan. It comes with unlimited storage for just 19.98 a month or 191.76 a year.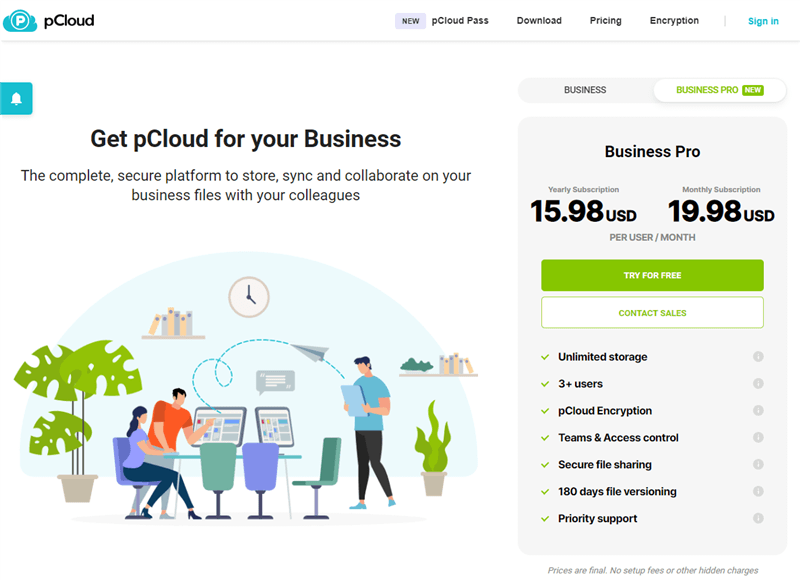 Here is a summary of the main advantages and disadvantages of using pCloud Drive.
Generous free plan with 10GB of storage
Affordable subscription plans with a range of storage options
Advanced features such as pCloud Crypto encryption and versioning
User-friendly interface and easy-to-use apps for desktop and mobile devices
Good performance and reliability with fast upload and download speeds
Strong security measures, including client-side encryption and two-factor authentication
Excellent customer support with a comprehensive help center and live chat support
Limited Remote Upload traffic
No collaboration features beyond basic file sharing
Limited online video playback
After reading my pCloud Drive review, is pCloud Drive a good choice for your cloud storage needs? 
In conclusion, whether or not pCloud Drive is a good choice for your cloud storage needs depends on your specific requirements and preferences. If you're looking for a reliable and affordable cloud storage service with advanced security features, pCloud Drive is definitely worth considering. Its user-friendly interface, good performance, and excellent customer support make it easy to use and troubleshoot any issues that may arise.