Today, when I am checking my blog comment and a link was pointing to Tuneskit.com of its DRM Media Converter for Mac. However, when I visit it, Chrome and FireFox keeps loading but it takes forever to respond and finally gives me the below error message that reads: 
This site can't be reached

www.tuneskit.com took too long to respond.

Try:

Checking the connection
Checking the proxy and the firewall
Running Windows Network Diagnostics

ERR_TIMED_OUT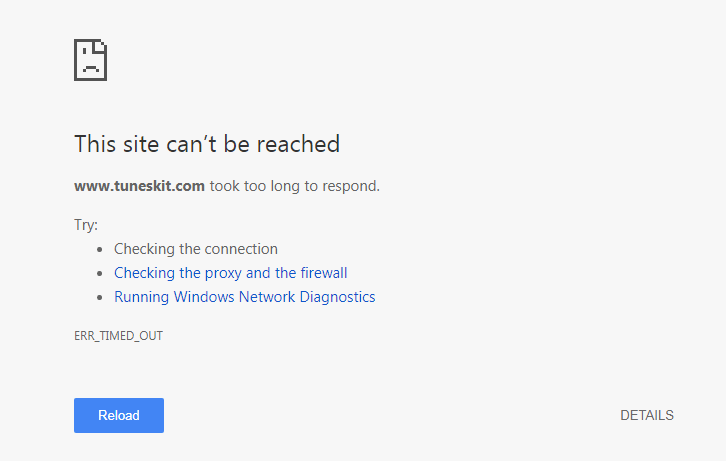 My internet collection is 100% working and no antivirus program is currently running.  And, after a couple of tries, I got another error message:
504 Gateway Timeout

nghttpx

Best Tuneskit Alternative 2018
It has been 24 hours down and the Tuneskit website is still down with the same error message of "www.tuneskit.com took too long to respond. " I think its time to find a Tuneskit alternative to remove DRM from iTunes movies, TV shows, music and books.
And, here I'd like to recommend the best Tuneskit alternative 2018: Leawo TunesCopy Ultimate:
Leawo TunesCopy Ultimate is one of the top solutions that is able to remove DRM from iTunes movies, TV shows as well as the books and music. It just removes theDRM  protection from iTunes movies and TV shows and keeps everything like the 5.1 sound, subtitle, video quality etc and save as MP4 file. I already have a previous guide using Leawo TunesCopy Ultimate to remove the DRM protection and then burn the iTunes video back to DVD. 
Add, as you can see from the above screenshot, DRM removal with Leawo is easy for a few mouse clicks. You just have to Add the protected M4V file, and click hit Convert to do so!
Importantly, you are able to remove DRM on High Sierra with Leawo TunesCopy Ultimate and I have the detailed guide here.
Is TunesCopy Ultimate the best alternative for Tuneskit? It's up to you.