When I was wandering around on Quora, I notice people were wondering how to convert and compress MKV to smaller MP4. To me, I don't always compress videos to reduce video size and in one of my previous post, I explained how to convert MKV to MP4 without losing quality. The MKV to MP4 passthrough keeps everything in the original video and size don't change or don't change much. I realized there may be more people who want to convert and compress MKV to smaller mp4 or reduce other videos size by shrinking or converting.
People on Quora and Reddit recommend Handbrake to be the best software for reducing the size of a video like AVI, MKV, WMV, M2TS, etc. However, I don't always think so. Handbrake is recommended just because it is totally free to use and it WORKS. Is there a better alternative to reduce video size? Sure!
Here in the post, I'd like to recommend DVDFab to be the best Handbrake alternative for you to reduce any video size, like converting MKV to smaller MP4, compressing AVI to MP4, reduce MKV file size, etc.
DVDFab is the all-in-one solution powered by DVDFab for people to rip, copy, burn and create Bluray and DVD, convert videos, transfer files, download YouTube videos, and remove DRM protection. I have been using it a lot to remux Blu-ray and merge DVDs.
And, there are a couple of reasons why I recommend DVDFab over Handbrake.
When compared with Handbrake as well as other free programs like VLC, DVDFab gives a higher compression rate while maintaining good quality. As you can see below, I try to compress and reduce a 110MB MKV file to MP4 and there's the result:
DVDFab compresses the 110 MB MKV to 15.6 MB MP4 and reduce the video size by 85.8%.




Handbrake compress the 110 MB MKV to 22.2 MB MP4 and reduce the video size by 79.8%.
With the support GPU acceleration on both PC and Mac, DVDFab is faster in reducing video size. Enable the AMD and Intel GPU acceleration here by unchecking "Disable all GPU codecs for decoding and encoding":
Handbrake is open source and free to use but it only supports MKV and MP4/M4V as the output video format, meaning it is NOT possible for you to reduce the video size of an AVI file without changing the video format. However, with DVDFab, all most all video formats are supported.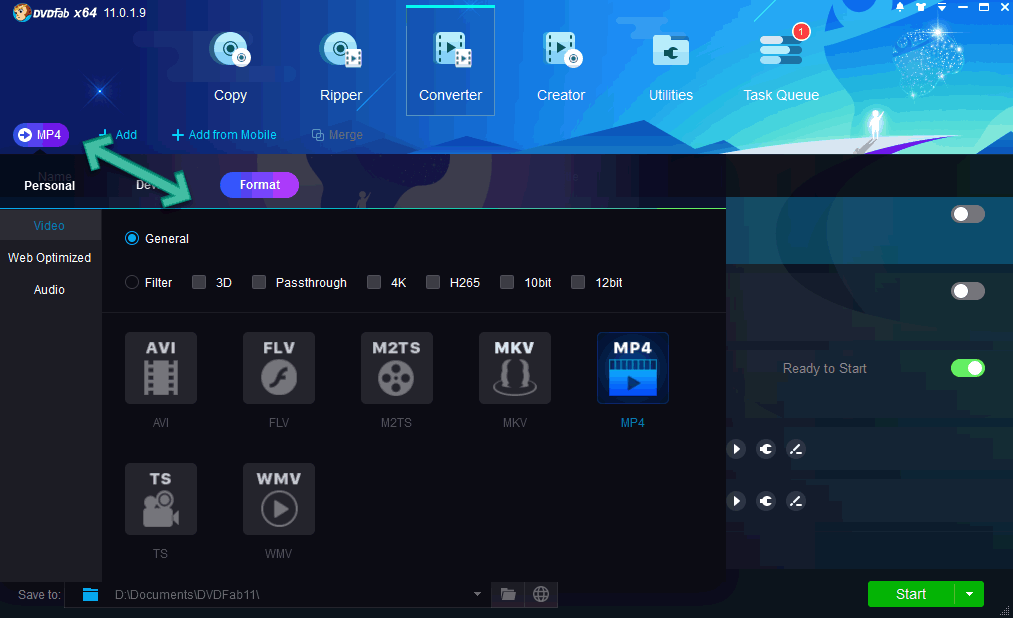 The Best Way to Reduce Video Size on PC and Mac
There's how I reduce video size using DVDFab by converting MKV to smaller MP4 as an example. But, no worry, DVDFab supports almost all video formats like AVI, MKV, VOB, M2TS, MMV, etc!
Please follow the below button to download, install and launch DVDFab to get ready. 
Step 1. Load Videos for Compressing
Go for the Converter tab and load the video you want to reduce the size by drag-and-drop. You can also click the Add button to do so. 
Step 2. Output Profile for Reducing Video Size
MP4 is the default profile. If you just want to convert MKV to smaller MP4, then leave it. If not, Click MP4 and locate one profile you prefer for reducing video sizes. Go Web Optimized if you want to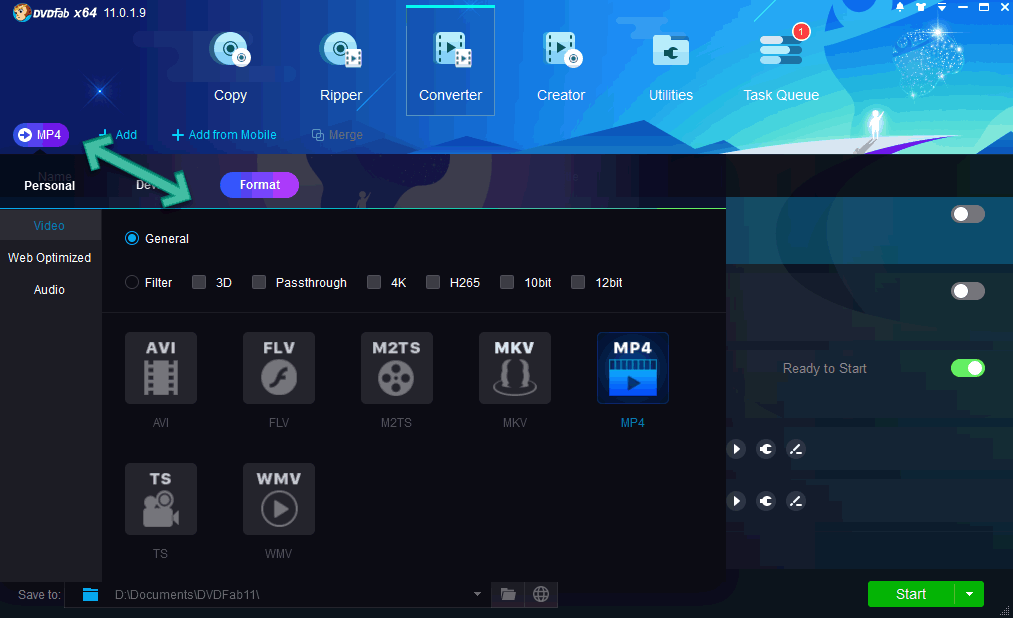 Step 3. Video Quality for Compressing
Standard is the default quality for compressing videos. If you want to reduce video size without quality loss, then keep the default setting. Or click its drop-down menu and select Fast Speed for a higher compression rate. 

You can even able to go for the Advanced Settings to customize the video quality by bitrate or file size: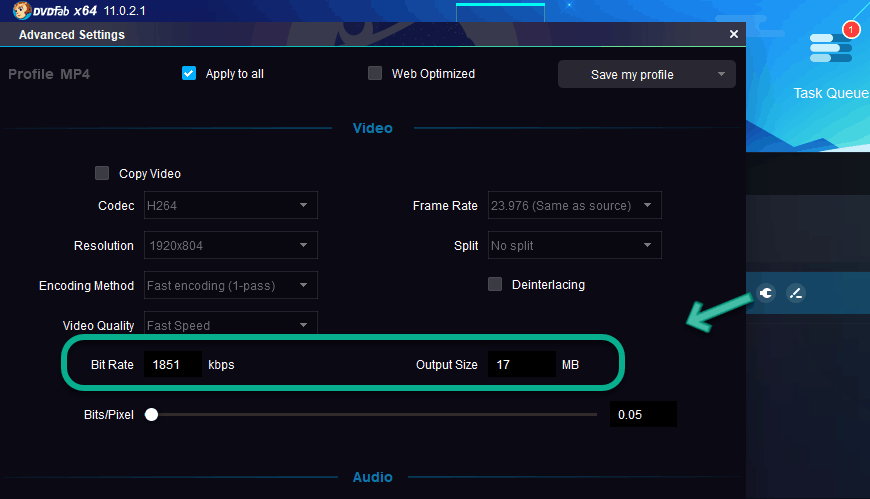 Step 4. Reduce Video Size
Hit the Start button to reduce the size of any videos like MKV, M2TS, VOB, MPG, etc to any format you like. 
Using DVDFab on macOS 10.15 Catalina
If you are running the latest operating system macOS 10.15 Catalina from Apple, you may notice the new security controls, asking you to allow apps to access different parts of your Mac. That makes using DVDFab a bit different from the previous macOS too. So, there's what you need to pay attention to in detail.
Access Documents Folder and Removable Volume etc
For the first time you open DVDFab, it will ask you to allow access to the Documents folder. This is because the default output folder for Blu-ray DVD ripping and video converting is the DVDFab11 in Documents folder. So, make sure you click OK to allow. 

If DVDFab is not allowed, DVDFab fails to create the output folder and it will crash and fails to start up. 
If you are trying to rip, copy or burn a Blu-ray or DVD, you will be presented the below window asking for the access permission of removable volumes:

Make sure you click OK so as for DVDFab to fully access to the Blu-ray and DVD drive to load your discs for ripping, copying and burning. 
If you don't rip, copy or burn Blu-ray or DVDs, clicking "Don't Allow" will be OK. But if you do and click "Don't Allow", DVDFab will get totally stuck when you try to manually load a Blu-ray or DVD and you will have to force quit.
If you are trying to convert a video and load the video from, say, your Downloads or Desktop or any other folders or USB drive, make sure you allow access. Or, you won't be able to load videos for converting.
For some reason, you deny DVDFab to access the Document folder, other folders or the removable volume, and the program does not work properly, you will have to go System Preferences > Security & Privacy > Privacy > Files and Folders and check the Documents Folder and/or Removable Volume as shown below: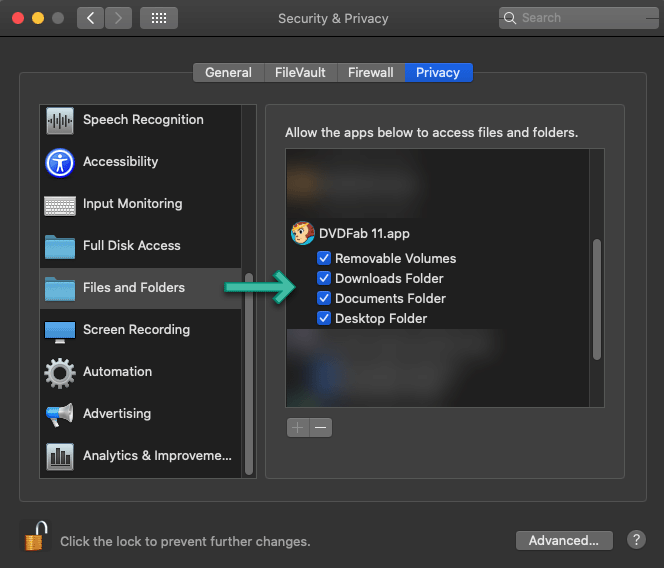 Incoming Network Connections
If you enable the Firewall on macOS Catalina, please allow DVDFab for the incoming network connection. This is because DVDFab will check for updates when launching and it requires an Internet connection to verify the registration.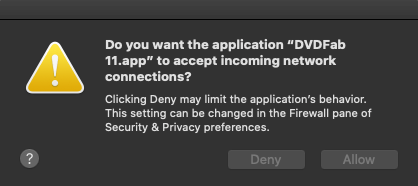 Fixing this can be easy. Just go System Preferences > Security & Privacy > Firewall and unlock to make changes: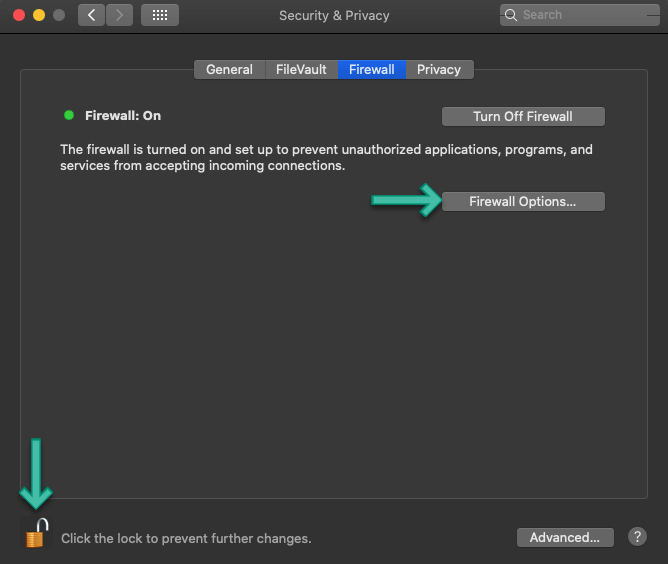 Allow DVDFab for incoming connections in Firewall Options: