Many programs can do recordings, like Joyoshare Screen Recorder, Wondershare UniConverter, or QuickTime to free record with sound on macOS. However, they don't seem to be light-weighted and require additional programs installed. Today, I'd like to recommend a FREE web app that is can do recording right within your browser! You can check my Recordcast review below to see if it is something that you are looking for!
In this Recordcast review, you will see a list of its key features, which makes it one of the top choices for free online recording and online editing.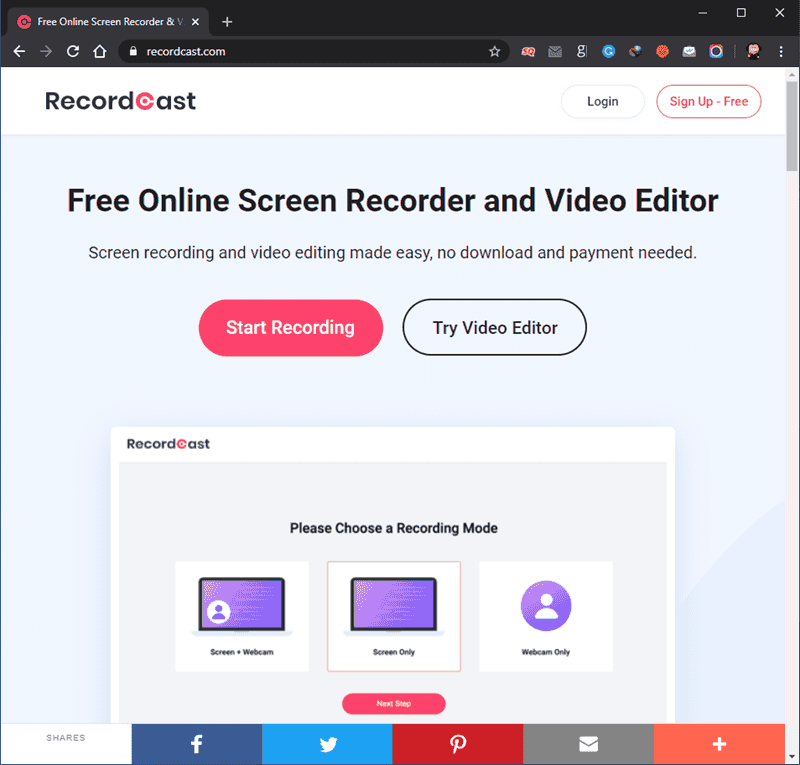 Record Within Yours Browser
Recordcast can record your screen right within your browser, and there are no additional programs or browser extensions needed for recording. What you need to do is visit Recordcast.com in your browser and hit start recording.
Chrome, Firefox, Edge, Safari supported
Recordcast supports almost all browsers, like Chrome, Firefox, Edge, Opera, Yandex, etc on both PC and Mac or Safari on Mac. Recordcast is cross-platform just because it is browser-based. So, now, you can record the screen on PC, Mac, or Linux, for free. However, Google Chrome or Chrome-based browsers are recommended for recording as it's the only browser that can record system sound, while Firefox only records the sound from the current tab in the browser.
Record Screen, Webcam, or both
There are three recording modes for you, you can record the screen, webcam, or both. To record webcam, make sure you allow your browser to use your camera and it's better to remember the choice.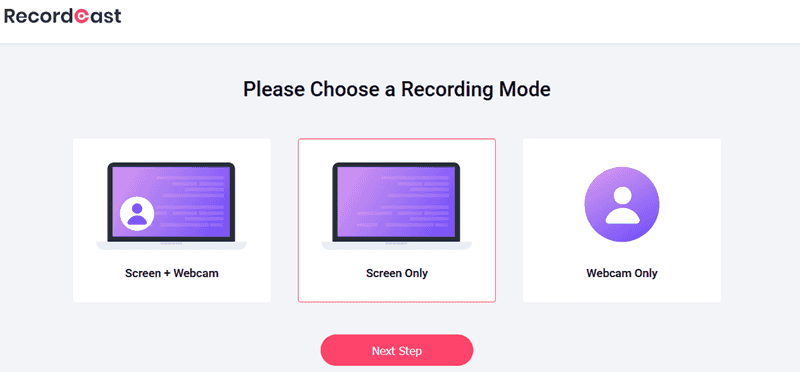 Record System Sound and Microphone
While recording the screen, you can record the system sound and/or the sound from the microphone along with your screen and webcam. Please be sure to allow Chrome, Firefox, Edge, Safari or other browsers to access your system sound and microphone.
Also, be sure to check "Share Audio" so as to record sound from the system.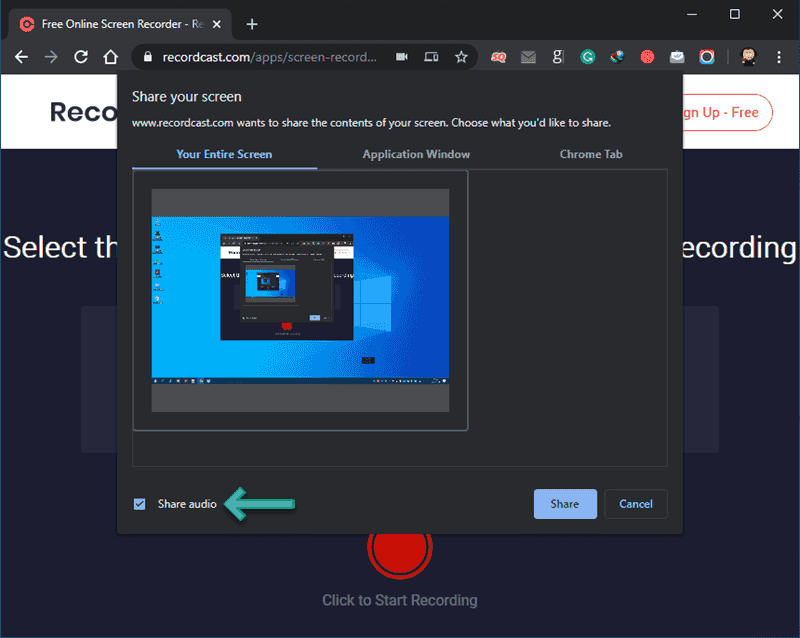 Record Full Screen, Application Window, or Browser Tab
I'd always like to record a full screen, so it records everything from the screen. But if you like, you can just record what happens within the application or browser tab. However, it would be nice to be able to crop and record part of the screen. What's your choice?
Download Recording in WebM
The recording format is WebM, you have the option to download it as .webm or edit and export to MP4.  
Recordcast is also an online video editor. You don't have to install any other programs as you do recordings with it. And, you can edit the recording as well as your local videos. Here, you can add additional audio tracks to your recording, split or crop the video, add texts or background. They are a basic feature but can meet my needs now.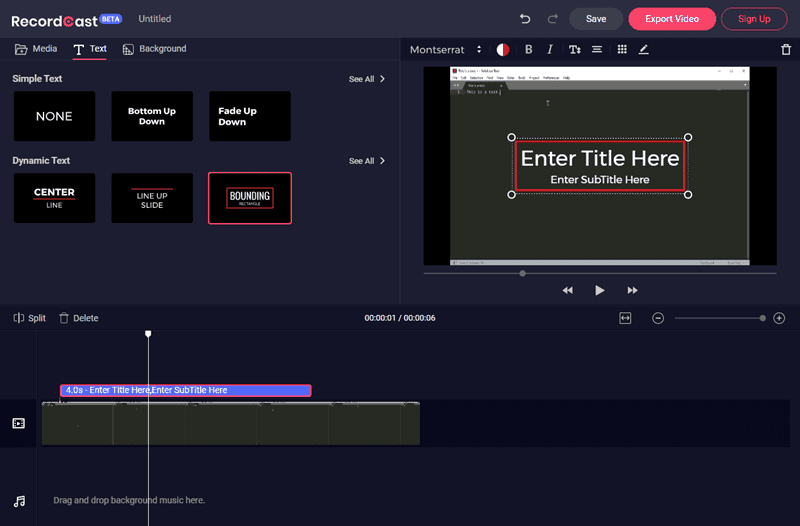 If you want to save your project, you can do so right within Recordcast. You can save up to 8 projects. And, all those are 100% free. You can log in with your Facebook or Google account directly,  or sign up with your own email address.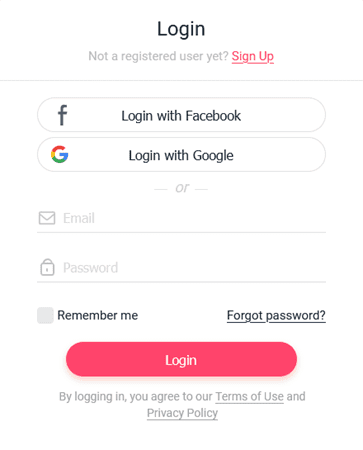 Recordcast Review: Record Your First Video
Recordcast is very easy to use, what you need to do is within 3 steps. In my Recordcast review here, I'd like to show you how to record your first video with it.
Firstly, please visit Recordcast.com with your browser to be ready. Google Chrome is always the best choice since it is most compatible with Recordcast.
Step 1. Hit the Start Recording button
Click the Start Recording button to get started. However, if you're login first, you will be redirected to https://www.recordcast.com/editor/my-projects/ and you can click the "Create by Record" button to start recording.
Step 2. Recording Mode
There are three recording modes for you. Webcam, screen, or both. However, please note, even you record the screen and webcam together, Recordcast will save them separately. You can make a picture in picture video with its online editor later on.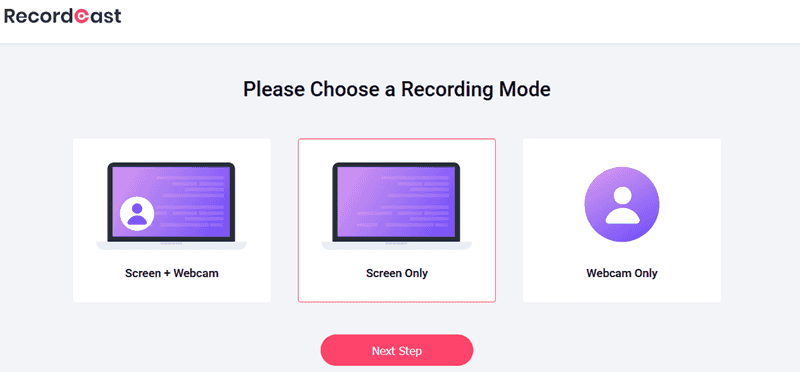 Step 3. Recording Settings
Before recording, set your recording for audio. Do you want to sound from the system? Do you want your own voice from your microphone? Feel free to choose what you like. If you want the sound, be sure to check Share Audio in Step 4 below.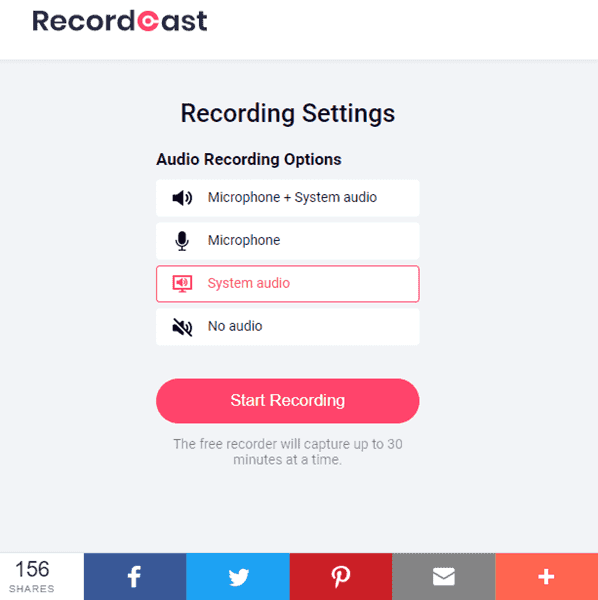 Step 4. Share Screen
To be able to record a screen, you need to choose to share your screen with Chrome. I'd always like to record the entire screen as it records more details and I can freely crop the unwanted part as I wish. Check Share Audio as well if you want to sound.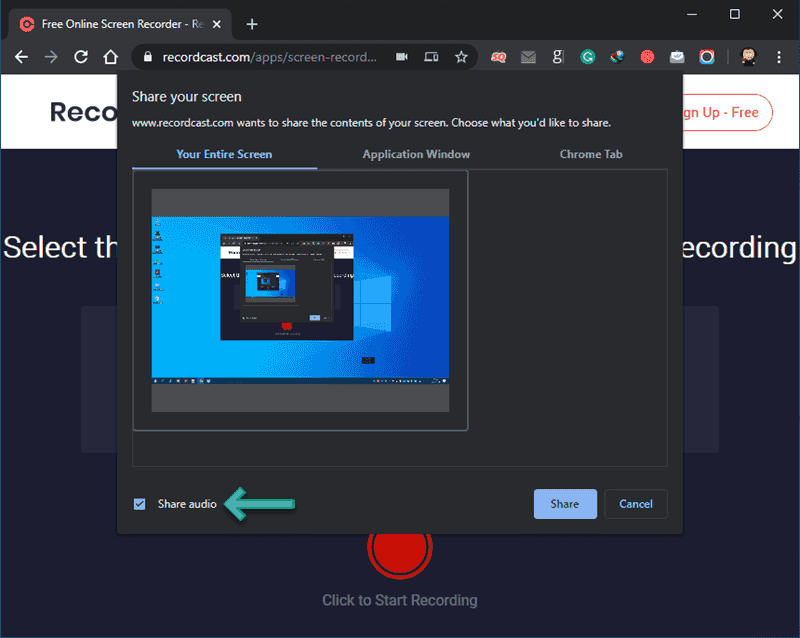 Step 5. Record Screen
Hit Share to start recording. You can pause or re-start the recording by going back to Recordcast or stop the recording by clicking the Stop sharing button in the floating window.
Step 6. Download or Edit
Click Download to save the recording to your hard drive in WebM. You can also click Edit so as to export the recording in MP4
Pros:
100% free to use. You can record 30 minutes for each video totally free.
Easy to use, record your screen with just a few mouse clicks
Cross-platform, and no installation needed. You can record your screen with almost all browsers.
Webcam supported
It's really nice to save the projects online as well.
Cons:
No sound on macOS recording
Lacks key combination to stop recording
Recordcast is really light-wight. From my review and use of Recordcast in the past few weeks, though lacks features, I still think it is a good option if you are looking for free and online video recording software, and 100% meet my needs of basic recording and online editing.