In the bustling era of digitalization, the concept of 'entertainment on the go' has solidified its foothold in our everyday lives. Among the multitude of streaming services vying for viewership, Hulu stands out as a premium choice. It offers a broad selection of shows and movies that you can savor at your leisure, whenever and wherever. 
While you can watch Hulu on your laptop or smart TV, there's a better alternative – on your smartphone. This article explores Hulu's mobile application, elaborates on the convenience of enjoying your favorite content on the go, and provides a detailed guide on how to seamlessly weave Hulu into the fabric of your daily routine.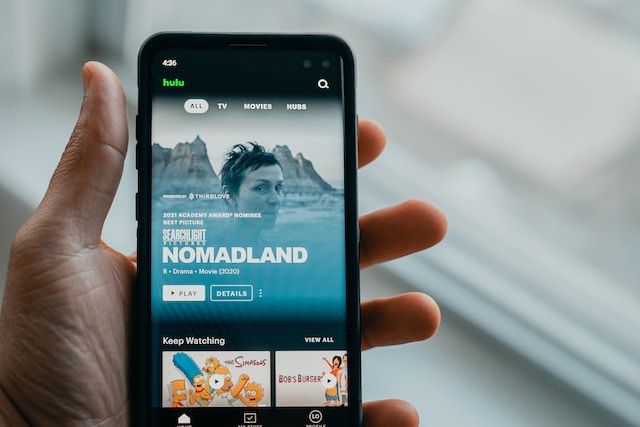 Understanding Hulu
Launched in 2007, Hulu was a pioneering venture orchestrated by major media corporations aiming to shift from cable TV and redefine the online streaming landscape. Initially, Hulu carved its niche by offering recent episodes of popular TV shows shortly after their original broadcast. This strategy propelled Hulu to exponential growth, and soon, its catalog expanded to include entire seasons of TV series, an impressive array of movies, original content produced by Hulu itself, and even live TV.
What truly distinguishes Hulu from its competitors is the flexibility it provides. Through its different subscription tiers, viewers can opt for an ad-supported plan, a completely ad-free experience, or an enriched option featuring Live TV. Regardless of your selection, Hulu ensures that top-tier entertainment is just a click away, and it's not confined to your living room television.
Hulu Mobile App
Fully embracing the 'mobile-first' approach, Hulu has ingeniously crafted its expansive library to fit within an intuitive mobile application. This app is compatible with a wide array of devices, spanning both iOS and Android operating systems. It is available for free download from the Apple App Store or Google Play Store.
Once you've installed the app, you can simply log in using your existing Hulu account. If you're a newbie, fear not! Hulu allows you to sign up directly through the app or via its website.
Looking for a compelling reason to download the Hulu app? It offers a 30-day free trial. According to an article from techdaily.ca, this free trial period includes access to all premium features, so you'll know what exactly you can expect from a regular subscription.  
Hulu On-the-Go Features
One of Hulu's shining strengths is its dedication to the on-the-go viewer. The mobile app offers flawless streaming over Wi-Fi and cellular data, making your daily commute, waiting times, and even park visits much more entertaining. 
For those wondering what to do in a location bereft of a reliable internet connection, Hulu has anticipated this need with its 'Download' feature. Available with the No Ads subscription, this allows users to download a vast selection of shows and movies for offline viewing. You can also use a cloud storage solution to download shows on one device and make them accessible on other connected devices. 
Hulu has even factored in data usage concerns; their 'Data Saver' mode significantly minimizes data consumption during streaming, ensuring you can indulge in your favorite content without worrying about draining your data.
In addition, Hulu comes with a live TV feature. Whether you want to watch your favorite sports, follow live episodes of talent shows, or even be the first one to know breaking news, Hulu is accessible anywhere and anytime. 
Pros and Cons of Hulu on the Go
Experiencing Hulu on your mobile device offers immense convenience, allowing you to break free from the traditional confines of viewing locations. With features like offline viewing and data saving, Hulu ensures you maintain access to your beloved shows and movies even in less-than-optimal circumstances.
Despite its many benefits, Hulu's mobile streaming isn't without a few caveats. The quality of streaming is heavily dependent on your internet connection's strength. While the Data Saver mode offers a solution, it does compromise on video quality to save data. Additionally, Hulu's services are currently available exclusively to U.S. residents, which might curtail its on-the-go benefits for international jet-setters.
However, if you're not from the U.S., you might want to consider using a VPN service. It masks your IP address, making it appear as though you're browsing from within the U.S. When choosing a VPN, select a reliable service that offers U.S. servers and can effectively bypass Hulu's VPN blocks. Do note, however, that while using a VPN isn't illegal, it does go against Hulu's terms of service, and they may restrict access if detected.
Conclusion 
In today's fast-paced world where multitasking is the norm, Hulu's commitment to providing quality entertainment on the go truly shines. Its user-friendly mobile app, extensive content library, and features specifically tailored for mobile viewers ensure that your favorite TV shows and movies are never more than a few taps away.
The streaming giant not only recognizes but embraces the shift towards mobile viewing, going the extra mile to cater to its users' evolving needs. By transforming wait times and transit into an opportunity for entertainment, Hulu adds a touch of joy to everyday life.