The development of technology has changed the educational system a lot. Apart from the traditional smartphones and laptops technology is associated with, teachers and students have got a chance to benefit from a plethora of other options. 
How Has Technology Changed Education
Technology plays a critical role in society these days. Finding an industry that has not been advanced or improved with the help of innovative technology is complicated. In fact, it is a major tool used to enhance the students' productivity and contribute to the quality of provided lessons and their presentations. 
The advancement of the educational process is a result of technology implementation. Instead of traditional libraries, for instance, learners have an opportunity to access the necessary books and study materials online. Additionally, finding free college essay examples is a no-brainer that will take less than a few minutes. Just browse the web in search of an extensive college paper database and view sample works that will guide you to the necessary results. 
There are a plethora of other ways technology can contribute to the educational process, making it easier, better, and much more efficient. Additionally, it is critical to mention that both teachers and students will take advantage of the powerful tool. Are you ready to witness technology's impressive influence on the educational process? Here are the most critical aspects technology has changed.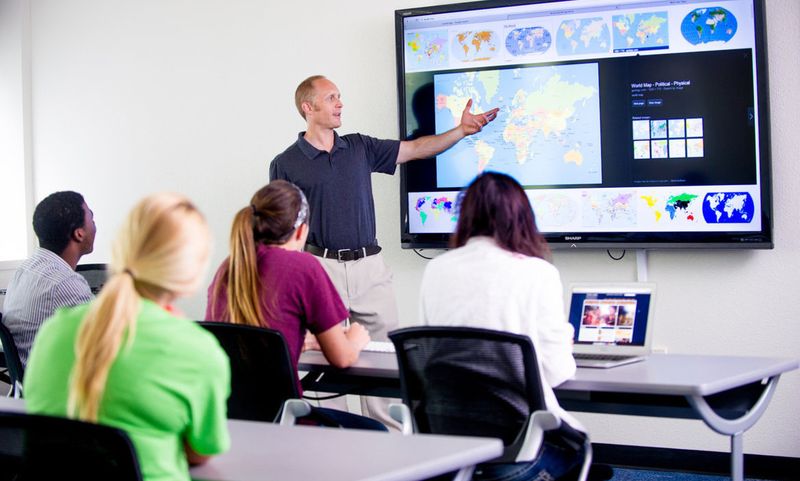 Better Access to Education
Due to the rapid development and advancement of technology, students can easily access the necessary information, study materials, and other data. There is no longer a need to spend hours in the library, as you can access one of the most beneficial online services that will provide unlimited resources. Books, videos, podcasts, and other types of academic content are unavailable for students interested in successful studying. Moreover, getting a degree online and being enrolled in online programs or educational platforms is possible.
Suppose you take some time to discover the opportunities that have become available due to the rapid development of technology. In that case, you will be impressed to see the limitless possibilities students have. Irrespective of the sphere you want to explore, you should just find the best options and achieve the desired results. 
Versatility is one of the most critical advantages of web-based learning. First of all, there is an opportunity to access necessary materials anytime and from any location. Secondly, you can find any information online. Finally, you can stay in touch with other learners, dealing with the most challenging assignments. 
Thus, if you are searching for professional help with your college assignments, browse the web to come across a plethora of
speedypaper feedbacks at sitejabber.com
. In most instances, it is the best way to estimate the quality of the service and acknowledge whether it is worth your attention. Read a few reviews left by other students before you make the final choice. 
At the same time, it is not the only aspect of collaborative learning that has become available due to technological advancement. Additionally, there is an unlimited number of social media and educational platforms that improve students' communication and help them solve challenging tasks and work on complicated projects together. Students can learn from each other, expanding their outlooks and staying academically successful. 
An Opportunity to Cater for Special Needs
The static classroom framework is one of the most specific features of the traditional educational system. The learners' experiences did not differ, no matter their needs, skills, and preferences. Fortunately, the studying environment has changed dramatically with the help of technology. Currently, students with vision, speech, or hearing ailments and those with walking impairments can get the quality education they deserve. The system has become much more flexible and adjustable so that students of all categories can get the desired diploma. 
Moreover, it is an excellent option for learners with emotional and developmental disabilities, as they can take advantage of technology, aiding the educational process and helping them achieve the desired degree in a comfortable and convenient environment.
Discussion of the Critical Questions Online
Have you always considered it complicated to find a reputable essay writing service to help you with the homework? Do you believe it is challenging to deal with specific academic projects? Well, with the help of technology, you can always find the best answers to the questions that bother you. Surf the web to get the most comprehensive studycrumb.com reviews and other recommendations that will help you detect the most reliable and trustworthy essay writing service. Focus on the most relevant feedback to make the choice you will not regret. 
Additionally, you are free to ask the most different questions using online forums and similar services. Please share your ideas, practical learning tools, and valid materials with others to help other learners thrive in their studying. 
Do you find some assignments too complicated? With the development of technology, you will barely have such issues, as coaching has become one of the fundamental principles of studying. It means that you can use the most convenient messengers or other online services to stay in touch with the coach getting helpful tips and guidelines that will aid your educational success and make you stand out from the crowd.