It is very common when we surf the Internet and enter YouTube to find some specific content. Many of those videos that we found in the portal have been created by users from recordings, images, and audio generated by them.
In the vast majority, programs have been used to create and edit videos. Well, on this occasion, we want to present you one of the tools that are undoubtedly giving to talk about when creating and editing video: FlexClip Video Maker. It is a browser-based platform, without the need to have anything installed and from which you can create your own video compositions in a flash.
The elements that you can use (images, videos, or audio) can be incorporated either from your computer or from the media library of FlexClip, making it quite comfortable when working with materials. There are millions of high-resolution photos, video clips, and audio tracks to search from. With FlexChip, you can make photo slideshows too! 
How to create a video in FlexClip?
To use FlexClip, the users must create a new account within the website. Once registered, you can start editing online videos collaboratively.

When starting a new project, you can add materials to the storyboard and then drag and drop them in the order you want. The editor has a very friendly graphical interface that allows you to have more control over the final product. You can add voice-over, music, logos, as well as other custom text animations.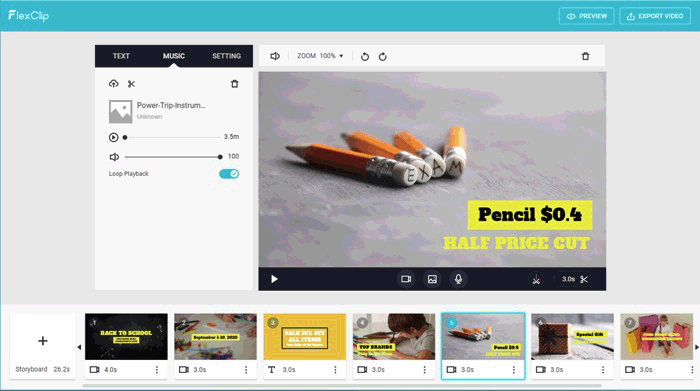 A lot of powerful editing tools are available to help you take your video to the next level. With a few mouse clicks, you can cut or split a video to get the desired parts of it. You can customize the text by changing font, color, size, format, etc. Lastly, you can export your video and share it across YouTube or other popular social media platforms.
FlexClip is free and allows you to store up to 500MB of photos and generate videos of up to 5 minutes, being able to export the final result in a file with a resolution of 1080p. 
FlexClip, to some extent, allows the editing of quality videos in a web environment. For this reason, there is the possibility that many people who have never used editors of this type are encouraged to try new alternatives in terms of audiovisual editing. The ease of use and flexibility of FlexClip makes it suitable for users of any level: beginner, intermediate and advanced.