Nowadays, smart TVs are capable of doing AI video upscaling and enhancing your SD videos to fit their display resolution; yet, are you content with watching SD videos on your 4K televisions? You know what? There are AI video enhancers that are simple to use, and some even free, yet produce professional results with enhanced video details!
In this post, I will recommend 8 AI video enhancing programs, some free, some online, and some are desktop programs for PC and Mac, for you to enhance and upscale your videos up to 8K. However, please note, to make use of these desktop AI video upscaling software, either free or paid, you'd better have a strong and powerful computer, and the best of them is not free. If you don't have a good computer, or you just want to upscale one or two videos, go for AI upscaling video online, there is one for free. 
Video enhancement can be defined as the process of increasing the quality of a video. Typically, there are two ways to do possible video enhancement.
Upscaling. It is a way to converting lower resolution video to a higher resolution.
Increasing bit rate. It is possible to somewhat improve the visual quality of the video by increasing its bit rate. However, it's not impressive. You may not even tell the difference from your eyes.
Fortunately, video upscaling based on artificial intelligence has been developed, making it possible to improve the quality of lower-resolution videos, like DVDs, in a simple and straightforward manner.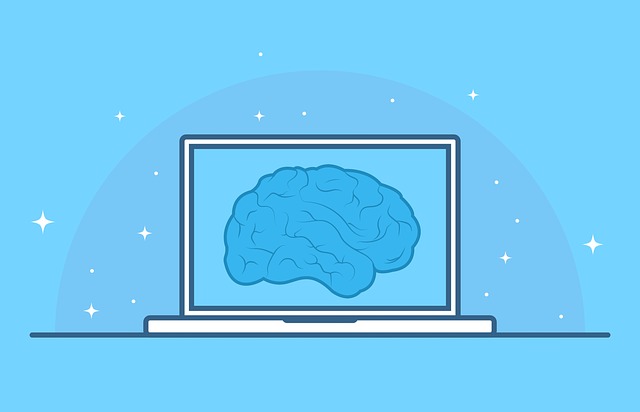 For example, to do a video upscaling by AI from 1080 HD to 4K UHD, the AI engine will create additional pixels to fill in an additional 6 million pixels on top of the original image. The best video enhance AI can even recover details, sharpen, reduce noises, deblur of your video, and more.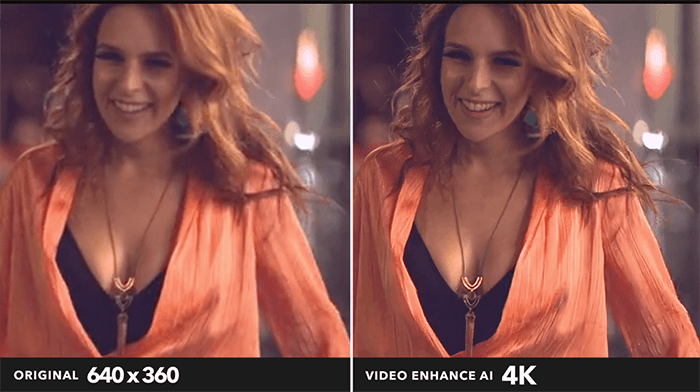 It may be tough to discover a suitable video enhancer that integrates artificial intelligence because some video enhancers do not live up to their claims or they are not actually AI-powered. For this reason, we have tested those AI video upscaling software and I'd like to recommend the below 7 for you. There are online ones as well as desktop programs for PC and Mac, one even for free! Take a look at it right now!
Desktop AI Video Upscaling Software
When I do video enhancing via AI, I'd like to use a desktop program and I'd like to recommend those who have a powerful computer to desktop AI video upscalers for better system integration and consistent user experience. Generally, they are more responsive than online ones. There are three of them for your reference.
Topaz Video Enhance AI: Best & Editor's Choice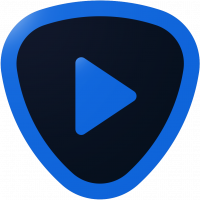 Publisher/Developer: Topaz Labs
Available on: Windows, macOS
Price: $299 for Lifetime[Save 15%]
Max Resolution: 8K
Slow Motion: Yes, up to 2000%
Output: MP4, MOV, TIFF, JPG, PNG
Result: Great
Video quality can be improved by employing machine learning techniques, which allows lower-quality footage to be expanded to 8K. And, Topaz Video Enhance AI is a Topaz Labs-designed AI video upscaling application that improves the quality of videos.
Using Topaz's built-in artificial intelligence engine, which has been trained on hundreds of millions of videos, can correct every pixel of your video frame by frame while also decreasing video flickering, sharpening blurred images, and doing a range of other jobs to provide natural-looking results. Using it for video upscaling is a breeze, and I am thrilled with the overall improvement. I feel it is the greatest AI upscaling software for different kinds of videos.
Topaz Video Enhance AI is easy and straightforward to use with the best results. It allows you to complete all of your video upscaling in a single window. You need to load one or more videos to the AI upscaler, and you will get the recommended AI models by giving the basic details of your video like the video quality and whether it's computer-generated, progressive, or interlaced. And, the preview tool allows users to see how the video output will look before upscaling.
This is the excellent result I obtained by upscaling a 480P video to 4K using Topaz, as demonstrated in the following YouTube video:
30 days full trial
Up to 8K upscaling
Great video quality, better other any other AI upscaling software
Easy to use. With AI Model Picker, we can get better results
Uncompressed Tiff, Tif, and lossless PNG support
Boost FPS to 120 with 2000% slow motion
DVDFab Enlarger AI/Video Enhancer AI[Blu-ray & DVD Upscaling]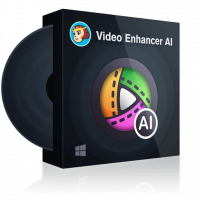 Publisher/Developer: Fengtao Software Limited.
Available on: Windows
Price: $44.99 to $139.99
Max Resolution: 4K
Slow Motion: No
FPS Boosting: up to 60
Output: MP4, MKV
Result: Good
DVDFab Enlarger AI makes use of the open-source TensorFlow framework, which is powered by Google, as well as artificial intelligence (AI) technology, as well as machine learning to upconvert SD (480p) movies to a maximum resolution of 4K while enhancing them with the superior video quality. You will find it to be quite convenient as it works as a profile and you don't have to judge which AI models to choose.
With this wonderful video enhancement program, you can quickly and easily remove video noise and blur, as well as modify video brightness, contrast, and saturation. DVDFab Video Enlarger AI is well-suited for different kinds of video enhancement and it should be given first consideration if you wish to breathe new life into old videos, movies, and TV shows for a better viewing experience.
Given that DVDFab can rip both Blu-ray and DVD discs, you can take advantage of its artificial intelligence engine to upscale and increase the visual quality of your Blu-ray or DVD disc collections. It is possible to convert Blu-ray discs from their native 1080P source to the 4K MP4 or MKV format for playing. When it comes to DVDs, the resolution might be as high as 1080P.
Note:
The standalone program is called DVDFab Video Enhancer AI and it's only for videos as others. To upscale Blu-ray or DVDs, please download DVDFab 12.
The only program to upscale Blu-ray and DVDs
AI video upscaling to 4K
AI-boost FPS to 60
Remove video noise and blur
Easy for bignners
Need to work in conjunction with its Blu-ray, DVD ripper, or video converter
AVCLabs Video Enhancer AI
Publisher/Developer: AVCLabs
Available on: Windows
Price: $39.95 for one-month, $109.95 for one-year, $329.90for Lifetime
Max Resolution: 8K
Slow Motion: NO
FPS Boosting: NO
Output: MP4
Result: Good
For those who like higher definition videos, AVCLabs Video Enhance AI is a video quality enhancer that allows you to do just that, powered by AI, as the name suggests. The strong algorithms built-in make it a powerful tool for video upscaling. Through millions of hours of videos, movies, and television shows training, it was taught to recognize lost pixels by analyzing each frame. Then, it automatically upscales and enhances the video by increasing the resolution, denoising, sharpening, color enhancement and correction, and more.
Easy to use
Up to 8K AI Enhancement
Flexible subscriptions
Free & Open Source AI Video Upscaling Software
Free software usually does not go hand in hand with easy-to-use one. We did discover two AI video upscaling solution that is free and open-source in Github, but the design is…well, there is no design at all, to be honest. It's just buttons and labels. But, I can live with this. A good programmer cannot always be a good designer. :)

Publisher/Developer: Open-source
Available on: Windows
Price: Free
Max Resolution: 4K
Slow Motion: No
Output: MP4, MKV, etc
FPS Boosting: No
Result: Good
 
I know people are interested in free stuff. When it comes to AI video upscaling, there is a free and open-source one called Video2X. It is written in Python 3 and based on Waifu2X, Anime4K, SRMD, and RealSR to upscale your videos, photos as well as GIFs.
As an open-source AI video enhancer, it can run in command mode. It also has a GUI program, but I don't quite like its design. Anyway, to use this free AI video enhancer, you will firstly install Python 3. Also, check its the official guide on Github to set it up.
AI Gif and video upscaling
100% free to use
A lot of options for advanced users
Customized output format
Complicated for beginners
Publisher/Developer: Joey's Fork.
Available on: Windows
Price: Free and Open source
Max Resolution: 8K
Slow Motion: NO
FPS Boosting: NO
Output: MP4, JPG, PNG, Same as Source
Result: Good, but not stable
Cupscale is a GUI based on ESRGAN, a famous AI upscaling algorithm. It is mainly designed for image upscaling through the use of a neural network, but it does AI video upscaling too.
To upscale videos with this free and open-source AI upscaling software, just go for the "Upscale videos" tab, drag and drop your videos to it.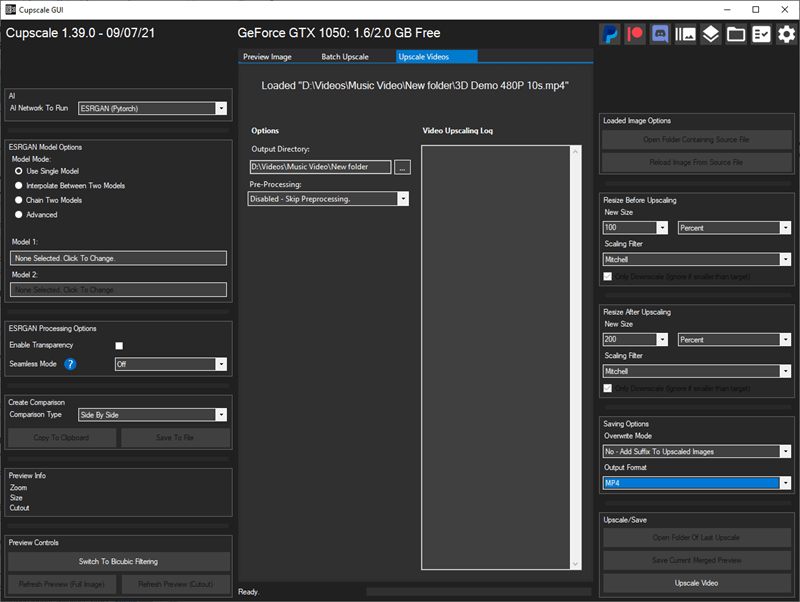 Make sure you have Python installed as requested. Click OK, it will automatically configure it for you.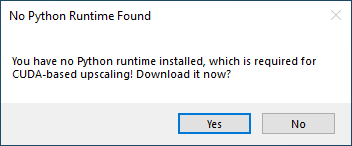 However, to get better video upscaling with Cupscale, you can actually break your video into images frame by frame, and add the images to Cupscale for free image upscaling. Finally, recombine the upscaled images along with the audio to a new video.
AI image  and video upscaling
Free and open source
Upscale your video in its original format
If you have used the desktop programs for video upscaling, you will find those AI video enhancers are all GPU-consuming. And, if your GPU is not quite powerful or not supported by the above programs, it can take 20 times slowing using CPU for AI upscaling. So, online AI video enhancers can be a good option! There are three of them for you.

Publisher/Developer: Denis Shiryaev
Available on: Online
Price: Not specified, charge for each video
Max Resolution: 4K
Slow Motion: Yes
FPS Boosting: 60 FPS
Output: MP4
Result: Great
Neural.love is an online service that is AI-powered to upscale your videos to 4K, boost FPS to 60 with additional frames, and create slow motion. It is also good at enhancing details in faces. 
Online 4K AI Video Upscaling with great results
Easy to use
Optional face refinement
Colorize old video
Expensive if you have a long video or more options selected or many videos to upscale
No cut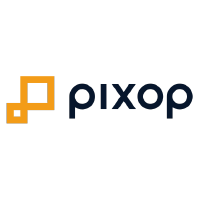 Publisher/Developer: Pixop ApS
Available on: Online
Price: Free to Pro, but not specified
Max Resolution: 8K
Slow Motion: NO
FPS Boosting: Custom FPS
Output: MP4, MXF, M2TS, MOV
Result: Great
Pixop is another online video upscaling service that is AI and ML-based and offers a variety of features, like super-resolution, restoration, dejittering, deep restoration, denoising, etc. Due to its up-to-date AI engine and machine learning technology, it is extremely efficient and delivers great results.
It's very easy to use too. You need to create an account, sign in, upload your videos, and choose Process. Choose a profile or customize yours to get started. 
Check the video upscaling online guide for details: 
Online AI Video Enhancer with rich options
Up to 16-bit support
Metadata editing
Customize output bitrate and FPS
Quality analyses
Expensive if you have a long video or more options selected or many videos to upscale
GDFLab[Free Online Video Upscaling Software]

Publisher/Developer: GDFLab Co., Ltd.
Available on: Online
Price: Not specified
Max Resolution: 4X
Slow Motion: NO
FPS Boosting: NO
Output: MP4
Result: Not bad
Image and video upscaling, recognition, and compression are all made possible by the pikavue technology developed by GDFlab, a South Korean artificial intelligence technology company.
In its description, the company claims that it can upscale movies by enhancing their resolution and quality. For example, it claims that FHD input video can be upscaled to 16K, while 360p input video can be converted to FHD.
Check out the below YouTube video to see how to do AI video upscaling with GDFlab online.
Online video upscaling by AI
Good for phone users and less powerful machines
Limited input and limited output
Output is not impressive