I have heard that with macOS 10.13 High Sierra and later releases, only 64 bits apps could be used. And yes, 32-bit programs are no longer supported on macOS 10.15 Catalina. What I concern most is how the Blu-ray and DVD rippers work on my Mac.
To find a 64 bit DVD ripping software for macOS 10.14 Mojave and 10.15 Catalina, I do a lot of search and test. In this post, I'd like to recommend a couple of 64bit DVD Rippers for Mac to make sure you will still be able to rip and convert DVDs on the latest macOS Mojave.
I do a deep search and learn the details on Apple's policy on 32-bit apps and from the Apple developer news, we can see we just worry too much even there is currently no 64-bit DVD ripper for High Sierra. As mentioned by Apple, macOS High Sierra will be the last macOS release to support 32-bit apps without compromise. So, if you are still running macOS High Sierra, it is Okay to work with the 32-bit DVD Rippers, but if you are running Catalina, you will have to go find 64-bit DVD Ripper for Mac. Don't worry, here are my recommendations.
Is your DVD Ripper 64-bit?
To check if an application that is installed on Catalina is 32-bit or 64-bit, you can go Apple Menu-About This Mac-System Report:
Then in the system report, scroll down to Software-Applications in the sidebar. And check the Kind info for each individual application:
64-bit DVD Rippers for Mac
We know that 32-bit DVD ripper are NOT working on macOS Catalina. And, below you will see my recommendation on 64-bit DVD ripper for Mac that is 100% compatible with macOS 10.15. 
DVDFab is an all-in-one solution that can rip Blu-ray and DVDs, copy, convert and burn videos for you. It is one of the best 64-bit DVD Rippers for Mac and it is fully compatible with macOS 10.15 Catalina. 
When it comes to DVD ripping on Mac, DVDFab is the most powerful one that supports all kinds of DVD copy protections and it can take full advantage of your GPU for faster ripping. DVDFab is rich in custom settings and you can freely set the name, subtitle, and audios. If you want your 64-bit DVD Ripper for Mac to rip DVD to MP4 AC3, here it is:
Wondershare Video Converter Ultimate works 100% well with the latest macOS 10.15 Catalina. But please note, it is now renamed to Wondershare UniConverter. There is nothing else that changed, just the name. 
It is so far the most beautiful DVD ripper I have ever seen with flat designs. The UI is clear and straightaway even the new users know how to use it. But it also offers rich options for advanced users to customize and save their own profiles with customized codec resolution etc.
Wondershare names it a video converter but is NOT only a DVD ripper but also a DVD authoring program as well video downloader that is able to download and record FIFA World Cup 2018 videos from YouTube, Vimeo, Fox, BBC, ITV, etc. It comes along with some fascinating features like metadata fixing, VR converting, GIF-making, etc. The edit function is great as well but in case you need a more powerful video editing program, Wondershare Filmora is right here for you.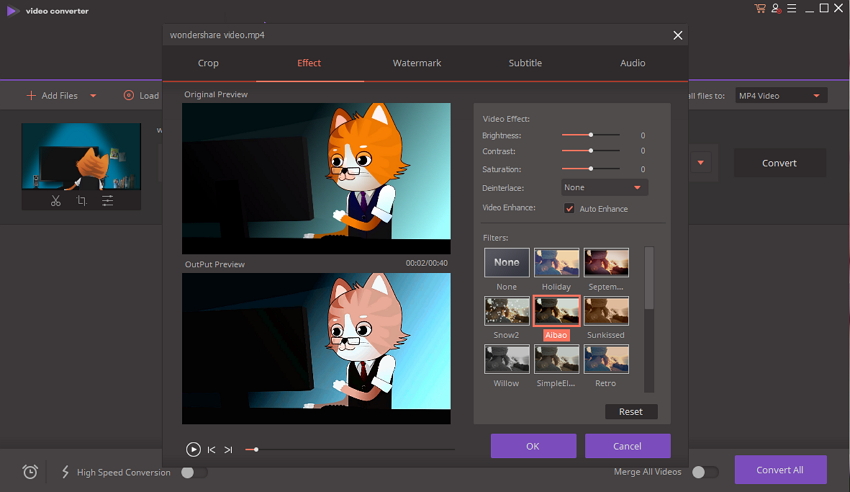 Leawo Bluray Ripper and Leawo DVD Ripper are components of its Prof. Media, which is called the total video converter by Leawo as well. The Bluray Ripper is the only program here that work for Blu rays as well as DVDs. (The DVD Ripper only works for DVDs and AnyMP4 Bluray Ripper only works for Blu Rays, no DVDs). Leawo Prof. Media is also working on Catalina, meaning all its component works.
Leawo Bluray Ripper is really a powerful ripping solution for both Bluray discs and DVDs. It handles the latest copy-protected Blu-rays and DVDs like Wonder Woman and rips them on both Windows and Mac to any video format like MKV, MP4 AVI or devices from Apple, Sony, Samsung, etc, even in 3D format!
AnyMP4 works 100% on High Sierra, but it has similar problems like Xilisoft that it selects all most all DVD titles for me. I will have to check and decide which title to use for ripping.
AnyMP4 offers two ways for loading DVDs and I have no idea what exactly they are and while ripping DVDs, it offers two options as well, one for ripping Titles and one for ripping chapters. If you want to split DVDs by chapters, AnyMP4 is a great choice.
In short, although AnyMP4 works, it is not user-friendly to newbies in title selecting, DVD loading and ripping. But it does work and the 3D function and rich and powerful. Advanced users will like it.
NOT Compatible Rippers for Catalina
I also tested the below DVD Rippers, for some reason. they don't work.
Xilisoft DVD Ripper Ultimate[NOT Compatible]
Xilisoft is the most disappointing one as it is NOT compatible with macOS 10.13 High Sierra at all. For the first DVD disc that I was trying to load, it got stuck at 4% while analyzing the DVD Jupiter Ascending. I waited about 25 minutes and lost the patience and canceled the process. I know the DVD is working as it plays perfectly the recent update macOS 10.13 and it loads fine in Wondershare, Leawo.
I then tried to load an ISO file of Toy Story 3 and it failed in getting the DVD details and the profiles and destinations were all gone, leaving me nowhere to star the ripping at all.
I then found the disc Toy Story 3 and had one more try. This time it loaded the disc with ALL TITLES CHECKED and the profiles and destinations were all gone as well. I know this is a protected DVD from Disney, one of kids' favorite that had been ripped to Innotab 3S/Max, and there are 99 titles with almost all titles comes with the same length, so I know this is NOT right and will give me problems.
One more thing, there is still no reply from Xilisoft and I assume we don't get a 64 bit DVD ripper from Xilisoft for High Sierra in the near future.
Aimersoft DVD Ripper[NOT 100% Compatible]
Aimersoft DVD Ripper is not FULLY compatible with macOS 10.13 High Sierra. It failed to load the DVD Jupiter Ascending and the ISO Toy Story 3. Instead of getting stuck, Aimersoft gave a different error message as shown below.
I was finally able to load Toy Story 3 after the ISO was mounted however Aimersoft gave me a wrong info of the DVD as you can see below. It said the source DVD is 1024×576 while we know that a DVD can be only 720×576 or 720×480. And this will lead to a problem that the output is too large as the default profiles for MP4, MOV, WMV, AVI are to keep the original resolution. 
Since this is a tiny error I go forward for testing. I selected MP4 as the output format and set the resolution to 720×480 and Aimersoft finished the ripping in about 55 minutes. I don't think this is quite good as I was ripping the movie on HDD instead of a disc. We know a disc's read speed only goes up to 8x while an HDD is much faster. And DVDFab, Leawo Bluray DVD Ripper all are able to rip it in less than 40 minutes.