How many videos and recordings do you take during the 2018 FIFA World Cup in Russia? When you share you Russia World Cup videos, you surely don't want them to be pirated and adding a text, photo or picture in picture watermark to your World Cup videos or recordings keeps you from being pirated and promotes your own brand too.
And below is my step-by-step guide on how we can add text, photo or PIP watermark to 2018 FIFA World Cup videos and recordings.
Watermark 2018 FIFA World Cup Videos/Recordings with Photo/Video
I have been using Wondershare Filmora, a professional yet easy to use video editor, to create photo slideshows from World Cup photos. And it is actually an ideal solution to watermark FIFA World Cup videos with a customized logo, photo, text or picture-in-picture. 
Please follow the below buttons to download and have a free trial of Wondershare Video Editor Filmora. If you are interested in the full version, you are about to save 20% for a lifetime license.
Step 1: Full Feature Mode
In order to watermark 2018 FIFA World Cup videos or recordings, we need to go to Full Feature Mode as Easy Mode is for creating World Cup photo slideshows. If you are on Mac, click "Create New Movie" to access full feature mode. 
Step 2. Add Video
Click Import Media Files Here or go to the drop-down menu of Import to add videos/folder or import from Camera, HD camcorder, iOS and Android phone, download directly from your Facebook, Instagram and Flickr account. For how to transfer videos and photos on iOS and Android, click here.
Step 3. Add Video to Project
Move your mouse to the video you want to watermark and click Add to Project. Be sure that the background video is on the FIRST TRACK on the timeline.
Step 4. Add Watermark File
Click Import to add a logo, photo, or video as the watermark file to your Russia World Cup videos/recordings. Drag and drop them to the second PIP track (second track on the timeline) as shown below. 
Step 5. Adjust watermark
You can extend the duration of the FIFA World Cup Video watermark. Double click on the watermark clip to adjust the motion, position, size etc. There are 30 kinds of motion effects and I suggest you choose the motion first before you go to Preview to adjust the position, size, shape etc as each motion effect will set the watermark to World Cup video to default size and position. 
You can also to Advanced option to edit mask and effects.
Step 6. Save Watermarked World Cup Video
We are almost done in watermarking 2018 FIFA World Cup video and recordings. Click Export to save the watermarked clip. You can choose a video format you need to save the watermarked 2018 World Cup video or recording to save on HDD or sign and upload directly to Facebook, YouTube, and Vimeo! You can even burn it to DVD. Click Settings to set the quality, video encoder, resolution, frame rate, bit rate etc for your World Cup video 2018 with watermarks!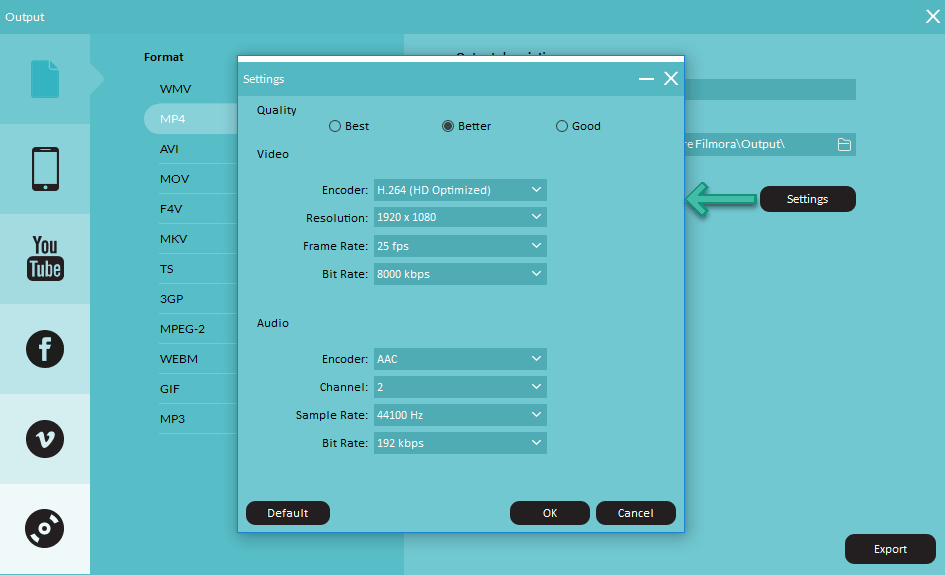 There is the official guide from Wondershare on "How to Add Your Own Logo or Watermark to a Video", which surely can be used on how to add photo/logo or video watermark to 2018 FIFA World Cup videos/recordings. 
Add Text Watermark to 2018 FIFA World Cup Video
Adding a text watermark to FIFA World Cup videos or recordings with Wondershare Video Editor, Filmora, is a bit different than we do in photo or video watermarking. But it is not different. 
After the World Cup video 2018 is added to the timeline, go to Text/CRE and choose one template. Add it to the timeline. 
Extend the duration as you need and double click it to Edit. Each element in the template is editable! Choose the font, size, and animation just as you like!