While talking about watching DVD movies, I am always looking to do two things:
I have my favorite TV series on DVD, but the DVD's only play on zone 2 DVD players. I have an application that allows my computer's DVD drive to play them without having to alter the drive's region code, but I would like to create a copy of the DVD's that will play on an American DVD player.
I have a number of TV shows I previously ripped and saved to my iTunes. They are now DRM free and I would like to burn them onto discs that will play on American DVD players.
What I recommend today is how I copy my zone 2 DVDs to zone 1 DVD and burn M4V files back to DVD for region 1 DVD players.
Region Free DVD to DVD Copier
While a year or two ago, I may recommend AnyDVD or now its replacement RedFox to copy my zone 4 TV series DVDs to hard drive, but I quickly found it not the very one for my actual needs as it only copies different region DVDs to hard drive in ISO or VIDEO_TS folder, while I need it to be in a blank DVD and I found a perfect alternative that is working on both Windows and macOS including the latest Windows 10, macOS High Sierra.
Leawo DVD Copy is what I recommend to be the best alternative to AnyDVD or its successor Redfox to copy DVD to another DVD and I have a full review for it. I have the below reasons why Leawo DVD Copy is the best alternative to copying DVDs to any region DVD players:
Leawo DVD Copy is able to do all AnyDVD or Redfox can do, most importantly removing region code
Leawo DVD Copy is able to shrink DVD9 to one DVD5, while AnyDVD or Redfox is only able any to do 1:1 DVD backup to Hard Drive instead of blank discs.
Leawo DVD Copy is cheaper and it has a lifetime subscription while you have to pay yearly for AnyDVD or Redfox.
If you have the same needs as me, try Leawo. It does not seem to be known to all, but it definitely works great and is worth a trial.
How to Copy TV series DVD to Region Free DVD
This is a quick guide on how to use the region free DVD copier to copy TV series DVDs to another blank DVD, either standard ones or not. 
Step 1. Getting Ready
Follow the above links to download the region 2 DVD copier, install and launch it. Insert your TV series into your DVD drive before we ahead for coping.
Step 2. Load DVD
Click DVD Copy in the main interface or go for the Copy tab on tap. And add your TV series DVD to the region free copier by clicking Add Blu-ray/DVD->Add from CD-ROM. 
Step 3. Custom Mode
It only takes seconds for Leawo's zone 2 to zone 1 DVD copies to analyze the TV series and present the below window for you to choose full, main or custom movie before coping. I have the below suggestions:
To enable everything in the original TV series including menus, chapters, episodes, I recommend Full Movie
If you just want the movie movies or part of the TV series, go for main movie or custom mode. However, please note you will lose menus in either main movie mode or custom mode. 
Coping a DVD9 to standard DVD5 is only available in Main Movie and Custom mode. 
In custom mode, you may need to confirm the right title.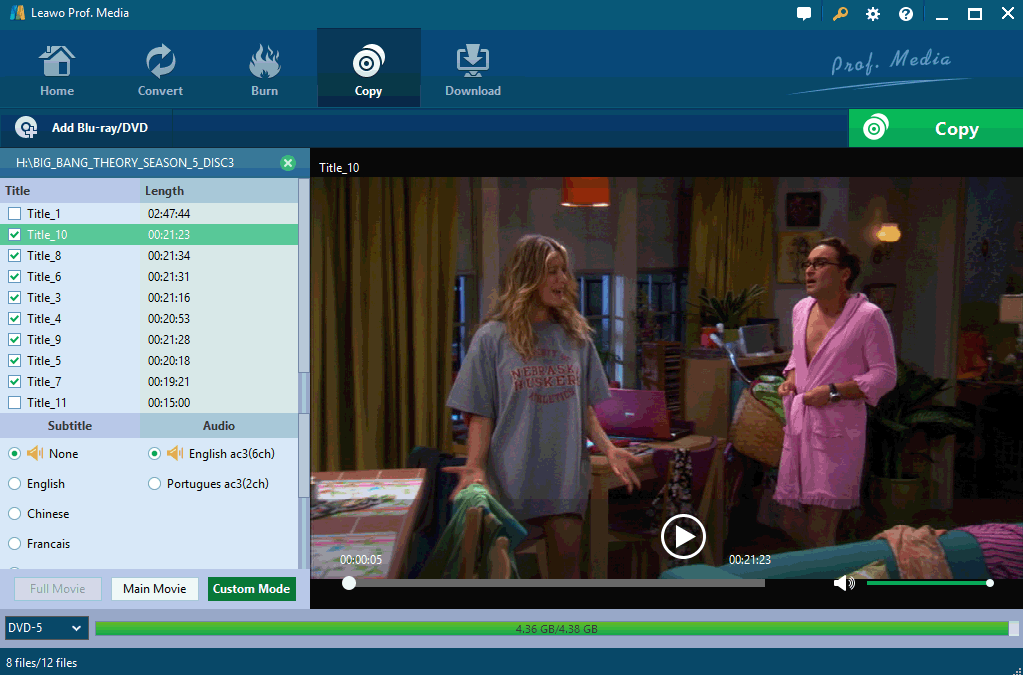 Step 4. Copy it!
Just hit the Copy button and start coping the TV series to another region free blank disc and play with any zone DVD player! 
Burn M4V to DVD for Region 1 DVD Player
There are a great many of programs that are able to burn videos back to DVDs, however, while burning  M4V files that I previously ripped and imported to iTunes, although they are no longer protected, the free DVD authoring program DVDStyler I used before, does not always give me a good result. It either crashes while loading or during the burning, which makes really upset. To be able to burn unprotected M4V files from iTunes DRM, I use another program from Leawo-Leawo DVD Creator.
Leawo  DVD Creator is really powerful DVD authoring and creating a program for Windows 7, 8/8.1 and Windows 10, and macOS Sierra, High Sierra with almost all video formats supported such as M4V, MOV, AVI, MP4, MKV, M2TS, etc. 
Burning DVDs with Leawo DVD Creator is super easy with its built-in step-by-step user guide and you are free to customize themes/menus and many more.
The above does not seem to be quite a detailed guide but definitely is what I use to achieve my two needs of copying region 2 TV shows to region 1 DVD players and burning iTunes M4V files to region 1 DVD players as well. Actually, you are looking for an all-in-one program is able to all those, try Leawo Video Converter Ultimate or Leawo Prof. Media. If you guys have better solutions, don't forget to let me know. I'd always welcome new ideas and try out the good stuff.